Have a heart healthy Valentine's Day
Hang on for a minute...we're trying to find some more stories you might like.
by Kerry O'Connor
February 14 is the one day of the year where it becomes socially acceptable to  "eat your feelings" and for most of us, the challenge of staying with our diets on Valentine's Day is often a lost cause. Either your significant other will shower you with the biggest box of caramel-filled chocolates they could find at Stop & Shop, or you executively decided to be your own valentine and buy yourself a tub of Ben & Jerry's Cherry Garcia – because you deserve it.
It may be the time of the year to indulge in chocolate and other sugary sweets, but who said our New Year's resolutions had to be thrown out the window to have a happy Valentine's Day? This year, lovers and friends are able to stay both fit and happy on Valentine's Day by cooking up some healthy treats, instead of hearty ones. These treats won't leave anyone feeling as guilty as those desserts tasted!
Flourless Berry Banana Pancakes
In the words of Jack Johnson, "Let's make banana pancakes and pretend like it's the weekend." Kicking off Valentine's Day with these gluten-free berry banana pancakes is a great way to start the day of love.  For extra festivity, use a heart-shaped cookie cutter and make heart shaped pancakes.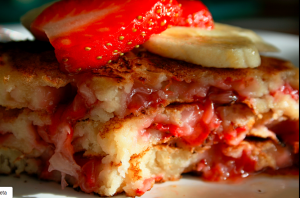 Ingredients:
4 strawberries
14 raspberries
4 eggs
1 banana
1/8 tsp. ground cinnamon
1. tsp. olive oil
1/2 Tbsp. agave nectar or honey
1.) Blend strawberries, raspberries, pecans and one egg in blender until smooth and frothy. Add remaining eggs, banana and cinnamon and pulse in blender until all ingredients have been mixed.
2.) In large nonstick skillet, heat oil  over medium heat. Pour ¼ cup of batter onto skillet and cook 3-5 minutes. Flip and cook 2-3 minutes, on the opposite side. Remove from pan and let cool.
3.) Repeat with remaining  batter.
4.) Drizzle agave nectar or honey on top for a sweet finishing touch.
Chocolate Dipped Strawberries On a Stick
Chocolate-covered strawberries can be magical to the taste buds, but then again, so can any fruit dipped in melted chocolate. Fruit dipped into melted dark chocolate is a healthy alternative to the traditional Valentine's Day treat and is just as delicious. Dark chocolate is proven to be good for your heart and full of antioxidants so this chocolate is sure to brighten your mood – always a good thing!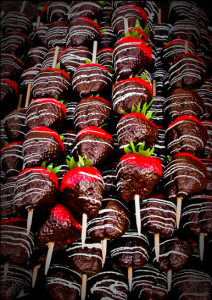 Dark Chocolate Walnut Pomegranate Clusters
For those who are feeling a little more adventurous, give these delicious clusters  a try. Walnuts are high in omega-3 fatty acids and pomegranates contain heart-protecting benefits to keep loved ones on track with their current diets. With only three ingredients, how could you go wrong?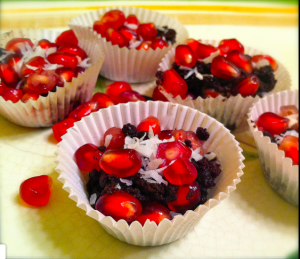 Ingredients:
8 ounces dark chocolate
3/4 cup toasted walnut pieces
3/4 cup pomegranate seeds
Directions:
There are two ways to go about making these clusters:
Option 1: Melt chocolate in double boiler. Add walnut pieces and pomegranate seeds, then spoon the mixture onto parchment paper lined baking sheet to cool.
Option 2: Line a mini-muffin tray with paper liners. After melting chocolate on the stovetop, spoon a small amount of melted chocolate into the bottom of the liners. Sprinkle in walnut and pomegranate seeds, and drizzle more melted chocolate on top. Add another layer of walnut and pomegranate seeds and finish with a drizzle of melted chocolate.
Refrigerate until solid.
Strawberry Sangria 
To end the day, get cozy on the couch with some strawberry sangria.  At only 75 calories a glass, this drink is low in sugar and research shows that red wine is high in antioxidants and a glass a day can be good for your health.  If you're looking for a mocktail drink, pick up some sparkling grape juice and add in sliced apples, strawberries, oranges and frozen grapes.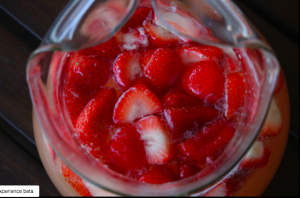 Ingredients:
1 bottle red wine
2- 12 oz cans sparkling water (lime)
3 cups sliced strawberries
Add the strawberries to a large pitcher then add the wine. Refrigerate for 4-5 hours. Add sparkling water, ice, and some more fresh strawberries to your glass, pour in the sangria and enjoy!
So whether it's with friends, family or that special someone, have fun this Valentine's Day and use it as an opportunity to try out these healthy treats!