Care without judgment: Working in the NICU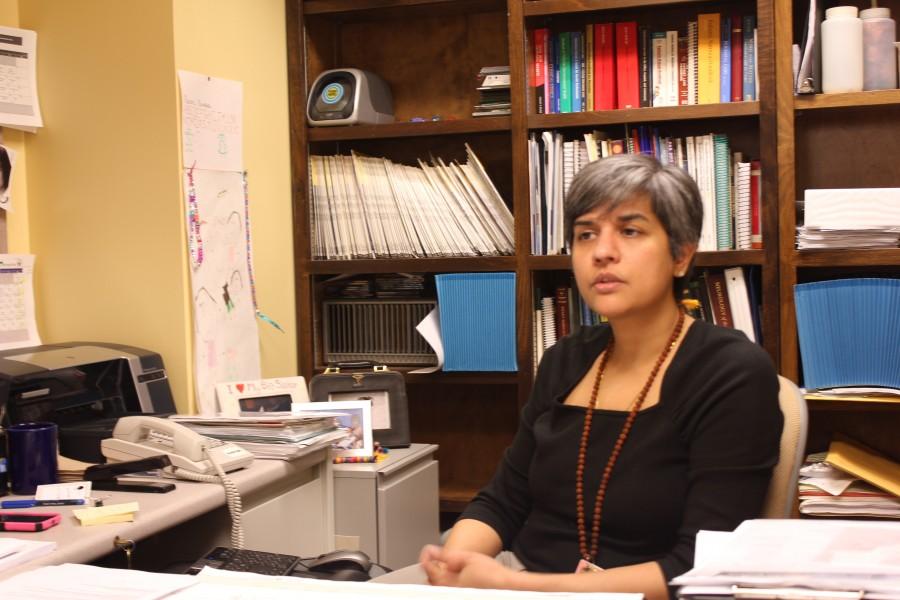 Photo: Dr. Rachana Singh, Assistant Professor of Pediatrics at Baystate Medical 
by Alexandra Lane and Rebecca Humphrey
Her co-workers call her the Queen of Pod One.
Michelle Nicoli has been a nurse for 22 years. Last June, she discovered her true passion.
For the past 11 months, Nicoli has been the only dedicated nurse to reappear in Pod One, one of the Neonatal Abstinence Syndrome (NAS) sectors of the Neonatal Intensive Care Unit (NICU) at Baystate Medical.
"Ironically this has really become my love," said Nicoli. "I don't know how it happened or why it happened but I do really love my job."
She starts her shift at 7 a.m., knowing she is responsible for easing the pain of newborns struggling to survive withdrawal symptoms brought on by their mothers addictions to everything from heroin to alcohol.
To avoid complications with pregnancy, addicted mothers are prescribed to a medically assisted treatment program (MAT), which consists of a daily dose of methadone or suboxone. So, infants who are born dependent end up exhibiting withdrawal symptoms similar to that of  adults.
Their symptoms can include jitteriness, problems with self-soothing, and difficulty regulating their bodies which results in vomiting, diarrhea, fever, or hiccuping.
"They go through all the same things that the parents go through," said Nicoli. "And they have no coping mechanisms, that's the real difference."
When she leaves at 7:30 pm, her first thought is usually how good it feels to sit down in her car. Once that passes, her mind often wanders back to thoughts of the NICU.
"Who is going to fight for these babies if I don't?" Nicoli asks. "Who is going to do this? If nobody else is willing to stand with these families and learn how to care for these babies who is going to do it?"
Nicoli has witnessed an increase in the number of babies that the Baystate NICU treats for substance exposure in the past five years.
The national average for babies born substance-exposed is 3-4 for every 1000 live births. At Baystate Medical, that number nearly quadruples to 17.7 for every 1000 live births. In 2013, the number of infants born substance exposed at Baystate Medical was 73 compared to just 20 in 2008.
Dr. Rachana Singh, Assistant Professor of Pediatrics at Baystate Medical, says that of those babies who are born substance exposed, 50-80 percent will withdraw. She estimated the cost of caring for a withdrawing baby as upwards of $50 thousand per baby.
In Massachusetts, "Substance Abuse" was selected as an indicator for 746 (28.6 percent) of the 2609 newborns that were subject to one or more reports of abuse and neglect during 2013. It is estimated that it cost the Bay State, approximately $72 million to care for substance exposed newborns in 2013.
When Nicoli took her permanent position in the NICU, Baystate Medical was not experiencing the births of as many substance exposed babies as they are now.
"We would have maybe two every six months," she said. "That was just five years ago. The numbers are dramatically increasing."
On an average day, Nicoli takes care of anywhere from two to four withdrawing babies. Within the NICU, these babies exist in a cluster called a pod. Each pod can contain up to eight newborns, and employs one to two nurses to oversee administration of care.
"The people who take care of these babies need to be a little bit more emotionally strong, and have to have a degree of resilience," says Singh. "Having said that, after four days of taking care of the same subset of patients, they will say 'can we have another assignment?' Because we do need to take a break.'"
Nicoli is the only nurse in the NICU at Baystate that is solely stationed with the NAS babies.
"Many of our nurses do not like working in Pod One primarily because of the social stuff and many have very negative opinions about these families," said Nicoli.
Nurses are only  human, and Nicoli explained that it can be hard to separate life and work. The negative connotation between addict, pregnancy, and childcare is a stigma that can be tough to shake.
Nicoli said it took her a couple of months to adjust and understand the scope of addiction. When it comes to caring for these babies she says, "I have to lead by example. People see what I am doing everyday."
Since her shift in perspective, Nicoli has come to revel in her role in the NICU. Most days she enjoys handling the "social stuff" as she calls it. The attention to parent-child relations requires her to wear multiple hats as not only a nurse, but a caretaker, therapist, and social worker.
"Because I understand that nature of addiction and I understand this population more, I don't blame them," says Nicoli. "That doesn't mean I have rose-colored glasses and I think they are all wonderful amazing parents, but I don't blame them."
Erica Asselin, 34, is a mother who could not help but blame herself after she found out she was pregnant with her sixth child during the midst of her heroin addiction four years ago. Asselin thought she had already hit rock bottom. But, the threat of losing another child made her realize she had more room to fall.
Her battle to get clean, hard enough under the best of circumstances was compounded by the social stigma of being an addicted Mom.
In order for there to be any progress in the consistency of care for substance exposure in infants, Asselin believes there is a need for a shift from judgment to understanding when dealing with addicts.
"I think it is something that comes with such a stigma you try to hide from it," says Asselin. "It's narcotics anonymous, its alcoholics anonymous. Until we say 'No, I'm not anonymous,' it's going to remain that everyone that uses substances is some scum-of-the-earth kind of person and that's not the case."
After the substance-exposed baby is born, the primary goal of nurses is to keep the infants as comfortable and healthy as possible. In order to do that, they have to keep a positive relationship with the parents and encourage a healthy lifestyle moving forward.
For Nicoli, that means removing judgment and building trust with the parental and familial units of each baby that she cares for. After 22 years of nursing, the past 11 months have taught Nicoli the most about how much addiction impacts individuals and families. She no longer puts blame on the addict, and advocates for others in her field to consider this perspective.
"I have to consciously check my judgment at the door before walking in, because it can eat away at me if I'm not careful," said Nicoli.
This is not an easy task since many mothers can become very skeptical of nurses. Parents know that the nurses are responsible for the administration of medication to their infants, as well as interaction with social services.
To erase the fears of the parents, Nicoli makes honesty one of her top priorities when dealing with infants and their families.
"They don't trust a lot and they automatically assume that you have an ulterior motive, so being truthful with them is really important in my practice," said Nicoli. "If I don't know the answer, I don't pretend to know the answer, so that is a big part. We can't do a lot of sugar coating, at least, I can't because once they don't trust you …they aren't going to trust you."
At Baystate, Singh believes nurses have been striving for an atmosphere of acceptance and understanding, rather than focusing on the history of the parents.
"Because if you keep on looking at the history, you will never be able to improve your future," said Singh.
"You go home and realize you did the best you could for that day," said Nicoli. "Then you go back again and do it the next day."