Let's talk about birth control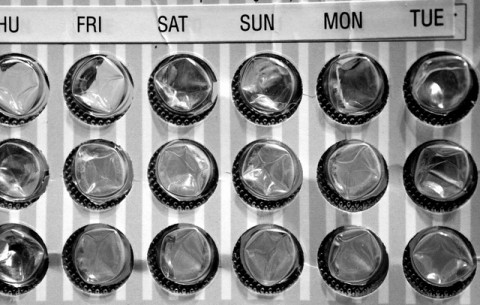 Hang on for a minute...we're trying to find some more stories you might like.
By Shira Ledani
It was Lil' Wayne who said it best: "Safe sex is great sex…'cause you don't want that late text, that 'I think I'm late' text."
When it comes to safe sex and birth control, it is never too late to learn about your options and take action. Part of being a responsible, sexually active person is taking charge of your body and making decisions to protect yourself. It is important to find the best method of birth control to suit your needs.
Let's start with the time-honored standard of protected sex: the condom. Many people are familiar with condoms, maybe you even put one on a banana in health class, but they are classic for a reason.  Planned Parenthood's website supports that condoms are 98 percent effective when used properly, easily accessible and cheap. They not only prevent pregnancy, but also STDs that can be transferred from skin-to-skin contact. For further protection, condoms can be combined with any other birth control method.
When it comes to prescription methods of birth control, "the pill" is at the top of the list. Oral contraceptives, first made widely available in the early 1970s, are once-daily pills containing hormones that prevent eggs from leaving the ovaries. This eliminates the possibility of an egg merging with sperm. These hormones also thicken the cervical mucus, further inhibiting sperm from reaching an egg. Oral contraceptives are available either through your doctor or at health clinics, and can be picked up by students at the University of Massachusetts Amherst at locations such as University Health Services and through organizations like Tapestry Health.
According to Planned Parenthood, oral contraceptives come in two varieties, the more common combination pill, which uses the hormones progestin and estrogen, and the progestin-only pill. The latter is preferable for women who cannot intake estrogen. Both variations have benefits in addition to preventing pregnancy. They can help acne, bad menstrual cramps, extreme PMS symptoms, and heavy or irregular periods. There are risks involved when taking prescription medication, so you should consult your doctor. Some risks of oral contraceptives include blood clotting, heavier and longer periods, headaches, and nausea.
If a once daily pill isn't your cup of tea for whatever reason, don't worry. Other variations of this basic hormonal birth control are now available, all offering similar benefits and risks. They differ based on price, preference, and frequency of use. Birth control is available as an implant, a patch, a shot and a self-inserted ring, all providing the same level of protection.
The birth control implant is a thin plastic insert placed under the skin of your upper arm. It releases the hormone progestin to the same effect as the pill, but can last for up to three years before replacement. The birth control patch is a small, plastic patch that sticks to your butt, stomach, back, or upper arm. You change it weekly. The birth control shot is an injection of progestin that gives three months of protection. The birth control ring, also known by its brand name Nuvaring, is self inserted into the vagina once a month.
A newer form of birth control is one of the most effective methods on the market today. The IUD (intrauterine device) may be the best bet for someone who wants to set it and forget it, so to speak, with no hormonal effects. A flexible, T-shaped device- the IUD- is placed in the uterus to divert sperm from joining an egg, and is effective immediately after insertion. A non-hormonal copper variety can last up to 12 years, or a plastic hormonal variety can last from three to five years.
All of these options are great for preventing pregnancy, but they do not prevent the spread of STDs. If this concerns you (and it probably should), never forget that condoms are not only an effective form of birth-control, but an effective method of preventing STDs.
Because nothing is one hundred percent effective one hundred percent of the time, there is always emergency contraceptive, commonly known as the morning-after pill, or Plan B. This has been recently made available over the counter and ranges in price from $30 to $65. This pill can be taken up to five days after having unprotected sex, but is most effective within three days. It is effective about 89 percent of the time. It causes your egg to be released from your ovaries slower than usual, so there is nothing for sperm to merge with. Despite what you may have heard, this is not an abortion pill. It is an effective form of birth control.
Anyone may have those slip-ups when they have to reach for the Plan-B. However, it is not a long-term solution as a birth control plan and should only be used in emergencies.
When it comes to safe sex, consistently and properly using any form of birth control will give you peace of mind. Have a birth control plan, whatever it may be, so you don't find yourself in a situation that you don't want to be in. Unsafe and unprotected sex is a choice. Figure out what you want and what you need, and make responsible decisions for your body that fit your lifestyle.
For more information on birth control methods visit Planned Parenthood's online guide to birth control here.
Information on contraceptive services from UHS can be found here, and for Tapestry Health, here.
Shira Ledani can be contacted at [email protected]