Incarceration and injustice: "Orange is the New Black" author Piper Kerman talks at UMass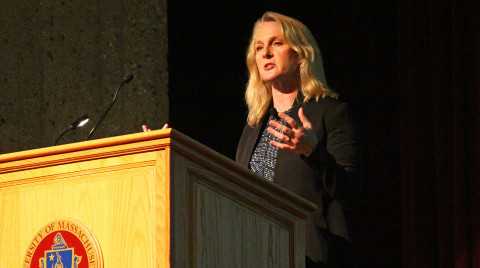 Guests waited last Wednesday in a buffet line just outside the Massachusetts Room at the University of Massachusetts Amherst when the woman of the hour walked in. She was escorted to an empty table in the front of the room, table #1, by a faculty member who promised her a plate of food right away.
"And cut the line?" she asked suspiciously.
Such is the way of  Piper Kerman, author of the memoir "Orange is the New Black," the basis for the same-titled hit Netflix series.  The best-selling memoir chronicles her 13 months spent in the Federal Correctional Institution in Danbury, a women's prison in Connecticut, for transporting narcotics and laundering money. Despite her success, Kerman still exemplifies the same humility that helped her survive a year in prison.
In her speech, Kerman used her personal experience in the criminal justice system to describe its various failures, such as the increased incarceration rate of minorities and the imbalance of power between genders.
"This isn't just about prisoners or jumpsuits, this is about women," Kerman said of her book title choice. The idea of a different color being "the new black" is typical of fashion magazines, connecting the title to women.
One slide included nothing but the figure 800 percent; the percentage increase in America's incarceration of women over the last 30 years.
"When did the female crime wave break out, why I haven't I heard about this?" Kerman asks. The women in prison today would not have been in prison thirty years ago, and this, she says, is an enormous issue for several reasons.
When mothers are placed in prison, they often lose their children to foster care. Kerman argued that frequently, the solution to crimes committed by mothers could be solved without imprisonment. She explained that the crime rate is at an all-time low, despite the spike in incarceration numbers, and two-thirds of jailed women commit nonviolent crimes – though gender is only half of the equation
After her first night in prison, Piper Kerman said she felt grateful: her 15-month sentence felt minimal compared to the many years some of her fellow inmates faced. This was hard for Kerman to accept because she knew their crimes were not all that different from hers. The reason, she says, lies in race and socioeconomic status.
Currently, the author is a member of the 1840-founded Women's Prison Association in New York. After looking through the association's original logbooks, Kerman found what she described as amazing penmanship – and all Irish names.
"To me that's a powerful reminder that these institutions, these systems are used as tools of control, and they're used very intentionally to target certain parts of our society, certain people," she said. Kerman said that the criminal justice system enforces a kind of systemic discrimination against poorer, non-white people who are often unable to afford adequate lawyers.
Kerman also spoke of the kindness of the women she met in prison, a theme portrayed throughout her book. She described the misconstrued image of prisons as uncontrollably violent, and contrasted it with the "welcome wagon," a ritual of seasoned prisoners offering new prisoners the essentials that were not supplied to them, such as toothpaste.
"Prisons are places, which I would say are truly designed to take away people's humanity," she said, "and yet all these women were filling up this prison and sometimes exchanging kitten stickers." A kitten sticker was gifted to her and placed on her nametag, the letters of which were drawn in a unique, calligraphic manner by her inmate Star, otherwise known as the artist of Danbury. These personal, original nametags were meaningful to them, Kerman said.
She added that friendships were the most important part of her time behind bars: "I can't even imagine how you would survive prison without friends…mentally, emotionally, spiritually, to try to navigate a prison sentence in isolation…is unimaginable to me." Many of these friends are still in her life today, she said.
The Netflix show came to life after "Weeds" and "Gilmore Girls" writer Jenji Kohan approached Kerman in Los Angeles. The T.V. show differs considerably from her book.
"They put a lot of other ingredients in there and they press liquefy," she said, though, "it really stays true to the heart and soul and the perspective of the book."
Kerman said her life takes on the exact same form it had before, that she has even lived in the same apartment in New York since her return from prison in 2005. She added that she hopes people will look at criminal justice reform and not solely prison reform: that institutions such as arts centers, libraries and public universities like UMass receive more and more investments, because these places often lack in the areas where incarceration rates are high.
"Readers might come away from this book with a different idea about who is in prison in this country," Kerman said, "And ask, why are they there?"
Kristin LaFratta can be reached at [email protected]