3D printing: a totally doable trial and error process
Three University of Massachusetts Amherst sophomores started their own business, IRollie, the iPhone case that features a rolling tray and funnel, with a design drawn on the back of a napkin and the help of a 3D printer.
Jake Bernstein, a computer science major, is head of outreach, Andrew Bachman, an accounting major, is head of design, and Joseph Khoury, an operations and information management major, is head of technology and business. Khoury came up with the idea last spring when one of his friends tried to roll a cigarette on the back of his phone.
"There's an entrepreneurial proverb that says, 'If you jump off a cliff, build a plane on the way down,' and that's kind of what we did. We went in with zero experience," said Khoury.
They first downloaded a blank iPhone 5/5S case off shareCAD.org and used Google SketchUp to tweak their design. It then had to be converted into an STL file, which they did with a simple converter found on Google. After, it was sent to a 3D printing company through 3D Hubs, a company that allows users to search for people in the area with 3D printers.
"When we put the prototype on our phone for the first time, it actually broke, and that's because 3D printing is not structurally sound," said Bachman.
The iPhone case was made with ABS, a flexible and durable plastic polymer. But when an object is 3D printed, it is created as a string and shaped into layers that do not have much surface contact between the plastic. "It's good for getting your ideas into actuality, for kind of having something in hand. But it's not good for a finished product," said Bernstein.
But without a 3D printer, the process of creating IRollie would have looked very different. They would have had to buy and make a mold themselves to create a prototype and spend thousands, rather than the few hundred it cost them. "The 3D printer was so necessary just because it's the only way to cheaply and visually look at what you're trying to build," said Bernstein.
"The 3D printers can't print with the highest resolution, so our prototype had a few ridges, but we had something for $19 that we could show people and get them excited about. You've never been able to make a prototype that quickly or cheaply before," said Khoury.
From there, the trio decided to find someone else through 3D Hubs who could give them their product in a more readable, factory-ready file format. They contacted the owner of a 3D printing hub nearby who walked them through the process of designing and perfecting the CAD file, which they sent to a mass production company called Protomold. After a few final adjustments, the company used their file to produce 100 cases.
IRollie is waiting on a huge shipment, and this time, the cases will also be available in red, green, and blue along with the original black; the different colors are made with colored beads thrown into the ABS. The team is planning on adding graphics to their cases with a process called hydrographics, which is when a film of a design is dissolved in water and an object is dipped into the water and pulled through the surface. The pattern sticks right to it.
"We started this summer with just an idea, something we wanted to create, and little by little we pulled together some information and learned it ourselves," said Bernstein. "We wanted to use this as an example to show that people can create their ideas. You don't have to be knowledgeable or have the right connections. You just have to be willing to go on the Internet or talk to someone and figure out what you need to do."
The phone cases are available for $14.99 on their website, set up through wix.com; it's free, user-friendly, and requires no coding. Facebook, Instagram, and Twitter accounts for the company were also made. The team reached out to other social media accounts and outlets and got them to give shout-outs and feature IRollie. From their experience, Twitter has been the most affective way to get the word out.
"Our Twitter gained 160 followers in two days because we got someone with a massive number of followers to give us a shout out. Basically, we've been strategically reaching out to people that would help us reach our target demographic," said Khoury.
"It makes it easier for the customers because a lot of people who love our product wouldn't have heard about it if it wasn't for social media. People are always saying, 'Yeah, there's no way I would have found out about this if I hadn't seen X, Y, or Z,'" said Bernstein.
The IRollie team has big plans, and is currently talking to local smoke shops and reaching out to wholesale distributors. The sophomores are also waiting to see how the sales go with the iPhone 6 released last month to decide if they want to make a case for it, but that can wait. Right now, they are still riding the high from taking an idea and successfully turning it into a product on their own.
Here's what IRollie will look like: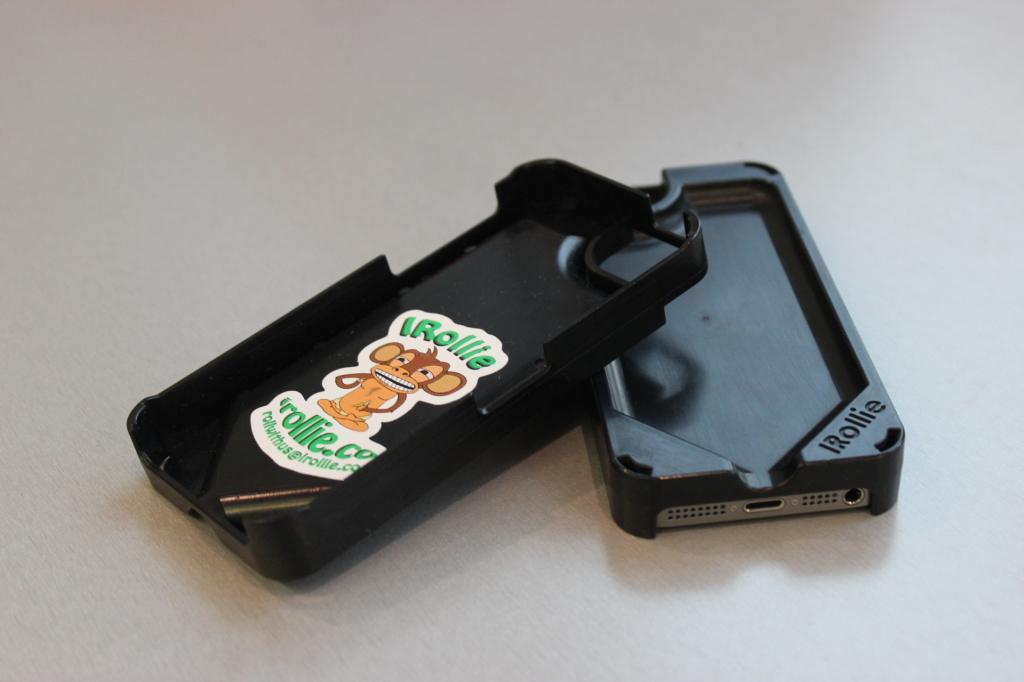 Hae Young Yoo can be reached at [email protected] You can follow Hae Young Yoo on Twitter @drinkyoohoo.