The perfect pitch: at the UMass Innovation Challenge, some really big ideas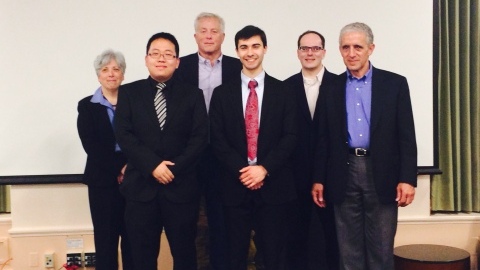 Imagine. You're an entrepreneur with the next big thing and you have one minute to explain it to the waiting crowd. These people want to hear what problem you'd solve, or how you improved upon a popular design. You're nervous, but you've practiced. You've got your spiel down to 60 seconds, you've polished your pitch phrase, and you've practiced making eye contact with the judges because that's where the money is.
A thousand dollars, to be exact.
For students who competed in the Innovation Challenge at the University of Massachusetts Amherst on Oct. 30, the task wasn't just presenting a product. Students engaged in entrepreneurship all over campus are finding that their projects help them learn about analytical thinking and problem solving.
Over 40 teams competed to win up to $1,000 to launch their business or big idea. Some students used the challenge  to practice for another pitch competition in December, where students compete for a larger prize of $10,000. Others used it as a trial run to improve their presentation skills or a  launchpad for  future business plans. Currently, one of the teams that competed are filing for a patent and declined to have their project publicized during that process. Nonetheless, students, faculty and community members  got some lessons about entrepreneurship at UMass.
Leo Xuzhang Lin and Matthew Minafo pitched Acorn Drive, a cloud storage service that secures files. The team took first place for their encryption system that Lin said, "makes it impossible for our employees to read the user's data at any given point and prevent data loss even if our server has a security breach."
Michael Malone, vice chancellor of research and engagement, says these events are important for a research university like UMass.
"It's a way to build awareness and give people a bit of exposure and education about how to put ideas into action," he said. There was also a community building aspect, where students who didn't pitch could learn what their peers were inventing.
"We are interested in innovation and impact," Malone said. These two factors are what excited Karen L. Utgoff, a judge and sponsor at this year's challenge. Utgoff, a local business owner, has been involved with the innovation challenge since it started in 2005. She says that this pitch competition was important for the Pioneer Valley and even the economy.
Not everyone walked in the door ready to pitch. The Innovation Challenge held workshops and seminars during October to help. Students learned the mechanics of a good pitch, but could also take courses on entrepreneurship, learn how to write a business plan and build stronger presentation skills.
Those workshops helped Ajay Kumar, a neuroscience doctoral candidate at UMass, prepare for the competition. Kumar took home $400 after he presented GeneRisk. Inspired while he was working on a genetic database for autism, Kumar noticed that clinicians needed help with the diagnosing and treatment process. He heard about the event through an email from the Office of Professional Development and used the challenge as a chance to present to an audience outside of the medical field and gain feedback.
"Next ten years , I see us launching and making a name and working with a disorder and licensing the technology to people who do gene testing," Kumar said about the future of  GeneRisk.
Some projects came from taking a simple, but aggravating task and making it easy. UniTable would solve a problem for anyone sitting on the couch; getting up to get the remote or a drink from the fridge.
"It started off in the living room realizing how technology could make life more convenient –in that spirit, we said 'why not run with this idea?'"  said Anand Thakkar, a Western New England student and team member.
The challenge was coming up with something "jazzy" and summing up all the important details, said Jackson Bailey, a communications major at UMass Amherst who presented for UniTable.
"Even if you aren't confident about what you're talking about, you have to act like it—being up there, I could feel the energy and it was fun," he said. Team UniTable hopes to get its design patented and came to the event looking for mentors to help them in the infancy stage of the process.
Malone remarked that the projects in recent years have combined technology and entrepreneurship. He described them as, "an interesting combination of business, technology and the right thing at the right time."
Nia Decaille can be reached at [email protected] or follow her on Twitter @duhcaille.