Inside Marriott Meals at UMass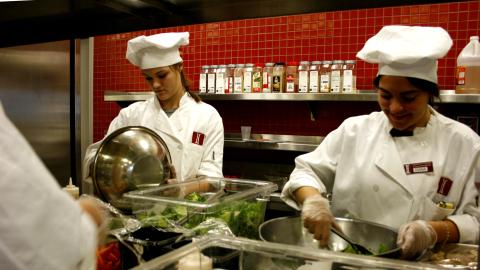 Jason Kotoch, Writer
November 18, 2014
Hang on for a minute...we're trying to find some more stories you might like.
By noon, the dining room on the 11th floor of the Marriott Hotel at the University of Massachusetts Amherst is humming with light music and lunchtime chatter. Guests sit around tables covered by pressed black linens. Each place is set with three forks, three knives, two spoons, a water glass, and a white linen napkin that looks almost like it was folded by an origami master. A small orange maple leaf sat tucked into one of the napkin folds, adding a burst of color to the elegant black and white tablescape, bringing a little bit of the outdoors in.
Behind two large swinging doors, UMass students and teachers dressed in white chef coats and hats prepare entrées, plate desserts and wash dishes as part of the school's restaurant operations management course. Students enrolled in the class are graded by their teachers, but unlike most classes at UMass, the students are also graded by the paying public who are given comment cards that they are asked to fill out following their meal.
Casey Ryder, a senior HTM and marketing major, was working the salad station. "It's a little nerve racking actually," Ryder said. "They rate everything we do on the comment card."
As part of the Isenberg School of Management, students work closely with one another and are in charge of all the day-to-day operations at Marriott Meals, a program delivering first class food and service to the public.
The school's website says the "course provides an exceptional management and interactive learning environment, after which students feel confident moving forward within the hospitality industry."
Ryder and the other students working in the restaurant are learning how to run every aspect of a real-world restaurant, from dishwasher to manager.
Head chef Jenafer Andren, who is also the class instructor, effortlessly works four pans at once, adding pasta to one while adjusting the heat on another, all in perfect time. Fire leapt out of a sauté pan just as a ticket printer produces another lunch order from the dining room.
Katelyn Daly, another senior hospitality and tourism management (HTM) and marketing major who happened to be the expeditor that day, grabs the ticket and reads it out to the kitchen staff. "I need two special salads, and two scampi," she says.
To call this a tossed salad would dismiss the artistry in the craft. Ryder sprinkles toasted sesame seeds over the perfectly dressed greens, then crushed almonds and crispy fried wonton strips. Finally, she arranges fresh shrimp around the edge of the white salad plate.
Senior HTM major Diana Tzanis said she loves the class and loves learning all the skills necessary to run a business."It's pretty awesome, it's a fun class. We go from the top to the bottom in one day. You're managing the entire restaurant one day, then you're the dishwasher," she said.
While waiting for an order to come in, HTM senior Alison Nicoletti said she likes being a server more than cooking, but noted that the kitchen was the heart of the restaurant.
"I like working front of house, I like talking to people and meeting people," she said. "But the magic happens in the kitchen."
During the busy lunch, the head chef was barraged by a long list of orders. On the other side of the line, six long lunch order tickets hung as new orders continued to pour in. The ticket printer sounded like a robot ratcheting out order after order.
Daly called out more commands, "I need three special salads, two scampi, one pesto, three deserts."
As she was plating another salad, Ryder said she hopes to get into the hotel business when she graduates in the spring. When she's not skiing for the UMass Alpine ski team, riding her horse or working out at a local CrossFit gym, she is working at the Holiday Inn Express.
The Marriott is open to the public for lunch Tuesday, Wednesday and Thursday with seatings at 11:45 and 12:30. Dinner is offered on Tuesday and Wednesday only, with seatings at 5:45 and 6:30. Reservations can be made by calling 413-545-0877 or emailing [email protected].
Jason Kotoch can be reached at [email protected] or on Twitter at @jasonkotoch