A guide to running your first half marathon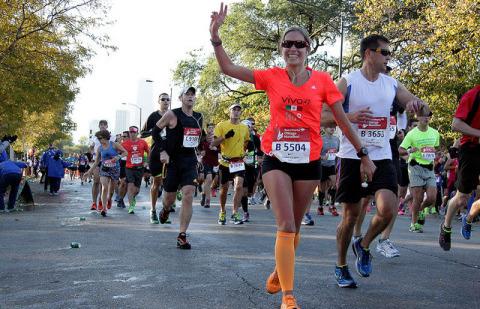 by Lauren Woods
Photo Credit: (Gsregalado/Flickr)
You've decided to run a half marathon? Congratulations! It is a huge feat that you should be proud of. As a college student, you have a million other things going on that can and will affect your training schedule—not to mention all the snow that makes running outside nearly impossible. Don't let these obstacles deter you from doing something only 1.96 million Americans did in 2013. This year, you can be part of the accomplished half-marathon-running Americans! Here's how:
1. Choose a race.
Find a race and register. This step is expensive considering race registration can range anywhere from $50-$100, but think of it as an investment in yourself. It will be much harder to stay motivated if you don't have a race to look forward to. I don't know about you, but I am in no position to waste $100 on something I am going to give up on.
2. Get good shoes.
I know what you're thinking, "You want me to spend more money?!" The answer is yes, because the right pair of shoes are absolutely essential to your training. You will be running up to nine and 10 miles, so you want to make sure your shoes don't leave you with blisters and feet strains. Get online and do your research! There are plenty of great running shoes, and many stores have specialists that will help you find the right pair.
3. Find a training schedule.
Get on the Internet and scour Pinterest and Google for a training schedule and some extra inspiration and running tips that works for you. If this is your first time attempting a race, choose a schedule that caters to beginners with a longer training period. There are also plenty of apps to keep you on track! Marathon & Half Marathon Trainer by Grinasys Corp. gives you audio instructions during each training session, and apps like MapMyRun can track your pace and distance.
4. Fuel your body properly.
"But Late Night has bacon cheese burger sliders!" Save it. You don't need to go vegan, and you definitely shouldn't starve yourself, but your body needs proper nutrition to be fueled for such intense training. If you need in-depth advice about how to eat properly for training or just want some health and fitness tips, the Wellness Center at Campus Recreation can help. There are also tons of resources and recipes online for runners! Unfortunately, there are no healthy alternatives for Big Macs (yes, I've searched).
5. Tell people you're running a half marathon.
If spending all your money on the race and running shoes wasn't enough of an incentive to stay motivated, then telling people you're running a half marathon should be. Tell your Mom, your friends, your professors and even the kid in Psych 101 you think is good looking. Telling people will make this goal more real, and encourage you to keep going.
6. Make an energizing playlist.
Choose music that will pump you up and keep you motivated during your long runs, or on days when you just don't feel like putting in the work. Fast tempos and a lot of bass work well because you'll try to keep up with the pace! Personally, I listen to hardcore, and  mainstream rap songs because they are the only songs that can get me through that last mile. Oh, and you can't forget Queen B—Beyonce's new album is awesome to work out to.
7. Reward yourself.
This is by far the most important step of all. You are pushing your body to do something  difficult (really, really difficult). Your body will be rewarded with toned legs and less stress, but you should reward yourself when you reach your goals. My friend bought herself a new lipstick after each week of training—just think of how your makeup collection would look after that! Don't forget to treat yourself with whatever makes you happy.
8. Have fun.
Training for a half marathon is hard work, but try to make it enjoyable. Whether you grab a buddy to run with or conquer it on your own, don't lose sight of why you started training in the first place. Try your best and have fun along the way!
Here are some tips from other UMass students who have finished a half marathon.
"Run a lot. I didn't train enough and it was pretty painful. You just gotta get out there and do it." –Charlie Peters
"You need to incorporate both weight training and cardio into your workouts. This way you build muscle to prevent injuries and maintain endurance." –Jasmine Megnia
"Find a running buddy or two! My running partners make it so much easier to get out of bed on a cold morning and run." –Kathryn Cooney
"Amherst is the perfect place to train. The Rail Trail is flat and measured out, as well as beautiful." –Emma Lugten
"Don't worry, when you're actually running, the atmosphere and people will motivate you." –Erica Price
Lauren Woods can be reached at [email protected] or follow her on Twitter @lauuwoods