Northampton commemorates 100 years since Armenian Genocide
Hang on for a minute...we're trying to find some more stories you might like.
100 years, one century, 10 decades, 1200 months, 5217.75 weeks, or 36524.2 days, however you want to measure it, this is how long denial of the Armenian Genocide has continued. April 24, 2015, also known as Martyrs' Day, marks the centennial of the mass killing of 1.5 million Armenians by the Ottoman Empire.
The roots of this forgotten genocide began over fear that the Armenians would not remain devout supporters of Turkish rule. In order to secure power, the Ottoman Empire committed a mass slaughter of Armenians through horrific torture, starvation, rape, and murder.
For many Armenians, the lack of recognition has left an open wound. The Turkish government refuses to recognize the Armenian Genocide and actively fights against the media and all efforts to officially admit to its country's immoral and inhumane behavior. Despite 100 years of denial, the Armenian community and its loyal supports have refused to give up. Traditional song, dance, cuisine, and prayers are just a few cultural practices that have lived on and thrive today.
In the weeks leading up to the 100th anniversary of the Armenian Genocide, many milestone achievements have occurred. It has been a proud month for Armenians everywhere.
First, Amal Clooney declared her support and representation of Armenia in a landmark genocide trial. Following this, Kim and Khloe Kardashian, along with Kanye and North West traveled to Armenia. The amount of publicity the country received from their visit significantly helped spread awareness of the genocide.
Germany, Syria, and Austria just publically acknowledged the genocide, joining the governments of twenty-six countries including Russia and France. Forty-three states of the USA have also officially recognized the atrocities as a genocide.
Pope Francis delivered a speech at the Commemorative Mass in Rome where he addressed the inhumane killing of Armenians by the Ottoman Turks as a genocide. In the New York Times article, "Pope Calls Killings of Armenians 'Genocide,' Provoking Turkish Anger," this event was referenced as the first genocide of the 20th century. Francis named it a duty of everyone to not forget this "senseless slaughter."
President Obama, as promised six years ago, should have been next to follow in Pope Francis' footsteps. Armenians are still waiting for the president to fulfill that promise.
[slideshow_deploy id='11123′]
This past Friday, the Gathering to Remember the Centennial of the Armenian Genocide event  took place at Memorial Hall in Northampton, Mass. Reverend Andrea Ayvazian, pastor of the Haydenville Congregational Church, and her family has hosted this event for the past 15 years.
Reverend Ayvazian's personal stories and family history from the genocide, as noted in her Daily Hampshire Gazette article, helped create a memorable, spiritual, and empowering tribute to the local Armenian community.
At the 130-person gathering, Ayvazian spoke with sorrow and strength repeating the words, "People make choices, and choices make history. The Armenian people made the choice to stay strong, clear, and rooted in our faith. We have stayed close to God, for comfort, not anger…"
Ayvazian also addressed all the non-Armenian supporters present and sincerely thanked them for standing with us today. She said, "We need you to know all the details about us, to eat our food, to meet us, and to support us because we need to stop the denial of our genocide."
Margaret Sarkissian, a music professor at Smith College, read a poem titled, "The Crane." This poem illustrates the stories of a traveler who is unable to find his way back to his homeland. The meaning behind this message captures emotions of fear and lonesome, but also hope and strength.
In closing, Ayvazian said, "We need to go on and continue to make history…." Together, people stood in a moment of silence watching the red, blue, and orange stripes of the Armenian flag blow in the wind while chanting the Lord's Prayer.
God bless the 1.5 millions angels whose legacies will forever inspire the Armenian community to never give up on sharing the truth behind our faith.
Hebard yem hye alaloos! Meaning, I am proud to be Armenian.
Email Julie Shamgochian at [email protected], or follow her on Twitter @julie_sham.
About the Writer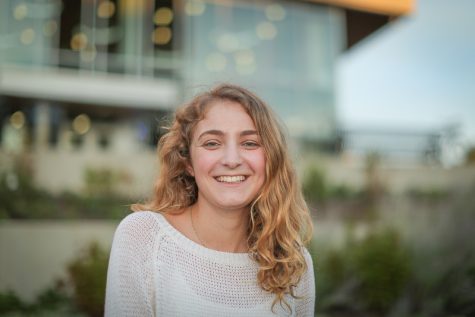 Julie Shamgochian, Managing Editor