'Welcome to Swamyville:' Students protest UMass housing
URSA-organized 'campout' protest calls on administrators to address what protesters call a housing crisis
On Thursday night, students exchanged the comfort of their dorms for tents and sleeping bags next to the campus pond. The "campout" protest called on UMass administrators to address student housing issues.
The sun was just beginning to dip behind the W.E.B. DuBois Library when the protest began at around 5 p.m. Nearly 50 students chatted, laid on blankets, set up tents and painted signs, and an occasional gust of wind sent petitions and pamphlets into a flurry.
"We are angry about the lack of housing provided by the university," said a student leader of the UMass Radical Student Alliance (URSA), which organized the event alongside Revolutionary Student Action (RSA) and Revolutionary Marxist Students (RMS). URSA students collectively decided not to share their names with the media at the event.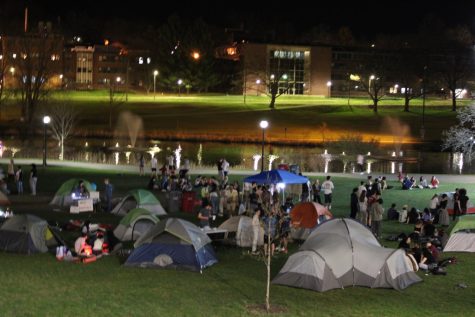 In an email recently sent to students with housing appointments, UMass Residential Life informed students there were 900 more appointment requests than spaces available on campus, meaning nearly a thousand students will now have to find off-campus housing.
Students organized Thursday's protest in response to the email, in addition to the overall shortage of affordable, gender-inclusive and quality housing. An URSA organizer described the event as "a culmination and an explosion of student interest and anger." 
"I'm hoping for the building of a greater movement," said Christopher VonLossnitzer, a freshman chemical engineering major. "College is hard enough… students being possibly homeless is a massive problem that needs to be addressed, and this is an issue that all the students at UMass can find solidarity in."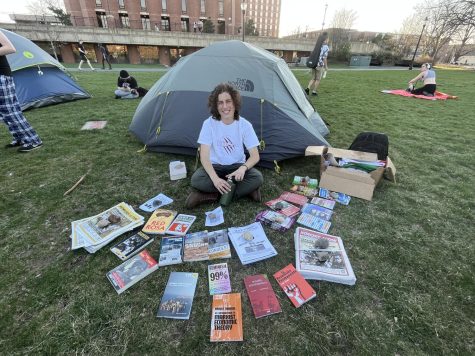 Students named the cluster of tents "Swamyville," a riff on the homeless encampments known as "Hooverville," named after President Herbert Hoover, during the Great Depression.   
As the evening progressed, around 100 students and nearly 20 tents arrived at the site, and at 7 p.m. students formed into a circle and held an open forum to discuss their own experiences and concerns with housing.
"The school has done little about the housing problem besides building very out of touch apartment-style housing," said Ian Anderson, a sophomore computer science major. "They aren't thinking about their mission as a land grant university for the common people."
This fall, UMass hired Axium Infrastructure, a private company, to finance and build the new Fieldstone Apartments in an effort to expand on-campus housing options for students. The apartments will feature 623 beds for undergraduate students at $1504 a month or more depending on apartment size.
Students at the forum were displeased with the new apartments, calling them unaffordable and criticizing the "privatization" of university land.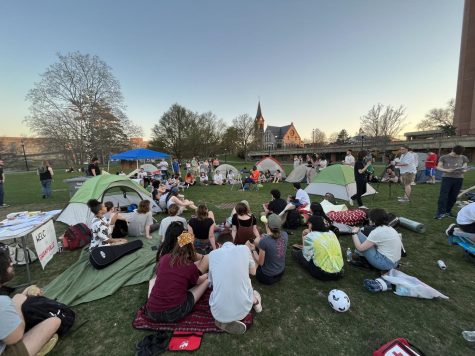 "Look around. Who paid for these buildings? Us," said Noah Ranz-Lind, a student at the forum. "They're treating us like guests on our own f****** campus."
Trans and nonbinary students also spoke to the extra challenges they face when finding housing, including obtaining rooms that affirm their gender identity and having easy access to bathrooms. Transfer students spoke about their unpleasant housing experience at the Econo Lodge this fall. Other students addressed the impact of UMass' housing problems on the wider Amherst community.
Throughout the protest, organizers gathered signatures from students for a petition demanding that the university stop over enrolling, build more accessible and affordable housing, and provide disability accommodations in dorms, among several other demands.
"If these demands are not met," said Hunter Cohen, a senior and one of the petition distributors, "everyone who signs the petition is planning to refuse to pay for laundry on campus, refuse to use vending machines and campus stores slash restaurants, refuse to deposit money into the UMass debit accounts and continue to demonstrate publicly."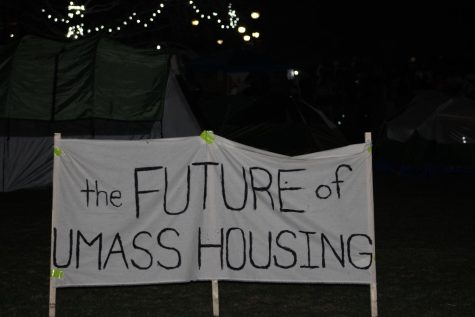 As the night progressed, some students began to pack up and leave, while others camped out in tents by the pond.