"Scream Queens" is killing us all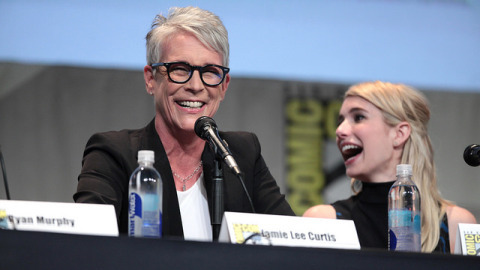 Have you predicted a day in which Ryan Murphy's hit television series "Glee" and "American Horror Story" become one? A day in which the bloodthirsty hierarchy of the high school caste system collides with literal, blood-shedding backstabbing?
Well, that day has come, and the perpetrator is a television show appropriately titled "Scream Queens."
I will admit the promotional images and big names were intriguing enough to reel me in. But unfortunately, the show itself falls tremendously short.
In the overwhelming two-hour premiere (which is too long for any series premiere), the audience witnesses four present-day murders and two fatal flashbacks. The gruesome and illogical murders leave viewers wondering, 'Did that really just happen?'
"Scream Queens" is an absurdly gruesome exaggeration of the aforementioned caste system, but this time, on the collegiate level. From a marketing standpoint, the series should have been a goldmine. A seductive Emma Roberts decked in diamonds and couture grasps a blood-soaked knife in the series's initial advertisement, sparking immediate interest in Murphy fans and non-Murphy fans alike.
The horror-comedy series centers on the fictional Kappa Kappa Tau sorority at Wallace University. The spoiled and narcissistic president, Chanel Oberlin (Roberts) attempts to regain control of her elitist sorority after a series of campus murders interfere with her otherwise flawless existence. Driven pledges and the corrupted Dean Munsch (Jamie Lee Curtis) challenge Chanel's epic power trip while simultaneously trying to uncover the maniacal, red-masked demon responsible for the murders.
Roberts and Curtis aren't the only superstar actors in "Scream Queens." The cast is chock full of big names, like pop stars Nick Jonas and Ariana Grande, Murphy's treasured "Glee" alum Lea Michele, along with Abigail Breslin, Keke Palmer, and Nasim Pedrad from "Saturday Night Live." But do all of these seasoned celebrities make up for a ridiculous script and messy plot line?
Well…
The death of Ariana Grande's character, Chanel #2 (named by the original Chanel as to not overexert herself in remembering her minions' names) is so absurd in its execution (no pun intended) that we laugh rather than cry.
Chanel #2, trapped helplessly in her bedroom, texts her red-masked predator 'are you going to kill me now?' while standing just two feet away from him. In response, her killer texts back 'yes,' draws a knife and stabs her as she crawls to her computer to publish a Facebook post recounting the ongoing attack. Chanel #2 is killed, but wakes up for a mere second to hit 'post.'
Equally as ridiculous, Chanel unintentionally kills the housemaid, Ms. Bean, by shoving her face in a heated frialator. The sorority sisters watch in horror as Ms. Bean stumbles to the ground pulling at her sizzling flesh. The scene goes on for far too long, just to let the ghastly image sink in. The girls then proceed to cover up Ms. Beans's murder as well as Chanel #2's mysterious death simultaneously.
The problem is, nobody seems to care about their fallen friends. Not so much as one tear streams from Chanel's meticulously mascaraed eye; the characters in the show care only about themselves.
Perhaps this is Murphy's attempt to relay an extreme parody of Greek life and the egocentricity of collegiate youths in general.
Similar to the social ranking that viewers attribute to "Glee," the "Scream Queens" hierarchy amplifies stereotypes without apology and extends them to the point of parody. Where "Glee" welcomed the gay kid, the pregnant cheerleader, the insecure jock, the smart Asian, and the handicapped, "Scream Queens" completely rejects them.
The neck brace-baring Hester (Lea Michele) is bullied for her unsightly appearance, while the deaf pledge Tiffany (Whitney Meyer) is neglected by every other character in the show, including the assumed 'nice girls.' Even in the opening scene, a flashback shows the Kappa sisters of 20 years ago deeming their pregnant sister rude and selfish for giving birth in the middle of a party. In the "Scream Queens" world, physical flaws are simply unacceptable and they might even be enough to get you killed.  
Murphy's new series is hyper-aware of the mockeries that it's making. Chanel's refusal to let 'ethnics' into her sorority is just a taste of the offensive dialogue that is yet to come. Additionally, the fraternal fear of homosexuality is explored for only a scene before its principal gay character, Boone (Jonas) is murdered along with his sexual preferences. Murphy even manages to sneak in several references to fraternity brother Chad's (Glen Powell) hidden necrophilia craze.
Ludicrous is the only word that comes to mind when I think of "Scream Queens."
The new series simply has far too much going on. From absurdist social constructs to hideously hilarious deaths, "Scream Queens" is more of a joke than something to be taken seriously. The show aims to keep viewers glued to the screen, but the confusing and emotionless plotline is not enough to compel the audience.
Ruthann Barry can be reached at [email protected] or on Twitter @ruthann_barry