Harry Potter: Stories keep on Rowling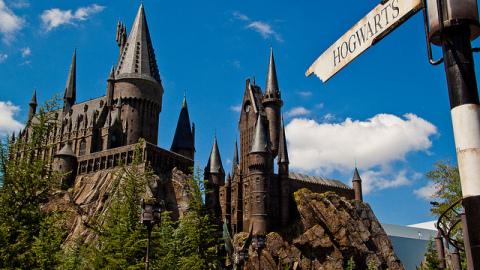 It's been five years since "The Deathly Hallows: Part 2" released in theaters — nine since the last Harry Potter book was published. And yet, J.K. Rowling's career continues to flourish.
Since the series's ending, Potterheads have begged for another book, but Rowling made no promises. Even so, they continued to worship their queen, and her non-Harry Potter novels "The Casual Vacancy" and the "Cuckoo's Calling" series.
Despite branching off from Harry Potter, Rowling never left her fans behind. She has always answered questions about everything Potter-related, and tweets about Pottermore, a website where fans can go to learn secrets about the wizarding world.
You can probably imagine how excited Potter fans felt when she finally announced a sequel.
"Harry Potter and the Cursed Child"
While Rowling tried to be discreet, it was recently revealed by Pottermore that "Harry Potter and the Cursed Child" will be a sequel, chronicling Harry's youngest son, Albus Severus. It picks up where the epilogue to Deathly Hallows left off, 19 years after the book's events.
The two-part play will open in London next summer, and tickets have already sold out. But don't worry if you didn't get a ticket, there will be a second run of shows later on.
Fans are finally getting the sequel they wanted. Though unfortunately, it is exclusive to those who can make it to the show. London fans have the advantage, while most fans in the United States won't get an opportunity to see the production.
"Fantastic Beasts and Where to Find Them"
Fortunately for fans who couldn't get tickets to "Cursed Child," there is more Harry Potter content in the works. "Fantastic Beasts and Where to Find Them," based on the titular textbook from the series, will be released as a film trilogy.  
While "Cursed Child" takes place after Harry's adventures, "Fantastic Beasts" will be set 70 years before Harry arrives at Hogwarts. It follows the adventures of the book's author, Newt Scamander (Eddie Redmayne), as he discovers and documents magical creatures for his book. Part one is set to release next November. Rowling wrote the film script and David Yates, who helmed the last four Harry Potter films, directed.
As exciting as it is to have something from the Harry Potter series come to life on the big screen, the story has little to do with the characters we grew up with. There is, however, a geographical twist to the film that might excite American fans. Scamander's adventure will take place in New York. What this decision entails is yet to be seen, but we already know there will be a different word for "Muggle" than the British term. (For those who aren't well-versed in the series, a Muggle is a non-magical person.)
So there are wizards in the U.S. after all, and that means there's an American school of witchcraft and wizardry. Perhaps that's why we haven't gotten our Hogwarts letters.
Re-releases
For fans who aren't interested in sequels or spinoffs, the original books have been re-released in more enticing ways.
Perhaps to appease fans upset by the new Pottermore site, Pottermore and Apple have collaborated on a series called The Harry Potter Enhanced Editions. These eBooks are designed with new artwork, animation, and interactive features — plus J.K. Rowling's annotations from Pottermore.
Not a fan of eBooks?
Rowling also paired up with artist Jim Kay to release fully-illustrated versions of the original series. "The Sorcerer's Stone" was released on Oct. 6, and features fantastical drawings.
Rowling has since hinted that she is writing another children's book. Will it live up to the legacy of Harry Potter? Or will it lack a certain… magic?
Email Haley Bucelewicz at [email protected].