The Trash Monster
We've all seen it. But what does it mean?
Vimeo / UMass Journalism – via Iframely
Thin metal wires form an 8-foot tall skeleton and nearly 200 compostable to-go containers are meticulously arranged around this frame, blocked off by a black rope. A sign to its left reads, "Don't feed the Monster."
A beast has been growing in the Blue Wall at the University of Massachusetts Amherst.
Alexander Nason, a junior in the Isenberg School of Management, first introduced the idea of the Trash Monster when he and a group of students brainstormed ways to make campus more sustainable for a class project. But when the class broke for the semester, the Trash Monster was still on his brain.
"My group kind of fell apart at the end of the school year but I went on with it," Nason said.
Nason started working on the sculpture about six weeks ago after teaming up with UMass Dining, faculty, art majors, eco-reps and friends.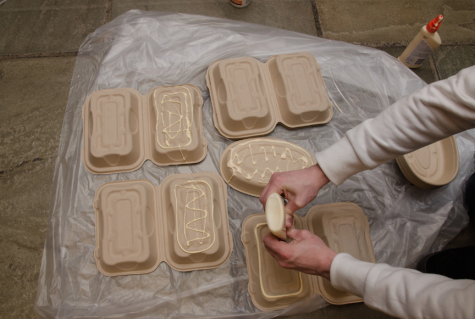 It is still not finished.
"They probably could have done it in a day but we actually agreed to do it more slowly to sort of build traction and some excitement," said Associate Director of Retail Dining Van Sullivan. Sullivan helped fund this project and gave it the administrative support that it needed. "We want to target and fund good projects, especially if it's something that's going to help me reduce waste," he said.
The overall purpose of the Trash Monster was to cut down on the excessive use of to-go containers.
"This all started with Alex's group approaching students, peer to peer, and asking the question, 'Why are you using a to-go container but you didn't go?'" Sullivan said.
And walking around Blue Wall, it is clear this is a relevant question. To-go containers and cups fill the majority of tables, rather than the china offered for those dining in.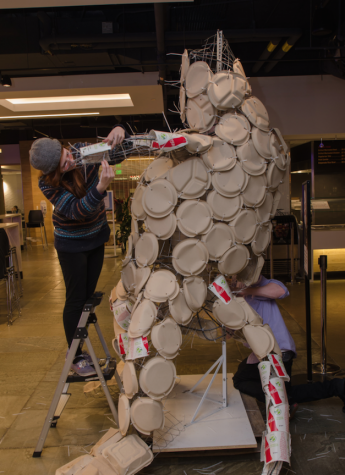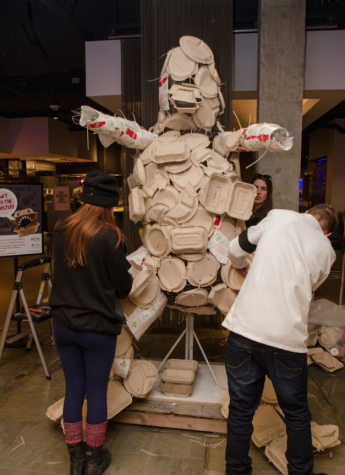 "I understand it because there's a lot of myths behind it, like you get more food, 'I think I'm gonna end up taking it home,' even though they often don't," Nason said, "but it's disappointing, especially when I see them doing it right in front of the monster."
Nason and his team usually meet on Sunday nights after hours to add to the beast. He acknowledges the irony of the message and the fact that they are "wasting" to-go containers for construction.
"At the beginning. we planned on using dirty containers but for health code reasons we couldn't do that," he said. However, he rebuts these arguments by saying approximately 4,000 containers and utensils are used at Blue Wall each day, and so this is just a minute fraction of the campus waste.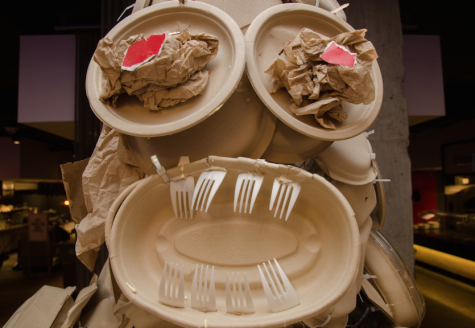 "We are taking 200 containers and hopefully saving thousands down the line," he said.
For Nason, this project has turned into an independent study, and it called for accumulating hard facts. Although he says it is too soon to analyze the data in order to find out how effective the Trash Monster is in delivering the message, he is confident in his project.
"I see people walk by and take pictures of the monster, take pictures with the monster, talk about it — so it seems like people are getting a positive review," Nason said with a smile.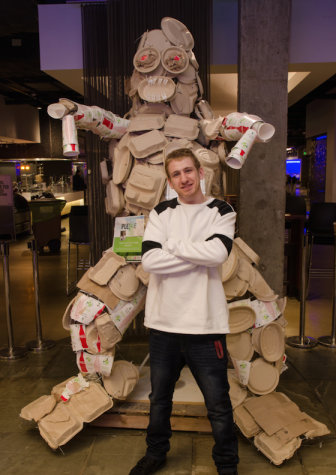 Email Kate at [email protected] or follow her on Twitter @_kateferrante.
All photographs by Keith Toffing.