UMass hosts symposium in honor of slain journalist James Foley
UMass Amherst hosts symposium to honor Foley's accomplishments and legacy.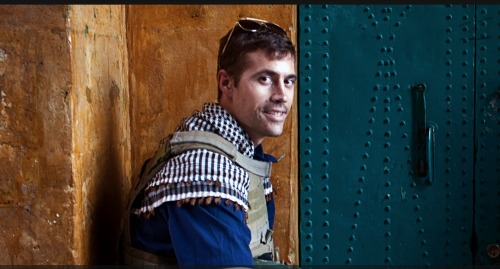 AMHERST — Students, faculty and community members were filled with emotion Monday night as they watched a documentary about the life of James W. Foley — an American freelance journalist who devoted his life to sharing the stories of those suffering in war-torn countries.
Foley was captured  in 2012 while reporting on the Syrian civil war. He was executed in August 2014 by ISIS militants, who broadcast the act in a video that was posted on the Internet and drew worldwide revulsion.

The HBO film, "Jim: The James Foley Story," received an Emmy award Sunday night; it was co-written by Heather MacDonald, a childhood friend of Foley's. The showing opened the  two-day event, titled "The Task of Witnessing: A Symposium in Honor of James W. Foley,"  hosted by the UMass Interdisciplinary Studies Institute in collaboration with the UMass Journalism Department and the Master of Fine Arts Program for Poets and Writers.
After Foley's death, his parents John and Diane Foley founded the James W. Foley Legacy Foundation. They attended the symposium. The Foleys created the foundation in the spirit of their late son to  advocate for the release of American hostages kidnapped abroad, and to support press freedom and the safety of freelance journalists working in conflict zones.
Diane Foley said she was wary of creating the film at first, but felt it captured his essence perfectly.
"You can yell and scream," John Foley said. "After a while you get turned off. We didn't want to be turned off. We wanted to begin something."
After the  screening, Diane and John Foley participated in a discussion with the audience alongside  MacDonald. The three answered questions about the film, Foley's life and the risks of freelance journalism.
The James W. Foley Legacy Foundation is largely responsible for the creation of the Hostage Recovery Fusion Cell, composed of government officials and civilian professionals who are dedicated to the returning of US hostages.
The next day, panels and discussions featuring Foley's friends, family and colleagues were held throughout the day in Goodell Hall on the UMass campus.
Artists Diana Matar, Maaza Mengiste, and Sabina Murray explored the relationship between art, journalism and the public in the first panel called "The Art of Witnessing."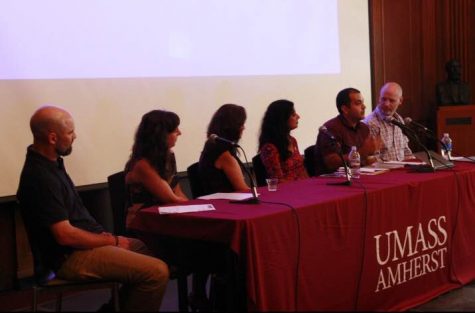 Foley's colleagues Ben Brody, Beth Murphy and Charles Sennott  of GlobalPost and the GroundTruth Project spoke on the necessity of unvarnished conflict reporting in the day's second discussion, "Journalists on the Frontiers."
The panel answered student and faculty questions about keeping foreign correspondents as safe as possible, and attested to Foley's commitment to telling under-documented stories.
Attendees remembered him in poems, pictures, and memories. Martín Espada, a poetry professor at UMass, and Sennott concluded the ceremony with warm remembrances.
Foley attended UMass from 1999-2003, studying English in the Master of Fine Arts program for poets and writers. Both on campus and off, Foley was committed to teaching and assisting those around him. From helping single mothers obtain their GEDs, to working with Teach for America, Foley dedicated himself to helping those around him. In the mid 2000's, Foley changed careers from education to journalism, according to his parents.
In 2008 Foley began to work with Tatweer, a project in Baghdad Iraq funded by the U.S. Agency for International Development. The program focused on rebuilding the civil infrastructure that years of isolation and autocratic regime had helped corrode, according to the organization's website.
In the following years, Foley became an embedded journalist with US troops in Iraq and Afghanistan. His work in the Middle East helped to bring light to the distant conflicts that our country finds itself involved in.
These experiences led Foley to embed himself with rebels in Libya in 2011, with the goal of witnessing and recording the uprising against the president Muammar Gaddafi. He was captured by Gaddafi loyalists and imprisoned for 44 days.
"You don't want to be defined as that guy who got captured in 2011," Foley said in an interview with The Boston Globe after his capture and return to the U.S.  "I believe frontline journalism is important … [without it] we can't tell the world how bad it might be." 
It was this staunch belief in the power of frontline journalism that kept Foley working in the Middle East as a freelance journalist until his second capture on Nov. 22, 2012. Foley was captured while traveling to the Turkish border from northwestern Syria with British journalist John Cantlie. 
Foley would not survive his second Middle Eastern detainment. On August 19, 2014 Foley was beheaded by ISIS, purportedly in retaliation to the beginning of US airstrikes in Syria, according to ISIS propaganda videos. His death reverberated around the world in a whirlwind of social media activity.
The widely viewed execution, initially posted on Youtube by ISIS militants, was covered extensively throughout the news media.
For students like UMass junior John Decker, it was life changing. "His death put ISIS on the world map … their rise made me switch my major from art studies to journalism."
Decker said Foley's death sparked his interest in frontline and conflict journalism.
"I've always thought that war and violence brings out the best and worst in people," Decker said.
Despite being introduced to Foley through the video of his death, it was Foley's honest portrayal of the civilians affected by the revolution that resonated most strongly with Decker.
"They [the civilians] have nothing, absolutely nothing … yet they do everything they can," Decker said.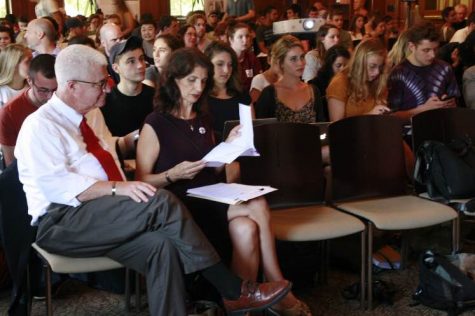 In addition to influencing American hostage policy, the Foleys and their foundation created the James W. Foley Journalists' Guide on Journalists' Safety. It is a comprehensive curriculum that aims to arm journalists with the knowledge, risk assessment and decision making skills to protect themselves on dangerous assignments.
UMass will be one of the first 100 colleges to offer the Foley's curriculum.
Foley's parents wanted to keep their son's legacy alive in the wake of his death, using the foundation to make the world a safer and more honest place, just as James did with his frontline reporting.
Email Ian at [email protected] or follow him on Twitter @i_munnelly.