Fatal Southpoint shooting leaves community uneasy
More stories from Allyson Morin
AMHERST — Some residents who live near the Southpoint Townhouses and Apartments say their perception of the living area has shifted following the fatal shooting of 31-year-old  Jose M. Rodriguez late Friday night in that area.
According to a statement from the Northwestern District Attorney's Office, Rodriguez was slain in a shooting at the Southpoint Townhouses and Apartments at 266 East Hadley Road around midnight.
The second victim of the shooting, a 28-year-old man, is receiving treatment for multiple gunshot wounds at UMass Memorial Medical Center in Worcester, according to the statement. His identity has not been released.
No arrests have been made, though police say the incident was not random and does not pose a threat to the public, according to the statement.
Family and friends expressed grief and sadness over Rodriguez's death Monday afternoon. They gathered around a candlelit memorial in the parking lot of the Southpoint complex, not far from where Rodriguez was killed.
"He was a good friend and a good father," said DeVon Walker, 34. "It hits so close to home."
Walker, who lives in Amherst, said he was a longtime friend of Rodriguez.
Michelle Kellogg, 39, stood at the edge of the apartment complex to pick up her young son Conner at the school bus stop. Conner received a letter from his elementary school offering counseling services to children emotionally impacted by the shooting. Kellogg has been a resident of the Boulder community for nine years.
"I'm a little worried right now," Kellogg said. "I come from Baltimore so I'm used to these things happening. We are a quiet place and when things like this happen, it's upsetting."
Though Kellogg saw the act of violence as an isolated incident, she was still rattled by the incident.
"We'll probably see a lot more cops around here until things calm down," Kellogg said.
"Nobody deserves to die. Nobody deserves it," Conner added, standing at his mother's side.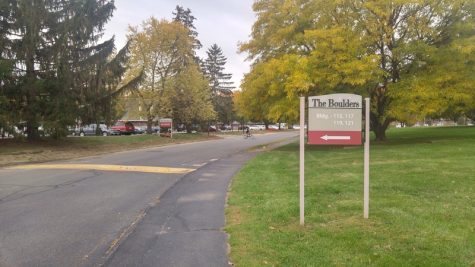 University of Massachusetts Amherst student Cling Cheng, 21, was in her apartment when the shooting occurred, she said. The next thing she knew, she saw red lights flashing outside as emergency responders arrived.
"It is scary and sad what happened. I feel unsafe here right now," Cheng said as she got off the bus, headed back to her Southpoint apartment.
Many UMass Amherst students live in the area of Southpoint and The Boulers, which are several hundred feet apart.
Brittany Pratt, 20, a resident of the Boulders said she will tighten security in her own apartment following the incident.
"Security isn't bad here. I always felt safe," Pratt said. "The door to my apartment is always open but in the future that will change."
UMass student Shane McCormack, 19, lives in The Boulders. He said he did not hear gunshots or commotion the night of the incident.
"It's always been a safe neighborhood," McCormack said.
The last fatal shooting in Amherst occurred in 2004 when Bryan Johnston, of Westfield, killed UMass student David Sullivan at an off-campus house on Meadow Street.
The incident remains under investigation by Amherst Police, Massachusetts State Police (MSP) and MSP Crime Scene Services, according to the District Attorney's Office.
Anyone with information should contact the Amherst Police Department at 413-259-3015 or text a tip to the anonymous tip line at 274637.
Email Allyson at [email protected].