Does Massachusetts need more charter schools?
AMHERST — On Nov. 8, Massachusetts residents will vote on a referendum that would authorize additional charter schools to open throughout the Commonwealth.
Charter schools are independently run schools that receive public funding. Charter school students make up about 4 percent of all students in the state, and there are over 32,000 students on waitlists for charter schools in Massachusetts.
The Massachusetts Authorization of Additional Charter Schools and Charter School Expansion Initiative, also known as Question Two, would open the door for more students to be able to attend. It would authorize up to 12 new charter schools per year, and allow enrollment expansion in existing charter schools.
The initiative has been controversial. A recent poll from WBUR shows that 48 percent of likely Massachusetts voters oppose the initiative, while 41 percent are in favor and 11 percent are unsure.
Most opponents of Question Two say they are not against charter schools, but are concerned about where the funding for additional schools will come from.
Speaking at a panel on charter schools at the University of Massachusetts Amherst Tuesday night, Barbra Medeloni, the president of the Massachusetts Students Association, said she opposes the initiative. Charter schools take vital funding away from public schools, Madeloni says.
"This question undermines public education here in MA; the birthplace of free universal education … The reason 187 school committees oppose Question two is because they're the ones looking at the budgets and making choices about who to cut," Madeloni said.
Lanie Meyers is a freshman public relations major at UMass. She is the daughter of two public school teachers. While she never attended a charter school, she has a strong opinion on Question Two.
"Charter schools take money out of public education. Funding for programs like arts, physical education, etcetera will be inevitably cut if Question 2 is approved," Meyers said.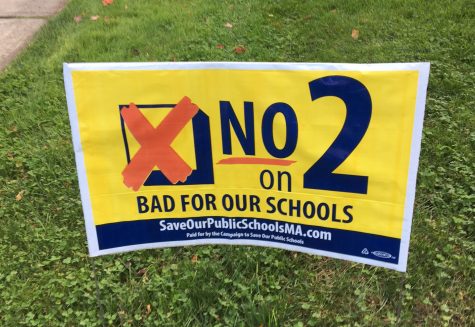 Boston Mayor Marty Walsh, a charter school supporter, announced he will vote against Question Two. If passed, it would "wreak havoc on municipal finances," Walsh says.
Ellen Story, the Massachusetts state representative for Amherst, agrees.
"If there were a different funding mechanism so that the public schools were not penalized by losing funding, I would feel completely different about it," Story said. "But, that is the mechanism now and it won't change."
Question Two supporters say that charter schools give more options to parents and can provide better opportunities, particularly for students in less affluent districts.
Julia Mejia, a Boston charter school parent, spoke at Tuesday's panel.
"Your chances of getting access to a high-quality education are slim to none if you don't live in affluent areas. This conversation is about our kids," Mejia said. "We're trying to get access and opportunity to families so they have access  the opportunities that others in wealthier areas have."
Nick Kioussis, a junior legal studies major, is a strong supporter of Question Two. He credits his success to his experience at charter schools.
After attending a charter school, Kioussis was offered a full scholarship to the Williston Northampton School, a prestigious preparatory boarding school in Easthampton.
"It was only because of my charter school that I applied to and got a full scholarship to Williston. This opened so many doors for me. I don't think I'd be nearly as successful in my education without attending a charter school," Kioussis said.
As far as funding goes, Kioussis believes charter schools are worth the money because they allow for smaller class sizes by "decluttering" the public school system.
"In my experience, charter schools use the money that they do get more wisely than regular public schools so that each dollar is going further to benefit a child's education," Kioussis said.
Pro-charter school organization Great Schools Massachusetts has funded several Question 2 commercials. The commercial says that it is a myth that charter schools derail money from public schools.  They cite an editorial from the Boston Globe that claims a recent report by the Massachusetts Taxpayers Foundation has shown charter schools are not overfunded, and actually create more money in the budget for public education.
They stand by the rule that public funding follows the student where they choose to go to school, whether it be a traditional public school or charter school.
Because less than 4 percent of Massachusetts students attend charter schools, less than 4 percent of public education funding goes to them, according to Great Schools Massachusetts. This means they have a relatively small impact on the overall budget.
Supporters also feel charter schools go the extra mile for students who may not fit into traditional public schools. In several areas, charter school students have scored higher compared to their public school peers. Kioussis feels like his charter teachers truly cared about his well-being.
"I felt like every teacher had an invested interest in my success. A teacher noticed that some of us were not being challenged enough in math, so once a week she would pull us out of study hall and teach us more advanced topics," Kioussis said.
The higher test scores in some districts may be thanks to dedicated teachers and different learning tactics. But others like Meyers, the daughter of two public school teachers, are skeptical.
"The reason charter schools often report higher test scores is because they often have the power to choose which students they accept or have requirements to remain a student there," Meyers said.
Email Summer at [email protected]