Army and Air Force ROTC duel it out at the last home game
AMHERST — The University of Massachusetts Amherst Army and Air Force Reserve Officer Training Corps (ROTC) went head to head in a timeout challenge and held a ceremony honoring the past and future veterans at the last home football game of the season at Warren McGuirk Alumni Stadium.
Cadets from the Airforce and Army ROTC met up at 11:15 a.m. and attended the game on the sidelines as they waited for their designated moment to compete during pauses in the game. The game opened with the standard marching band performance as the Minutemen football team rushed the field and started off strong.
After the first quarter, a ceremony was conducted to honor Air Force Cadet Chris Parsons, a former service member of the Navy crew chief who returned to school and decided to become a pilot after discovering his passion for aviation.
Parsons was joined by an Army ROTC Cadet David Stuart, UMass alumni Marine veteran Victor Nunez Ortiz, an active duty Marine and communications student Joseph Keryln-Smith and Bryan Bamford, the UMass director of athletics in the center of the stadium as their names and achievements were announced over the loudspeaker.
David Stuart is an MS4, which means he will soon be enlisted in the Army as a Lieutenant after graduation. Ortiz is a member of the Veterans of Foreign Wars and has spent much of his time helping veterans cope with post-war life, including suicide prevention.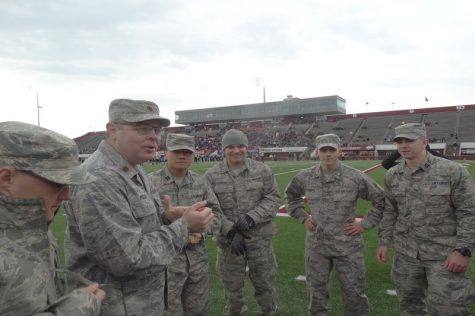 After the ceremony, cadets congregated and waited on the sidelines until the next break in the game. Major Bradley Podiliska of the Air Force ROTC explained the two challenges to his cadets while the game continued on in the background. The first challenge was a backpack relay race, where cadets had to sprint around twenty-five yards with a heavily loaded pack and pass it on to their next teammate.
The cadets took the field, set down the packs and waited for the music to start blasting as their cue. In this case, the song of choice was the chicken dance as recruits sprinted across the turf with their oversized bags. In less than a minute, the contest was over, and the Army cadets had been named the victors.
One more challenge remained; a game called "bombs on target," where cadets threw footballs at a target twenty-five yards away. Whichever team was most accurate would be declared the winner.
Again, the cadets waited for another quarter before being called onto the field once more for their final contest. The second challenge was just as brief as the rucksack run, only this time there was no winner, but instead a draw.
Major Podiliska expressed some light-hearted disappointment with the contests.
"The important thing is we didn't embarrass ourselves and we looked good," Podiliska said.
Email Jon at [email protected], or follow him on Twitter @Jon_H_Decker.