Five College students stand in solidarity with #noDAPL
AMHERST — Students gathered Friday at a farmers market event to stand in solidarity with people protesting the Dakota Access Pipeline (DAPL).
The Native American Student Association and student group Divest UMass organized speakers, music and fundraising to bring awareness to the environmental and social issues of DAPL.
Andre Ridles, president of the Native American Student Association, was one of the organizers and briefly spoke at the event. He mentioned that there are very few Native American students at UMass, less than 1 percent. That statistic is not a reflection of the general population, which sits at around 1-2 percent. The main goal of the demonstration was to spread the word about the importance of the protest.
As the speakers took the microphone, it became clear that this was more than just an issue of Native Rights being violated.
Paulette Stevens, an anthropology professor and director of the Native American Indian Association, highlighted the environmental and cultural risks of the pipeline.
"[The pipelines] are all going to break," said Stevens, referencing histories of pipelines breaking down frequently and causing an environmental disaster.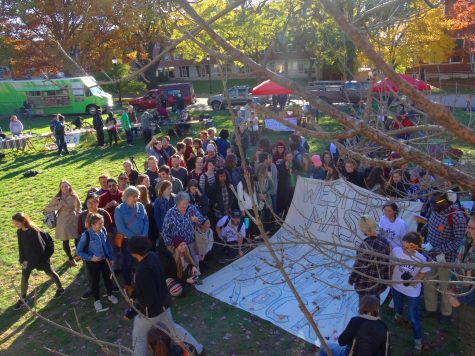 A large concern, according to protesters and allies, is that a broken pipeline could poison the water supply in the region.
Another concern is that the pipeline runs through ancestral burial grounds and other holy sites. According to Stevens, when there have been leaks in the past, people repairing the pipelines have dug down and disturbed ancient remains.
Speakers also spoke on police brutality. They suggested students step up against the militarization of police across the country. Stevens detailed examples of excessive force being used against the unarmed protest like rubber bullets, pepper spray and pulling hoods over arrested protesters.
There was more than talk at the event. The farmers market agreed to donate their profits to the protestors in North Dakota. Funds were also raised by the t-shirt, food, and craft sales.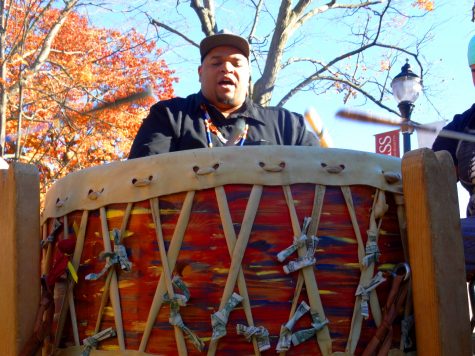 There were some students who went even beyond fundraising. James Frank, a senior at UMass is going to North Dakota with a number of students to participate on the front line of the protest.
"White folks who benefit from the systems of oppression need to stand up and say enough is enough," Frank said.
Over 100 students attended the event, which lasted until 4 p.m. Friday.
Email Jon at [email protected], or follow him on Twitter @Jon_H_Decker.