Bathroom occupation begins at Whitmore Administration Building
Organizers dubbed the protest a "shit-in"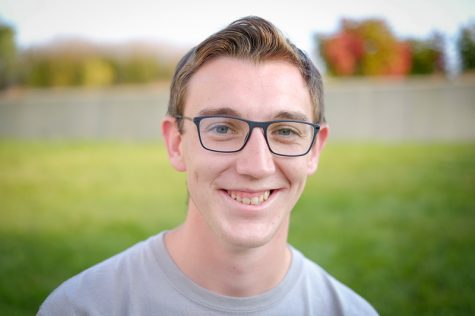 More stories from Bryan Bowman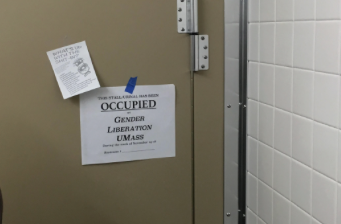 AMHERST — A protest calling for more gender-neutral bathrooms at the University of Massachusetts Amherst kicked-off Monday morning in the Whitmore Administration building.
Students began occupying bathroom stalls and urinals around the building at 9 a.m. Monday, according to Ann Schilling, a protest organizer.
The bathroom occupation, dubbed a "shit-in," is being organized by student group Gender Liberation UMass (GLU), which advocates for transgender, gender non-binary and gender-queer students at the university.
The protest comes at a tumultuous time in state politics. Massachusetts passed a new law affirming the rights of transgender people in June. A ballot referendum which seeks to overturn that law already has enough signatures to appear on the ballot in Massachusetts in 2018.
According to Schilling, over 135 people have already volunteered to take place in the occupation.
Schilling says the bathroom occupation will continue every day — Monday through Friday from 9 a.m to 5 p.m. — until the administration agrees to meet their three demands:
"Speedy implementation of gender-neutral restrooms campus-wide."
"Advancement of medically and socially competent in-house transgender health services at [University Health Services]."
"Hiring of a professor by the [Women Gender Sexuality Studies] department who is an expert in the study of critical transmisogyny from an intersectional perceptive."
The group is leaving one stall and one urinal open in every bathroom, according to Sibelle Grise, a member of GLU and a protest organizer.
"We don't want to to totally block people from using the restrooms, but we want to limit it and have our presence felt," she said.
As of 1:30 p.m. on Monday, Schilling said that nobody from the administration had contacted GLU regarding the protest. However, they said that a few people complained and banged on stall doors throughout the day.
Grise said that GLU is intentionally leaving the gender-neutral and handicap-accessible bathrooms on the first floor fully open.
Students who volunteered to occupy the Whitmore bathrooms read books, did homework and talked amongst each other to pass the time Monday.
GLU organizers put up signs on bathroom and stall doors throughout the building sharing information about what the occupation is all about.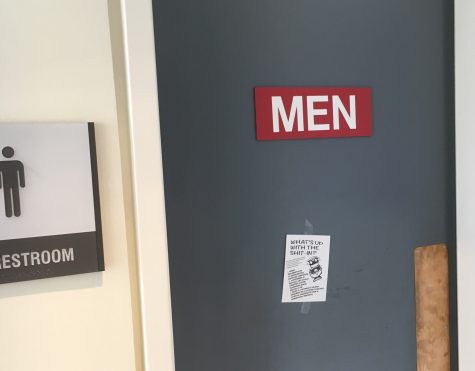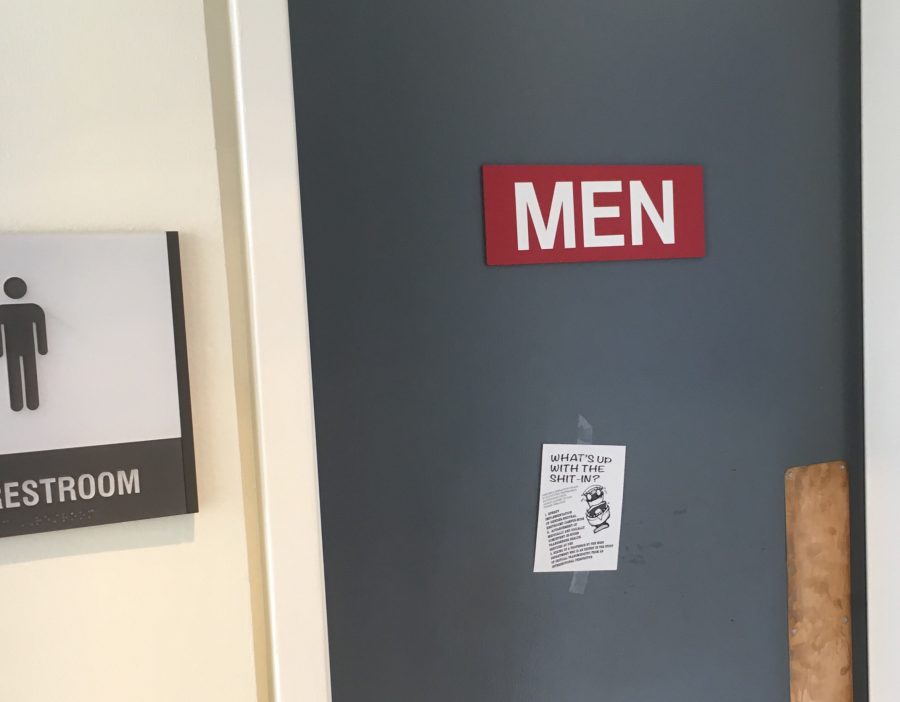 Grise said that GLU has been in discussions with the UMass administration about creating a better environment for non-cisgender students for some time now, but the group has grown frustrated by the lack of concrete plans offered so far.
"The administration has been somewhat receptive to us, but what they're talking about is not nearly good enough," she said.
Ed Blaguszewski, UMass spokesman, offered a different message Monday night.
"UMass Amherst has been at the forefront of efforts in Massachusetts to increase the number of gender-neutral bathrooms, and that commitment continues," Blaguszewski said.
Blaguszewski also said that 50 additional gender-neutral bathrooms will be created, "during the coming year" and all new buildings constructed on campus will include them. He added the university will continue to engage the concerns of transgender students.
But Schilling said that the administration's efforts have fallen short of meeting the immediate, short-term needs of non-cisgender students.
She said that the administration only talked "abstractly" about accommodating the needs of transgender students, and that too much emphasis has been put on future projects.
"This is not an abstract issue for us," Schilling said. "This is something that is affecting us on a day to day basis right now. It's a daily struggle."
Grise also said that the lack of gender-neutral bathrooms around campus poses a serious challenge to transgender students.
"It forces us to make the hard decision of which bathroom to use. We have to decide which bathroom we feel safest in. I feel safe in neither of them. Making that choice is not something we believe students should be forced to do. We just want to be able to use the bathroom without that stress just like everybody else," Grise said.
"Especially in the wake of the election, there's no better time to do this," Grise said.
President-elect Donald Trump said Thursday transgender Americans should use whichever bathroom they please. But many Republican lawmakers — who will control both the US House and Senate until at least 2018 — want to restrict transgender rights. Republicans control state legislatures in 37 states.
North Carolina passed a law in March of 2016 requiring people to use the bathroom of the gender assigned to them on their birth certificate, sparking controversy and boycotts.
Email Bryan at [email protected] and follow him on Twitter @BryanBowman14.
About the Contributor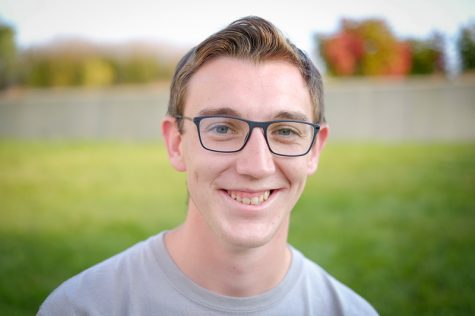 Bryan Bowman, Senior Reporter
"Buy the ticket, take the ride."