UMass students and staff join nationwide walkout to demand 'sanctuary campus'
UMass Amherst walkout protest for a 'sanctuary campus' from Morgan Hughes on Vimeo.
AMHERST — Over 600 students and faculty gathered in solidarity outside the Student Union on Wednesday to demand that the University of Massachusetts Amherst become a sanctuary campus.
UMass was one of the 150 universities across the country that staged walkouts to demand protection for undocumented, refugee and international college students.
Becoming a sanctuary campus would mean turning the university into a safe haven to protect students at risk of being deported in light of President-elect Donald Trump's proposed policies. Other universities such as Brown University, Harvard University, Yale University and Columbia University have already enacted sanctuary policies.
"The aim is to turn UMass into a sanctuary campus like other campuses across the country to make sure that people aren't being snatched up or deported from their dorms, from their classrooms, from their places of work," said walkout organizer Santiago Vidales, a PhD student studying Hispanic literature and linguistics.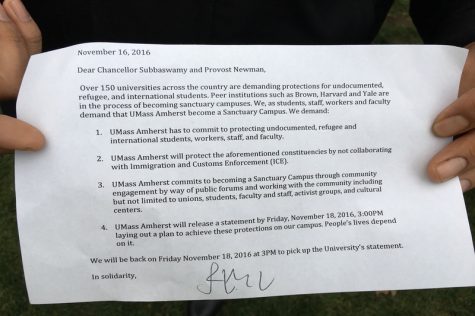 Each of the three stops of the walkout brought speakers from different backgrounds. The first stop was at the Student Union, where students were given copies of a letter to sign and deliver to UMass Amherst Chancellor Kumble R. Subbaswamy.
The letter made three demands:
"-UMass Amherst has to commit to protecting their undocumented, refugee and international students, workers, staff and faculty.

-UMass Amherst will protect the aforementioned constituencies by not collaborating with Immigration and Customs Enforcement (ICE).

-UMass Amherst commits to becoming a Sanctuary Campus through community engagement by way of public forums and working with the community including but not limited to unions, students, faculty and staff, activist groups and cultural centers."
Protesters then marched to Goodell Lawn. They listened as speakers explained why undocumented people need protection.
The group then made their way chanting, "don't give in to racist fear, immigrants are welcome here!"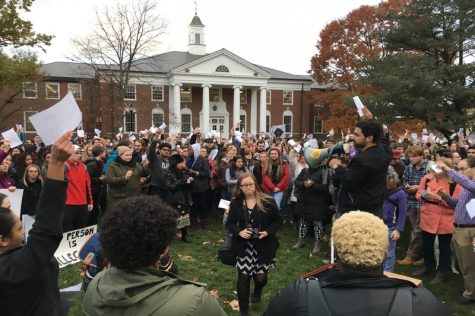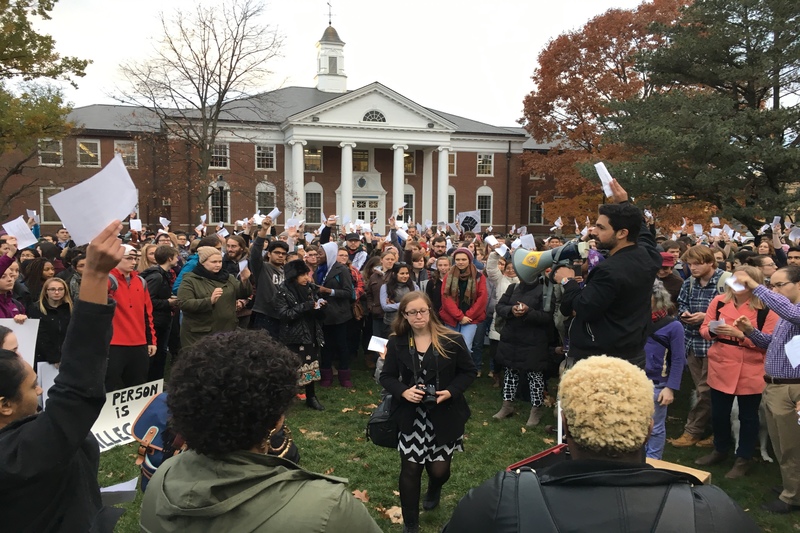 Students and faculty signs that read things like "Love Trumps Hate," "People Are Not Illegal," "Stop the Racist Hate" and "Immigrants Welcomed and Protected."
Finally, the group stopped at Whitmore Administration Building. Protesters formed two lines, silently walked into the chancellor's office and dropped off their signed demands. The event concluded with an open mic session where students had the chance to tell their personal stories and express their demands for a safe and accepting campus.
Anthropology graduate student Cecilia Vasquez is a first-generation American. She explained that if she did not protest it meant that she was not sticking up for her family. Both of her parents are immigrants.
"I fear for my own safety … the idea of not knowing what's to come, that's been a lot of fear," Vasquez said.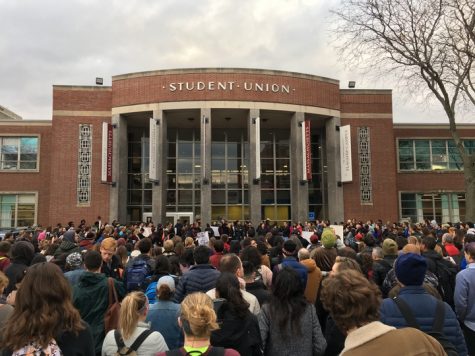 Many students, like junior Madeline McLaughlin, who do not come from a family of immigrants, also marched to demonstrate their allegiance to their peers who do.
"I am here to stand and demonstrate solidarity with my undocumented and marginalized friends and peers. I want to support UMass as a sanctuary campus and a safe space for people regardless of race, ethnicity or identity," said McLaughlin, a women, gender and sexuality studies and psychology double major.
McLaughlin said she wanted to be an ally to her classmates that have been oppressed by who she described as "my people." When asked who she described as her people, McLaughlin quickly answered "white people."
"I think there is a collective understanding that we are entering four years of a lot uncertainty, and a lot of violence and we need to make sure that when we have power and control in our university we can do something for people, especially undocumented people," said Vidales.
Moving forward, Vidales said that this will not be the last time they march together.
"We are making demands of the university, of the administration, especially the chancellor and the provost … to ensure and put forward a plan to make the university a sanctuary campus. We expect a statement and a plan on Friday at 3 p.m.," Vidales said
"We will be back to pick up whatever statement or plan the university has," he said.
Email Danielle at [email protected] and follow her on Twitter @deehaley_.