New generation of farmers encourage shopping local
On a recent fall afternoon, students and local residents explore the latest batch of fresh produce ready for sale and pick-up on the lawn in front of Goodell Hall at the University of Massachusetts Amherst. Buckets full with various vegetables like beets, several different types of lettuce and dried peppers await pickup by the shareholders who paid ahead are out on display.
Nearby, food-related clubs and Earth Foods Cafe that work with UMass Farm are ready for fall. With pumpkins and different types of gourds decorating each groups sign, a club is giving away samples of their fall themed soup. A local male singer starts to strum his guitar in the center of all of these tables, creating an atmosphere an outdoor coffee shop and not a sprawling campus.
Launched in 2007, the UMass Student Farm has blossomed by providing the community with locally grown food and giving students hands-on learning. Now its 10th year, the UMass Student Farm sells produce to students and any residents interested in purchasing local food. The farm started as an independent study project on a half-acre plot near the Southwest Residential Area and expanded to the 14 acres along the Connecticut River in Deerfield today.
Instead of building more strip malls and fast-food restaurants, students can see and eat what they produce with their eyes.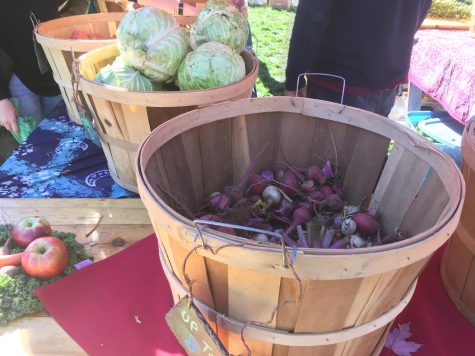 When UMass Amherst was founded in 1863 as the Massachusetts Agricultural College, its primary goal, according to 150 Years of UMass Amherst History, was to provide "the commonwealth's citizens with instruction in the 'agricultural, mechanical and military arts.'"
UMass is now going back to its roots as an agricultural school, with many successful programs available in the Stockbridge School of Agriculture.
There is a 16 student crew that works on the farm alongside professors who help give guidance and support. Students can apply to work on the 14-acre farm in South Deerfield and the Agricultural Learning Center, on North Pleasant Street just past the UMass campus. Since then, students have gotten involved in the farm to learn more on agriculture and spread the word about locally grown food.
Erik Cullen, a senior sustainable food and farming major said, "So much of the troubles of agriculture facing it is consumer education. And trying to get people on the same page of what the realities are in terms of food production. More small-scale agriculture will have more benefits than our old national agriculture system."
The Student Farm gets students out into the field directly working with produce and customers alike. While agriculture skills are taught, how to meet consumer needs is also emphasized.
"The faculty that I ran into here and the small feel of it, is what won me over," Cullen said.
Students are urged by professors to take part in the Student Farm and the Community Support Agriculture farm share on campus. Cullen called it "the most valuable program in Stockbridge."
Professors at UMass actively want their students to succeed in the agriculture industry today by trying to get them involved with sustainable food efforts on campus.
Sustainable Food and Farming is not the most popular major in UMass, but with at least 700 undergraduates in the Stockbridge School of Agriculture, it is quickly picking up steam.
Because of smaller class sizes, professors in Stockbridge get to know their students personally. More and more students are getting involved with the agriculture industry to learn how the food we eat is grown.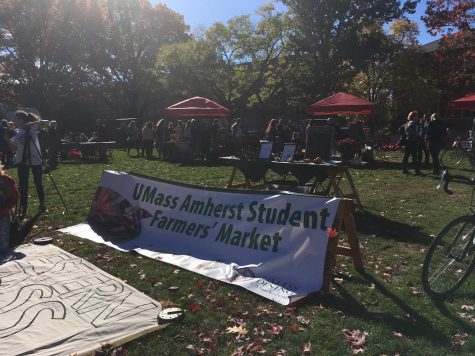 Emily Goonan, a senior in the sustainable food and farming major, advocates the benefits of going to local farmer's markets over a regular supermarket.
"It's also good economically," Goonan said. "It's a little bit more pricey to buy local, but that money is going right back into where you're from and the farm."
"When you buy from a supermarket you don't know what's really going on," said Goonan. "This was normal back then. If you wanted food you would go outside in your backyard and harvest what you want to eat that day. This can still be a part of everyone's daily lives."
During the last farming census in 2012, the number of Massachusetts farms and the amount of land used for agriculture rose one percent over the last five years. This contrasts the average across the nation, which saw a decrease in farms and acreage used for agriculture in 2012. The state of Mass. saw 64 new farms formed in the last five years from 2007 to 2012.
Researchers found that the average age of the Mass. farmer was 57.4-years-old and that farmers between the ages of 55-64 rose, while farmers between the age of 45-55 dropped significantly. The need for young, new workers in the agriculture field is crucial. These jobs put food on the table and support the local economy.
The next generation is key to continuing the growth and success of the agriculture business that has been a constant part of our society.
Keren Radbil, a junior double majoring in natural resource conservation and sustainable food and farming with a minor in education said young farmers can influence an entire generation.
"We've learned a lot about how the current farmers are a lot older than us. But I think that it empowers us to lead a generation and influence our peers and our parents and our potentially our children," Radbil said.
Email Rebecca at [email protected] or follow her on Twitter @rnwiesman.