One arrest, two medical transports over 'Blarney Blowout' weekend
More stories from Wei Cai
AMHERST — The "Blarney Blowout" weekend brought scattered gatherings of college students, clad in green, wandering about North Amherst and the Mullins Center at the University of Massachusetts Amherst on Saturday, generating excitement for some and disappointment for others.
By the tail end of the daytime celebrations, there was one alcohol-related arrest, which occurred at the Mullins Center during the "Mullins Live!" concert, and two alcohol-related medical transports, according to the Daily Hampshire Gazette. This starkly contrasts the 2014 "Blarney Blowout" that saw 55 arrests and a police response that sparked national attention.
"Blarney Weekend" is a St. Patrick's Day celebration held amongst some students that takes place the last weekend before spring break. Historically, it has involved underage drinking and disorderly behavior.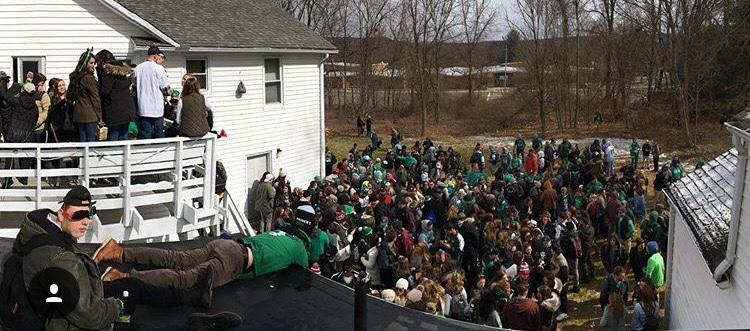 Lisa Tran, a freshman business major, was not blown away by the excitement of this year's "Blarney Blowout." Tran said that in comparison to what she had been hearing, this year's celebrations were more subdued than she expected.
"When coming to UMass, everyone hyped up Blarney," said Tran. "I realized that Blarney is barley [what it used to be] because of how much they have enforced security and policies, but it was still fun."
To aid in minimizing crowds on for the weekend, UMass Residence Hall Security heightened its policies for the weekend. Non-UMass guests were not allowed, and security started at 8 p.m. on Thursday and continued through 11 p.m. on Sunday. A parking ban was also issued on campus to prevent vehicles without UMass parking passes from parking, as well as separate bans at several popular off-campus student housing complexes like Puffton Village Apartment and Hobart Lane.
Beginning in 2015, the Student Government Association has offered a free concert on the day of the "Blarney Blowout." This is the third year that the concert was offered to students. Previous years concerts have included Ke$ha, Juicy J and Jason Derulo, among other performers.
Student act NLiteN opened for hip hop artists Jeremih, Flo Rida and Mike Posner at the Mullins Center for "Mullins Live!" a free concert offered by the Student Government Association as an alternative to Blarney Weekend celebrations.
The concert, which was held from 12 p.m. to 4 p.m. on Saturday, wasn't scheduled to open its doors until 11 a.m. but Natalie Koziol, a freshman Building and Construction Technology major at UMass Amherst, was first in line for the concert. She was one of a few green-clad students waiting in line since 10 a.m. in the nearly 20 degree Fahrenheit weather.
"I think it's cool that we get to go to a free concert" said Koziol. "I get to spend time with my friends."
Sam Wonderlin and Leah Hitchcock are two seniors who attended the concert. They opted to attend the concert when they found out one of their favorite artists, Mike Posner, was performing. They were among the estimated more than 2,200 people in attendance, according to the university.
With the wind chill bringing the temperature down to approximately 2 degrees Fahrenheit, the two seniors also noted that the turnout appeared smaller in comparison to previous years.
"[At 10:45 a.m.,] the line is probably a tenth of the line [last year at this time] and people were out here, I would say, an hour and a half before," said Wonderlin.
In comparing their observations of this year's "Blarney Blowout" to the one in 2014, Wonderlin and Hitchcock both concurred that this year was calmer.
"I think the concert does help deter [Blarney parties] some, but there was also controversy around the police," said Hitchcock. "I think that made the police scale back a little bit, and then this concert scales back the students."
Email Wei at [email protected] or follow him on Twitter @weicaiumass.