MXCC hosts third annual Afro hair braiding competition
AMHERST — Three hair braiders, three models and 3 hours — with first place on the line, the hair braiders sought to win over judges and spectators at Malcolm X Cultural Center's (MXCC) third annual Afro hair braiding competition.
The contest, held March 23, promoted awareness and increased education on braids and the cultural values they represent, according to Alayjah Lee, an events coordinator at the MXCC.
"
"There is so much legacy, history [in braids] … it's very important for African and Afro-Diaspora communities all over the world," "
— Ximena Abello, an event judge and Ph.D. candidate in the Afro-American Studies Department.
The braiders — Lara Andrade, Yemisi Genebar and Princess Adeoyin — were judged by a panel of community members featuring Abello, Joyce Vincent and Erica Wilson.
"[The braids] are showing that historical lineage. I think that's something that all of us have in common regardless of what our ethnic backgrounds are … and to watch people utilizing that skill is wonderful," said Vincent, a UMass faculty retiree.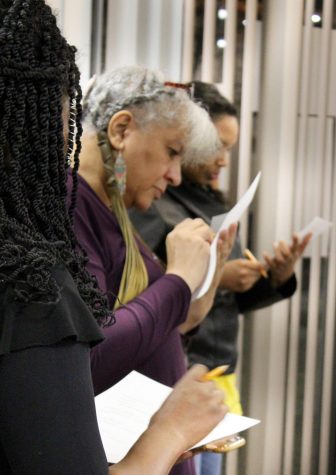 According to Lee in a presentation to the audience, braids serve various practical purposes, such as keeping hair clean and keeping it out of someone's face. Lee also noted that braids have historically signified tribe, wealth, age and status in many African communities.  
The high historical significance was met with high expectations from the judges as well. According to Wilson, who is also the owner of Head Games Beauty Supply in downtown Amherst, she would be judging both the technique and appearance of the braids.
"[I'm looking for] the beautiful sculpture … but also braiding with a healthy technique, so it's not too tight, it's not looking painful, but rather, it's looking graceful and elegant," said Wilson.
But in the end, it came down to one winner.
Yemisi Genebar's braids on her model, Raquel Kiddu, featured bright pink accents and a "freestyle" technique. The combination of technique, appearance and dedication won the pair first place.
"To achieve this style for the edges, I used Gatsby glue. To lay the edges, I just used my fingers," said Genebar. "For the actual braids itself – for laying down the hair into the braids – I used my raised edge wax because that doesn't flake. To give it the shine, I used mousse."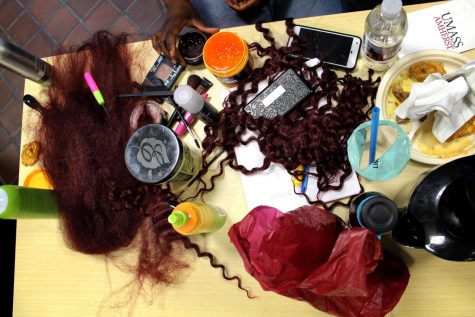 Coming in second place was braider Princess Adedoyin and model Tara Oluwafemi; third place was awarded to Lara Andrade and model Ashley Cardoso.
All braiders were awarded Visa gift cards for their participation in the competition. First place was awarded $150, second place was $100 and third place was $75.
With prizes awarded and braids on display, the event coordinators had just one message for the attendees and braiders: continue educating the community and practicing hair braiding, because they don't know who they can inspire.
Email Wei at [email protected], or follow him on Twitter @weicaiumass.