UMass IT program showcases new tech at annual summit
AMHERST — Information technology — the incredible world that makes it possible to print miniature Pikachus, laser-engrave a name onto a mug in seconds and walk into a house before it's even built.
According to IT Program Director Patricia Galvis Assmus, about 350 students, faculty and community members gathered for the 2017 Information and Communication Technology Summit exhibition at the University of Massachusetts Amherst on March 17.
The two-day summit included panels and workshops covering the intersection of IT with aspects of journalism, law, art, engineering, nursing, medicine, architecture, culture and education. This year's theme was "Technology for All."
The exhibition was held by Technology Education Concepts and ran from 9 a.m. to 2 p.m. Innovations developed by members of the Five College community as well as from the larger corporate world were shown. From architecture to art, the tech-forward advancements demonstrated many ways to use IT beyond computer programming and organizing data systems.
One such example was a 3-D printer by Ultimaker.
The printer, a white cube of about eight or nine cubic-inches, sat on top of a table like an art piece. A smaller white box inside the Ultimaker 3's clear surface hung by a metal rod. The box moved forward and backward and from side to side, whirring and humming.
Slowly, material started to show. An object was being printed.
The 3-D printer is Ultimaker's newest design and costs$3,495. From prosthetic limbs, to rockets, to dining-room furniture, the company focuses on innovation made accessible.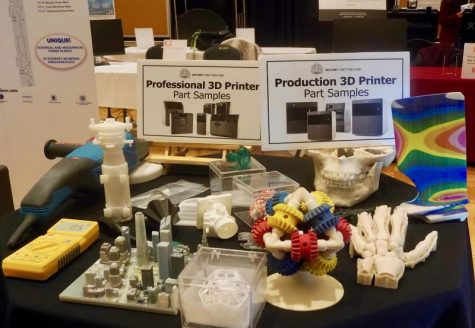 The breakthroughs don't stop there.
Envisioneer's architectural and landscape design software allows people to walk through houses before they're even built, using virtual reality. This software allows architects, designers, builders, developers and homeowners to see what they like or don't like before making a decision.
Another example of innovation at the summit was an engraver by the company GCC. The X380 engraver works in minutes, using a carbon dioxide laser to produce clear edges on hard material.
The value of cheap plastic trophies, cups and plaques increases after they are personalized, making a wide margin of profit for those in the engraving business.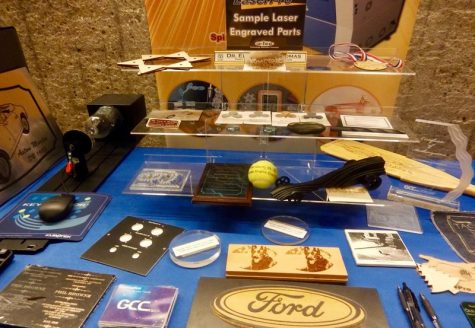 The VersaStudio's BN-20 Desktop Inkjet Printer/Cutter prints beer labels, bumper stickers and t-shirt graphics all from a personal desktop, good for small-staff businesses or individual use.
The summit also highlighted the recognition that information technology is gaining in classroom environments as a form of engagement.
A study by A. Lynn Stephens and John J. Clement from the UMass College of Education used case study comparisons to explore how interactive physics animation technology affects whole class versus small group settings.
The results found that whole-class settings with teacher influence and interactive technology proved the most beneficial to students' understanding of the material. The study implicates a more engaging method of teaching.
At UMass, new technology is being used the nursing program. A new testing system has been implemented, apart from OWL and Moodle. The ExamSoft software, which can be accessed through both desktop and iPad devices, tests students without internet access. This helps prevent issues of plagiarism.
Other technologies at the exhibition included rapid prototyping technology, handheld 3-D scanners and UMass collaborative engineering and nursing research on eye tracking — an approach for measuring and recording an individual's eye movement as they perform a task.
Email Caeli at [email protected] or follow her on Twitter @caeli_chesin.
About the Contributor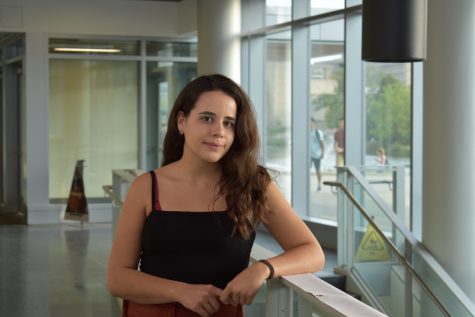 Caeli Chesin, Campus News Editor
"Anyone lived in a pretty how town" - E.E. Cummings