Elizabeth Warren to speak at 2017 UMass Amherst commencement
Chancellor Subbaswamy says Warren's values are in line with the university
AMHERST — U.S. Sen. Elizabeth Warren, D-Massachusetts, has been named the 2017 University of Massachusetts Amherst commencement speaker.
Warren will speak as 2017 graduates walk the stage for their commencement ceremony 4:30 p.m. Friday, May 12, at McGuirk Alumni Stadium.
UMass Amherst Chancellor Kumble Subbaswamy called Warren a role model for students in a press release announcing the ceremony plans.
"We are inspired by her staunch advocacy for equitable access to education, environmental resource conservation and support for economic justice," Subbaswamy said in the press release. "These issues are in alignment with our campus's core values and our long history of activism in pursuit of social justice."
Subbaswamy went on to explain Warren's contributions to the nation align with the university's strides towards optimism and innovation.
"At UMass Amherst we stand for the hopes, the ambitions, the bold experiments and the innovative solutions of the people of Massachusetts and the world beyond," he said in the statement. "We share Sen. Warren's commitment to making a profound, transformative contribution to the common good."
Warren, a first-term Democratic senator in Massachusetts, was elected in 2012. She made a national name for herself as an advocate for higher education reform and consumer protection.
The Boston Globe named Warren "Bostonian of the Year" in the aftermath of the 2008 financial crisis, and Time magazine called her a "New Sheriff of Wall Street" in 2010, citing her financial expertise.
Warren garnered attention recently over her sharp criticism of ethical concerns regarding the Trump family in the White House and Secretary of Education Betsy DeVos during her confirmation hearing.
Warren is a graduate of the University of Houston and Rutgers School of Law. She was also a professor at Harvard Law School for more than 30 years. She lives in Cambridge with her husband.
Wayne Chang, a Twitter executive, was the university's 2016 commencement speaker. Astrophysicist, author and science communicator Neil deGrasse Tyson, former Massachusetts Gov. Deval Patrick and Chairman and CEO of American Express Kenneth Chenault have spokes at UMass Amherst commencement ceremonies in the past.
Email Morgan at [email protected] or follow her on Twitter @HughesMorgan_.
About the Contributor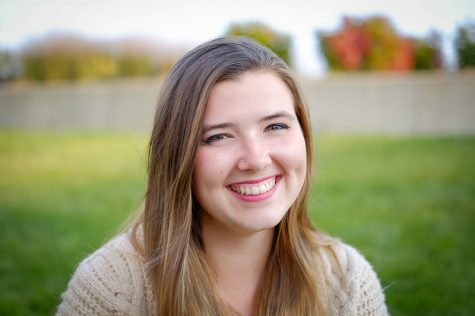 Morgan Hughes, Campus News Editor