Husband and wife bring Xi'an cuisine to Amherst
AMHERST — JiLi "Lili" Jia and Naitian Wang are the married couple behind Lili's Restaurant in downtown Amherst, a small eatery specializing in traditional Chinese cooking.  
Originally from Xi'an, the capital of Shaanxi Province in central China, the couple came to the United States for better opportunities and have been here for over 20 years. Although happy with their move, Jia and Wang still missed parts of their old life.
"We always missed homemade food. We couldn't find it here … We thought, maybe we can do something like open a small restaurant, we could make homemade food. That was my idea," said Jia.
"We just want to do traditional Chinese food, homemade Chinese food, real Chinese food," she added.
Wang knows the Amherst area well, having completed his undergraduate degree at the University of Massachusetts Amherst and his masters degree in accounting from Westfield State University. He felt it would be a good place for their business.
When the couple first started out, they worried that they would not be successful. "We weren't sure if people would like it and would be excited for new food," Wang said. However, the restaurant's charming honesty quickly attracted attention.
Jia is at the restaurant at all times. Wang, who serves as the associate director of finance for the UMass College of Education, is away from the restaurant on weekdays, but is there to assist in any way he can after work and on weekends. "My husband helps me a lot," Jia said.
Lili's dining area is bright, clean and unassuming. Equipped only with the necessities, it has a minimalist atmosphere, putting the focus on the food. Seating just under 20 people, plain wooden chairs and small tables make up the restaurant's only furnishings.
On one wall sits a long mirror, giving the interior a larger appearance. A cork board hangs on the opposite wall, displaying Lili's eight menu items, with photos and brief descriptions of each.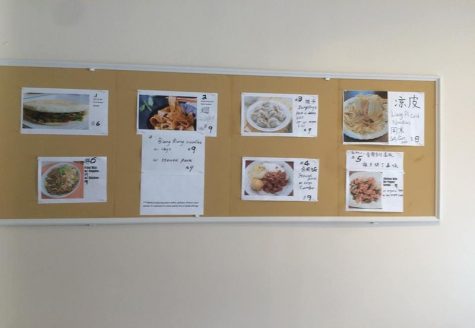 The low countertop connecting the dining area to the open kitchen demonstrates the couple's desire to have a transparent relationship with their customers. Customers have a full view of Jia's prep work, cooking and plating.
"I like the open kitchen. People can see it's all homemade food," Jia said.
Quality is the most important element of the business. Everything on the menu is made from scratch in the kitchen. The couple said they would rather do a few dishes successfully than offer dozens of items at a lower standard.
"We don't want too large of a menu. We just wanted a small menu, to make high quality food," Jia said. The ingredients that Lili's uses are local, but Wang said they have also gone as far as Boston and Hartford to get specific items.
Being in a college town, affordability was always a part of the couple's plan. All items are between $6 to $9, to encourage students and those wanting to try a new style of cuisine.
The couple takes note of which meals their customers like best. "The hand-pulled noodles and the homemade dumplings are the most popular dishes," Wang said.
"The hand made pulled noodles in my city (Xi'an) are very famous," Jia said. Outside of the Shaanxi Province, the noodles are a delicacy because skill is required to form the famous rectangular shape and thick consistency.
When Lili's first opened, Wang and Jia noticed their customer base was mostly made up of international Chinese students and South Asian students. However, Jia said, "Right now, American people come in more and more."
Lili's restaurant has gained attention almost exclusively through word of mouth.  The restaurant never had an official grand opening. One day it wasn't there and the next day it was open for business. "We never do advertising," Jia said.
"People just told each other and then more people and more people came in," Wang added.
Jia and Wang would like to expand the menu, but said they are cautious in an industry that changes everyday. "For the long term, we really do not know but we feel comfortable to do a few more items," said Wang.
Email Benjamin at [email protected]