'Sleepless @ UMass' gives strategies for restful sleep
AMHERST — The common issue of sleep inconsistency and deprivation among college students was the main focus of "Sleepless @ UMass," a sleep fair and lecture held Wednesday afternoon in the Student Union Ballroom co-organized by the the UMass Center for Health Promotion and Campus Recreation.
Headlining the event was Rebecca Spencer, an associate professor of psychological and brain sciences at UMass, who gave an hour talk in the evening detailing the basics of sleep and how to overcome challenges such as insomnia and sleep deprivation.
"When thinking about sleep, the goal is always to get around seven to eight hours a night," said Spencer. "Once you become sleep deprived, your performance level goes down and you become confused, loopy, and forgetful. It's a state that highly resembles being intoxicated with alcohol."
Spencer explained that consistent sleep was necessary as it can help improve memory, creativity and decision-making skills.
Those who are having trouble with sleeping, she said, should not look to medications like Ambien. Instead, Spencer argued changing "sleep hygiene" habits can be just as effective.
"Sleep hygiene involves a lot of practical techniques that I think we can all apply," she said. Consistent activity and exercise during the day, keeping a consistent sleep schedule and sleeping in a cool, quiet and dark environment are all ways to improve sleep, Spencer explained.
"Sleep really is that magic pill that provides a lot of superpowers to us," she said.  
A two hour fair welcomed students earlier that day to an array of vendors and services, all of whom promoted sleeping products and strategies.  
Vendors included a few tables that sold essential oils such as lavender and chamomile, which help with relaxation and sleep once diffused into the air.
Along with acupuncture and massages, the free services offered at the fair included Reiki — a Japanese technique for stress reduction and general relaxation. The service was sponsored by Pioneer Valley Reiki, a local business that specializes in certifying people to perform the technique.
The technique of Reiki involves the "transfer" of energy through the palms of a certified practitioner and into the body of a recipient for physical healing and stress reduction, described Haleya Priest, the founder of Pioneer Valley Reiki.
"It's not pandora's box, it's not going to be able to fix everything," Priest said. "But the technique can and will help you get to a more relaxed physical and mental state, which will help you in your sleep."
Ramzi Adil, a senior biochemistry major said that he came to the sleep fair because he saw it advertised around the Student Union and in the dining commons on campus. At the fair, Adil received both a massage and acupuncture therapy, which he was apprehensive about at first.
"Once you get over that initial pinch it becomes very chill," he said. "They put two needles in one ear and two in the other, and it wasn't bad at all. Then I went to get a massage, and I feel very relaxed. I might have to go take a nap now."
Adil thought that the sleep fair was very helpful in gaining new information and strategies about getting a good night's rest.
"I know a lot of people who definitely don't get enough sleep," he said. "I learned a lot here about how sleep can help your memory improve, all of this information I think is very applicable to any student who struggles with sleep."
Email Michael at [email protected]
About the Contributor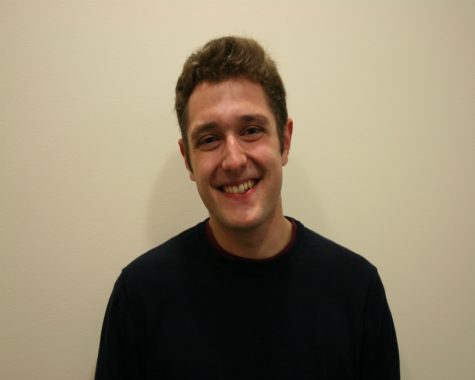 Michael Connors, Assistant Campus News Editor