Did Cardi B ruin Tinder? UMass students weigh in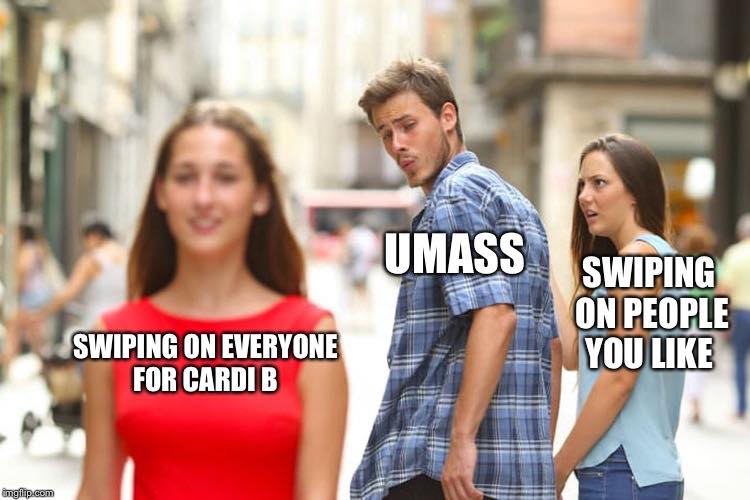 Brian Choquet, Photo Editor
April 19, 2018
AMHERST — Students at the University of Massachusetts Amherst spent hours in line Thursday at the Mullins Center Box Office to receive their free tickets for the Cardi B concert on April 25. While students persisted through the cold, snowy weather to claim their prize for beating Northeastern University in the first-ever Tinder swipe-off competition, was it all worth it?
For the rare few Tinder users who take the time to actually read a person's bio before swiping, you may have noticed a high number of profiles claiming "here for Cardi B" or something along those lines. Even after the contest ended yesterday, leftover accounts with profile pictures of Cardi B still linger in peoples' match lists.
This flood of users whose interests are only tied to wanting to see Cardi B has caused a stir in the Tinder community, leaving serious Tinder users sorely disappointed.
Tinder is a popular dating app is commonly used as a way to chat and meet up with people in your area for dates, hookups and anything in between. That ultimate end goal has become muddled these last weeks with the large portion of users who have no desire to do any of these things using the app — their reasons ranging from not being interested in meeting people through a dating app or already being in a relationship.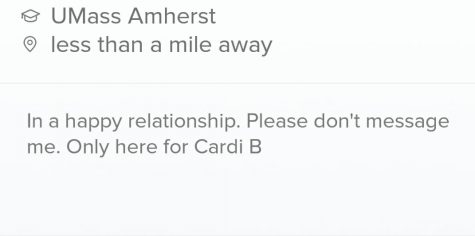 Sophomore Sydney Beaulac, who lined up at Mullins Center at 8 a.m. in hopes of getting a floor ticket, said she only downloaded Tinder to receive a free ticket and never had any intentions of meeting anyone. To receive a ticket, students needed to show proof they had a Tinder account along with their student ID.
"Some of our guy friends were upset because they would get matched with hot girls but it was fake because it was for Cardi," said sophomore Henry Lee, who also downloaded Tinder just for Cardi.
"You didn't actually mean to right swipe," added sophomore Jenn Tomlinson. "You just did it for the concert." On Tinder, swiping right usually means you are expressing interest in the person you are swiping on. With how the 'Swipe Off' competition worked, a right swipe gave a point to whatever school the user was at while using the app.
Freshman Alivia Lamoureux was one of the many students who swiped right for Cardi, and while she expressed this in her Tinder bio, she still received unwanted messages.
"I didn't answer any of my messages," said Lamoureux. "People were like 'ugh, it's so terrible matching with someone and they're only here for Cardi.'"
However, the sentiment that Cardi B ruined Tinder isn't held by all UMass students.
"Cardi B made Tinder better because it really got people excited during a cold, rainy April," said junior Caroline Tomasetta, who bundled herself up in a beanie and winter jacket to survive the deceivingly cold spring weather. "I think it got me excited to make a Tinder and try this new millennial thing that I otherwise wouldn't have tried."
Nonetheless, students are still excited over Cardi B's incoming arrival to the flagship campus. The line for tickets extended as far out as the Central Heating Plant behind the Mullins Center, and you could even hear the faint music of Cardi B playing.
As for the dedicated Tinder users of UMass, only time will tell if the app will return to what it used to be before Cardi B.
Email Brian at [email protected] or follow him on Twitter @brianshowket.