Nike campaign refuels Kaepernick debate
The former 49ers quarterback deserves respect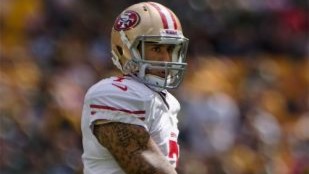 With a new ad campaign for its 30th anniversary, Nike single-handedly rekindled the viscous and polarizing debate surrounding former San Francisco 49ers quarterback Colin Kaepernick. 
A video accompanying the release of the campaign features Kaepernick describing the unlikely success stories of famous athletes such as Serena Williams and Lebron James.  "Believe in something, even if it means sacrificing everything," Kaepernick states in the video.
That is just what he did in 2016, when he knelt for the national anthem during a National Football League game to protest injustice and police brutality. Some supported his message, while others saw it as a sign of disrespect for the troops.
Kaepernick's decision not to vote in the 2016 election sparked even more controversy. How could someone with such strong opinions on the current political and racial climate not utilize their right to elect a new leader?
In a CNN interview Kaepernick said it would have been hypocritical if he voted. In the interview, he said he "was against the system of oppression. I'm not going to show support for that system. And to me, the oppressor isn't going to allow you to vote your way out of your oppression."
The response made some sense — Kaepernick felt none of his options in the presidential race would effectively change the system that oppresses African Americans. But voting is still a crucial part of American democracy.
As more and more teammates, opponents and athletes in other sports joined Kaepernick's movement, outcry against it grew. Supporters included fellow 49er Eric Reid, former Patriots tight end Martellus Bennett, and women's professional soccer player Megan Rapinoe. 
A large conservative bloc of critics, led by none other than President Trump, brutally attacked Kaepernick's decisions, calling into question his real motives for the protest. In a speech, Trump called those who kneel for the anthem "son of a b*****," and urged teams to fire players who protest.
Wow, NFL first game ratings are way down over an already really bad last year comparison. Viewership declined 13%, the lowest in over a decade. If the players stood proudly for our Flag and Anthem, and it is all shown on broadcast, maybe ratings could come back? Otherwise worse!

— Donald J. Trump (@realDonaldTrump) September 9, 2018
Kaepernick is now a free agent and has been unsigned for over a year. In May 2018, NFL owners voted to subject players who kneel during the anthem to suspension or fines. Under the new protocol, players may remain in the locker room during the anthem, but must stand if they are present on the field.
The Nike campaign refueled the Kaepernick debate. An image of Pat Tillman, the NFL athlete who died in combat after enlisting in the wake of 9/11, has circulated Twitter and other social media as a response to the suggestion that Kaepernick "sacrificed everything." 
But Kaepernick did make major and admirable sacrifices. He went from starting quarterback on a team that made the Super Bowl to outcast in the league. He is a good player, who by no means deserves unemployment.
Kaepernick has also donated over a million dollars to charities such as Mothers Against Police Brutality. During his campaign #10for10, Kaepernick and other celebrities, including Kevin Durant and Snoop Dogg, donated $10 thousand or more to a new charity each day for 10 days.
He's responded to an onslaught of hatred not with words, but with commitment to fighting against injustice.
Although it's becoming increasingly clear that Kaepernick may not return to the NFL, he has successfully gained attention for the issue of racial inequality by relinquishing his NFL paycheck for the greater good. He exercises his right to peacefully protest a system of injustice and oppression against people of color, and his demonstration deserves respect whether we agree with him or not.
Email Matt at [email protected].