Brett Kavanaugh is a Supreme Court Justice. Now what?
Twenty-seven years after Anita Hill's testimony, history repeats itself.
Last week, the United States Senate voted 50-48 to confirm Brett Kavanaugh to the Supreme Court amid allegations of sexual assault and misconduct. Justice Kavanaugh joined his colleagues on the bench for the first time Tuesday morning.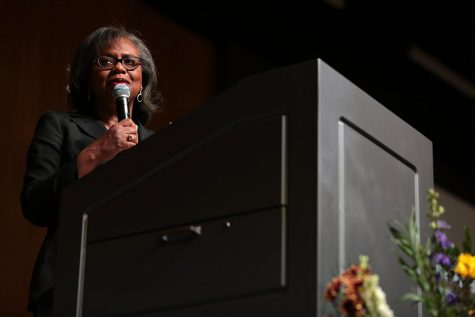 Kavanaugh's first day at work came 27 years after Anita Hill testified, during Justice Clarence Thomas's 1991 confirmation hearing, that Thomas had sexually harassed her a decade earlier while they worked together at the Equal Employment Opportunity Commission. Kavanaugh's first day on the job also marked 12 days since Dr. Christine Blasey Ford testified he sexually assaulted her when they were in high school.
Hill testified before a Senate Judiciary Committee comprised of all white men. Ford testified before a Senate Judiciary Committee comprised of 17 male senators — 16 of them white — and four female senators, including two women of color. The GOP hired a female prosecutor to question Ford.
In the current moment, the historical echoes of Kavanaugh's rise to the High Court reverberate. Thomas was confirmed by a vote of 52-48, while the Senate pushed Kavanaugh through on a 50-48 vote.
Both Kavanaugh and Thomas were confirmed amid allegations of sexual misconduct. Both went to Yale Law School. Both were federal judges prior to their nomination. Both vehemently denied all allegations of sexual misconduct. Today, both are members of the Supreme Court.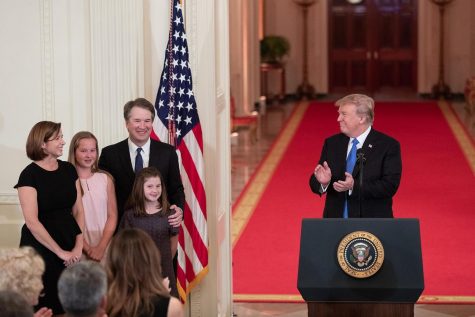 What happens now?
Thomas's similar rise to the Court and hyper-conservative voting record during his tenure on the High Court indicate the power and influence Justice Kavanaugh will hold. 
Here are a few of the 5-4, conservative-majority Supreme Court rulings during Justice Thomas's tenure:
National Institute of Family and Life Advocates v. Becerra: The Court ruled that crisis pregnancy centers were not required to provide information about abortion.
Trump v. Hawaii: The Court upheld the Trump administration's travel ban on Muslim countries.
Burwell v. Hobby Lobby Stores: In June of 2014, the Court ruled the Religious Freedom Restoration Act of 1993 allows for-profit companies to deny contraception coverage to employees based on a religious objection.
Here are a few cases on the Court's docket this session:
Husted v. A. Philip Randolph Institute: The Court will decide the constitutionality of Ohio's voter roll purges.
Royal v. Murphy: Regarding tribal sovereignty, the Court will decide whether the territorial boundaries of the Creek Nation, formed in 1866, constitute an Indian reservation under U.S. federal law today.
Bucklew v. Precythe: The Court will decide the burden of an inmate's medical condition on death row who seeks an alternative execution method. 
During a talk at the University of Pennsylvania on Wednesday, Anita Hill —now 62 years old – said that not much has changed since she testified that a then-Supreme Court nominee sexually harassed her in the workplace.
"What happened was not only a disservice to the people who were the principal witnesses, but was a disservice to the American public. We were all dis-served in 1991 — people wanted to understand sexual harassment," Hill said. "In 2018, they wanted to understand sexual assault."
"We are not just dealing with behavior," she added. "We are dealing with systems that protect it, and sometimes encourage it, and sometimes reward it, and that is what you saw."
Email Elizabeth at [email protected], or follow her on Twitter @MsLizDonoghue.