A guide to statewide office candidates
AMHERST — Massachusetts voters are set to cast their ballots in the midterm elections on Tuesday, Nov. 6. While the elections will shape the balance of power at the national level, they could be  consequential in local affairs as well.
Here are the candidates running for office in seven statewide races:
Senator
Senator Elizabeth Warren (D) hopes to defend her seat Tuesday as challengers Geoff Diehl (R) and Shiva Ayyadurai (I) attempt an election day upset.
A recent WBUR poll has Warren touting a 22-point lead over Diehl with Ayyadurai polling at 6 percent. Although the numbers point to an easy win for Warren, her opponents remain confident that Massachusetts voters are fed up with the high-profile senator.
Diehl, a state representative from Whitman, has repeatedly criticized Warren for taking a "hard look" at a 2020 bid against President Donald Trump. On the campaign trail, Diehl contrasted his focus on serving Massachusetts with his opponent's rumored White House aspirations.
Diehl has stressed the senator's lack of presence in the Commonwealth, saying that Warren wants to "make this a national race for [herself] against Donald Trump" and reiterating that "this is about Massachusetts."
On the other hand, Ayyadurai has hit Warren particularly hard on the controversy surrounding her Native American heritage. Born in Mumbai, India, Ayyadurai portrays himself as the "real Indian."  The scientist and entrepreneur argues that his "relentless" campaign to prove her dishonesty caused Warren to take a DNA test, the results of which proved that she was "99.99% white," according to Ayyadurai.
Warren defended her decision to release the results of the test, even as she faced backlash by the Cherokee Nation and other Native tribes. The Washington Post fact checked the controversy, noting her makeup "may not be large, but it's wrong to say it's as little as 1/1024th or that it's less than the average European American."
The president chimed in, again labeling Warren "Pocahontas." Warren continues to be one of Trump's fiercest critics, and that opposition may help carry her to victory in the blue Bay State on Tuesday.
Governor
As a Republican in one of the most Democratic states in the country, Charlie Baker has maintained an impressive approval rating since he won the election against Martha Coakley in 2014.
This time around, Baker faces Democrat Jay Gonzalez, an experienced politician who has served as both the Chair of the Massachusetts Board of Early Education and Care, and the CEO of a major healthcare company.
According to a Morning Consult survey of over 300,000 registered voters, Baker is the most popular governor in the entire nation. He's known for his ability to work with those across the aisle, even in today's polarized political climate.
Nearly 70 percent of Massachusetts voters approve of the job that Baker has done, so Gonzalez faces an uphill battle on Tuesday. The state also has a habit of voting for Republican governors, as five out of the last six Commonwealth governors have been members of the GOP.
Gonzalez has been outspoken in his demand that Baker denounce Trump with him. To date, Baker has refrained from doing so but has not endorsed the administration, either. Baker has spoken out against Trump on multiple occasions, notably voicing his opposition to the travel ban and the Republican bid to repeal Obamacare.
Although the two candidates represent parties with strikingly different politics, Baker and Gonzalez share similar views on multiple topics: Both candidates are avid supporters of public schools and view education as a top priority in the state. Both are outspoken in their pro-choice stance supporting a woman's right to choose. Both men support same-sex marriage — Baker's brother married his husband soon after gay marriage was legalized in the state. Both also support including gender identity in public accommodation laws.
By banning bump stocks, which cause a gun to shoot faster, and by passing the "red flag bill," which allows the confiscation of a person's gun if they pose a threat to themselves or others, Baker has added to restrictive gun laws in Massachusetts. Gonzalez has a slightly more partisan plan, promising to ban assault weapons and silencers while stressing the importance of combating gun violence with direct action and programs to assist those that are likely become involved with guns.
Amid the ongoing opioid epidemic in the state, both candidates took strong positions on how to combat the problem. Both believe in prevention, intervention, treatment and recovery strategies when dealing with drug users and potential drug users.
As a former health insurance CEO, Gonzalez agrees with the legislation passed by Baker, but has stated that enforcement of the legislation needs to improve to have a positive impact on the community. Gonzalez is also in favor of safe injection sites for addicts, while Baker has been skeptical about the idea.
Gonzalez, if elected, has promised to enact his plan to move the state to completely renewable electricity by 2050. He also wants Massachusetts to become the first state to adopt carbon pricing. For the past three years, environmentalists in the state have given the Baker administration a "C" on environmental efforts, although the administration plans on reducing the carbon footprint and developing hydropower.
Lieutenant Governor
On the tickets for Baker and Gonzalez are two experienced politicians, Republican Karyn Polito and Democrat Quentin Palfrey.
Polito, on the Baker ticket, served as the selectman for her home town of Shrewsbury before being elected to five terms in the Massachusetts House of Representatives.
Since her election in 2014, Polito has served as the chair of the Community Compact Cabinet, which was enacted "to assist local communities in implementing best-practices that serve constituents more effectively and improve municipal management."  She currently leads the administration's efforts in supporting survivors of sexual assault and abuse.
Palfrey, on the Gonzalez ticket, worked as an adviser to the Obama administration from 2009 to 2013 and served as the Deputy General Counsel for Strategic Initiatives at the US Department of Commerce.
He also served as chief of the Health Care Division in the Massachusetts Attorney General's office. Prior to his campaign, he served as Executive Director of J-PAL North America, a lab at MIT that is dedicated to researching and fixing poverty and inequality in the United States.
Attorney General
Elected in 2014, Democrat Maura Healey boasts an extensive political record in Massachusetts. For seven years before becoming the state's Attorney General, Healey oversaw more than half of the attorney general's 500 employees. She directed the Public Protection & Advocacy Bureau, the Business & Labor Bureau and served as the Chief of Civil Rights Division.
Healey's key stances include combating the opioid epidemic, helping students with student debt, restricting gun sales and supporting gun laws, protecting the environment, and challenging the Trump administration with legal action when necessary.
As the first openly gay state attorney general in US history, she is a strong ally of the LGBTQ community.
Her opponent, Republican James McMahon, has been an attorney at law for 30 years. McMahon is an active member in the Bourne community, where he has raised his five children with his wife of 25 years.
The three topics listed on his website include maximum sentencing for repeat drug offenders, maintaining a non-liberal agenda and combating the opioid epidemic. The latter issue is especially important to McMahon, as he lost his eldest son to opioid addiction.
Secretary of State
Democrat William Galvin has served as Massachusetts's Secretary of State since 1994. Before his election to the office, Galvin was the state representative for the Allston-Brighton district.
In his current position, Galvin has aggressively protected investors against fraud and recovered millions of dollars for victims of financial scams; in a 12 month period, he issued $56 million in fines against broker-dealers. In addition, he created an Internet Fraud Unit in the Securities Division to combat evolving schemes that are used to scam people.
Galvin lost the Democratic party endorsement in the primary, but still won 67 percent of the vote to beat his opponent Josh Zakim.
Republican candidate Anthony Amore currently serves as the Director of Security and Chief Investigator at the Isabella Stewart Gardner Museum in Boston. Prior to his employment at the museum, he held leadership positions with US Immigration, US Homeland Security, and the Federal Aviation Administration.
On his website, Amore declares that government accountability is the "overarching theme of my vision for the Office of the Secretary of the Commonwealth." His campaign platform focused on keeping government records public, ensuring the security and accessibility of elections and protecting businesses against identity theft.
Treasurer
Democrat Deborah Goldberg has served as State Treasurer since 2015. Her family, the original Stop & Shop owners, instilled family and business values in her, helping shape her views today.
Goldberg worked as an executive at Stop & Shop, then went on to serve as the selectman for the Town of Brookline from 1998 to 2004. Goldberg is currently a member of the Democratic State Committee and represents Democratic treasurers throughout the country as a member of the Democratic National Committee.
Key issues Goldberg has worked on as treasurer include ensuring wage equality, creating a college savings program for young children and educating Massachusetts citizens on financial matters, helping them avoid serious debt and other monetary issues.
Goldberg faces Republican Keiko Orrall, the first Asian-American woman to seek a constitutional office in Massachusetts. Orrall became the first Asian-American woman elected to the State House of Representatives in 2011.
Orrall advocates for policy over politics, emphasizing the importance of being able to work with those across the aisle. She has worked on multiple bipartisan committees to pass or block legislation covering topics such as education and small businesses.
Auditor
Democrat Suzanne Bump has been the State Auditor since 2011 — the first woman to hold the position in Massachusetts. Prior to her election, she worked under former Governor Deval Patrick as the Secretary of Labor and Workforce Development.
For eight years she served as the State Representative for the Town of Braintree and describes herself as a "longtime Democratic activist and progressive." Bump participated in the 2017 Women's March in Boston, and has received praise by numerous organizations for her work concerning social issues and business.
A self-proclaimed political outsider, Republican Helen Brady is looking to unseat the incumbent. Brady was recently promoted to business manager of the Boston Pops after working for the Boston Symphony Orchestra for 30 years. Brady also serves on the Steering Committee for Women at the University of Massachusetts, a group of alumni that find ways to give back to the university.
Daniel Fishman is the lone Libertarian left on the ballot. Originally from Texas, Fishman worked as a special education teacher before moving to Massachusetts. He currently writes software that supports special education. Fishman gained popularity when he was unexpectedly endorsed by former Massachusetts Governor Bill Weld at the Libertarian Party of Massachusetts's convention.
He is currently the political director of the Libertarian Party of Massachusetts. Regarding his hobbies, Fishman wrote on his website, "In my free time, I'm a hiker and camper, but I can crush 12 hours in front of a good video game."
Email Kyle at [email protected].
Email Matt at [email protected]. 
About the Writer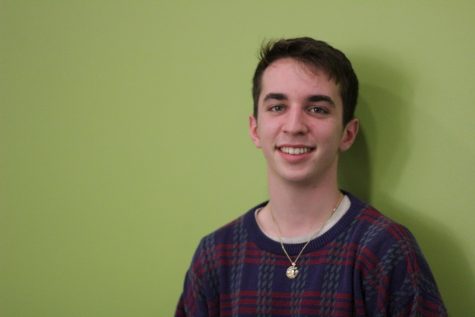 Matt Berg, Assistant Campus News Editor
"Three words: Vice President Oprah." -Obama

Email Matt at [email protected] or follow him on Twitter @mattberg33