Why Matthew Whitaker is harmful to America
Whitaker's appointment has threatened the integrity of the United States judicial branch and Robert Mueller's investigation.
Shortly after the resignation of Attorney General Jeff Sessions last November, President Donald Trump  announced via Twitter that former U.S. Attorney Matthew J. Whitaker would become the new acting attorney general. The appointment of Whitaker received immediate backlash from Democrats, and for good reason.
We are pleased to announce that Matthew G. Whitaker, Chief of Staff to Attorney General Jeff Sessions at the Department of Justice, will become our new Acting Attorney General of the United States. He will serve our Country well….

— Donald J. Trump (@realDonaldTrump) November 7, 2018
Whitaker will oversee special counsel Robert Mueller's probe into the alleged collusion between the 2016 Trump presidential campaign and the Russian Kremlin. Sessions recused himself from the investigation in March 2017 after facing criticism over disclosed contacts with a Russian ambassador, prompting an angry response from Trump.
The president attacked Sessions via Twitter, calling him "VERY weak", and continued to denounce him on social media for stepping away from the investigation.
This is why the appointment of Whitaker comes as a shock. The fact that Trump would appoint such an adamant opponent of Mueller's investigation shows he will do whatever it takes to save his presidency, even if it means breaking the law. Trump has a history of rewarding those loyal to him, and this blatant act of nepotism is not only alarming, but possibly unconstitutional. 
Attorney General Jeff Sessions has taken a VERY weak position on Hillary Clinton crimes (where are E-mails & DNC server) & Intel leakers!

— Donald J. Trump (@realDonaldTrump) July 25, 2017
In August 2017, Whitaker published an opinion article for CNN entitled "Mueller's investigation of Trump is going too far", which criticized the investigation as a whole. It also called on Rod Rosenstein, the acting deputy attorney general at the time, to "order Mueller to limit the scope of his investigation."
Whitaker also has close ties to a key witness in the Russia investigation. He and Sam Clovis, an unofficial "campaign supervisor" for Trump's 2016 campaign, both ran in an Iowa Republican primary in 2014 and became "great friends." 
By placing a well-established Trump supporter who has openly criticized the Mueller probe and has ties to a key witness, Trump has consciously sabotaged the integrity of the U.S. justice system. With the power to potentially fire Mueller and no sign of announcing his recusal, Whitaker stands as a barrier between the truth and the administration's "alternative facts."
Whitaker's credibility issues go beyond his criticism of the investigation. He was formerly on the advisory board for World Patent Marketing, an "invention promotion company," which is currently being investigated by the FBI for allegedly scamming investors.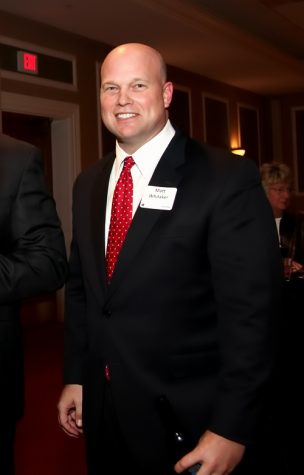 The Washington Post recently found that Whitaker has ties to the Foundation for Accountability and Civic Trust, a organization used to fund conservative political campaigns. Whitaker received $500,000 from the charity in 2017, almost half of the charity's receipts for the year.
On Nov. 25, California Democrat and incoming chairman of the House Intelligence Committee Adam Schiff announced his plans to bring Whitaker before Congress to testify about his ties to the Mueller investigation.
Schiff declared in a recent Politico article that Americans should have "no confidence" in Whitaker's control of the investigation and that "his conflicts are so apparent, the country can have no confidence in a judgment that he makes about the handling of this investigation."
Trump has responded to these announcements by referring to Schiff as "little Adam Schitt" via Twitter.
This administration continues to show a blatant disregard of its own bias. Until the investigation can proceed independently and impartially, the very foundation of our democracy remains broken.
Email Katie at [email protected]