The migrant caravans are here— now what?
Trump's anti-immigrant legislation accents his unwillingness to work with Mexico.
On January 15th, the Washington Post reported that 2,000 migrants in northern Honduras had formed a caravan headed for the United States-Mexico border. The news was the latest in the ongoing debate over asylum seekers, illegal immigration and the proposed southern border wall that has sparked the longest partial government shutdown in U.S. history.
Over 8,000 migrants from Honduras, Guatemala and El Salvador have traveled thousands of miles to the U.S.-Mexico border, seeking asylum and a better life for their families. However, U.S. Customs and Border Protection has said that until 2,800 other undocumented immigrants at the San Ysidro Port of Entry are processed, no other migrants will be allowed in.
What happens now that they're here?
The Fake News is showing old footage of people climbing over our Ocean Area Fence. This is what it really looks like – no climbers anymore under our Administration! pic.twitter.com/CD4ltRePML

— Donald J. Trump (@realDonaldTrump) November 19, 2018
"In the United States, there are two ways to get a refugee visa," said Rebecca Hamlin, a legal studies professor at the University of Massachusetts Amherst and author of Let Me Be a Refugee: Administrative Justice and the Politics of Asylum in the United States, Canada, and Australia. Refugees seeking visas can do so through the overseas refugee resettlement program, or through an application for asylum.
"The United States takes a certain number of people every year who have already been given the status [of refugee] by an international agency or by an individual in the U.S. government abroad," said Hamlin. Yet President Donald Trump has been threatening to penalize any migrants who cross the border illegally.
In a Presidential Proclamation issued on Nov. 9, Trump said that "aliens who enter the United States unlawfully through the southern border in contravention of this proclamation will be ineligible to be granted asylum." Whether he knows it or not, Trump is breaking international law in accordance to Convention on the Rights of Refugee 1951, which sets guidelines for individuals granted asylum and the responsibilities nations have to asylum seekers.
"It's very, very clear in international law and in our own statutes that there is actually no penalty from entering a country illegally and then applying for asylum," said Hamlin.
In June 2018, the Trump administration overturned asylum protections for domestic violence and gang violence victims, which could potentially prevent the migrants from entering the U.S.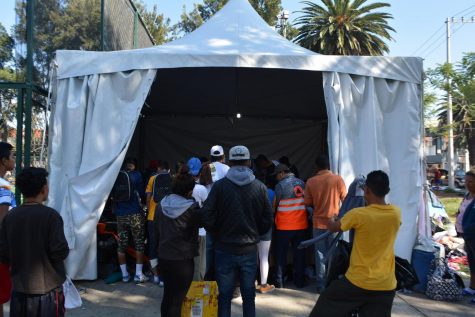 Hamlin finds this precedent particularly concerning.
"Based on where they're coming from I can guess that in Honduras, it's not necessarily the Honduran government that's persecuting people, but it's the Honduras government that's incapable of protecting people from persecution by non-state actors," said Hamlin.
Even if the migrants are able to circumvent the barriers set by the Trump administration, their chances of being granted asylum are slim.
According to Hamlin, these "legal doors" are directly correlated with the influx of immigrants from the northern triangle and Central America.
Currently, the Mexican government is aiding the stranded migrants. Buses moved them from the Tijuana "waiting room" to a covered shelter, complete with portable bathrooms, food and other necessities. The abandoned concert hall, El Barretal, is 11 miles from the original Tijuana location and almost 15 miles from the US-Mexico border. Most migrants do not know where they are, let alone how to get to offices to work on their paperwork— either to seek asylum in the U.S. or stay as a refugee in Mexico.
According to Hamlin, if the migrants are granted refugee status in Mexico, they risk their eligibility to enter the U.S. Many migrants are trying to find work in Mexico while they await their verdict and others have given up and accepted their deportation home.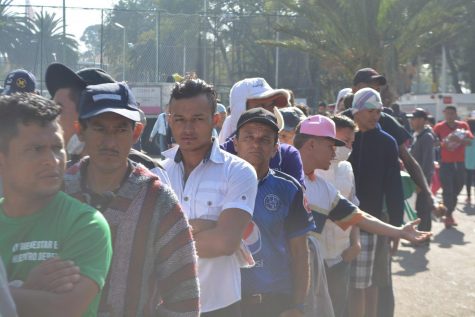 The U.S. has a Safe Third Country Agreement with Canada but not Mexico, and it's unlikely this will change anytime soon.
"It's unlikely that Mexican President Andrés Manuel López Obrador, who is sympathetic to the caravan, will want to act as an intermediate for American foreign policy," said Vincent Ferraro, a Ruth C. Lawson professor of international politics. "We might see a change for a short time, but in the long run, there won't be a difference between the U.S. and Mexico. It'll take the U.S. saying, 'We'll fund you to take care of them,' which Trump won't do."
Trump is notorious for his poor relationship with foreign leaders, especially Mexico. One of his most scrutinized statements came during his presidential bid in 2016 when he said, "[Mexican immigrants are] bringing drugs. They're bringing crime. They're rapists. And some, I assume, are good people." While this statement is largely false, an MS-13 gang member found to be traveling with the caravan was arrested after illegally entering the United States on Nov. 24.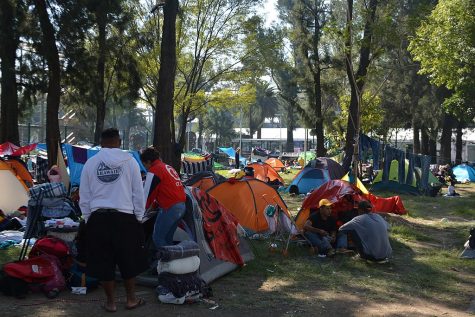 Two days later, U.S. Border Patrol agents deployed tear gas when a group of migrants attempted to cross the border. Carla Provost, chief of the U.S. Border Patrol, claimed that agents deployed tear gas as a way to defend themselves against the migrants throwing rocks and other projectiles.
Trump has been criticized for his use of tear gas at the border with many debating the legality of the weapon. Yet, critics were silent when former President Barack Obama issued the use of tear gas at the border over 50 times during the second term of his presidency.
The struggle at the border has only just begun. Despite aggressive anti-immigrant legislation, society holds out hope that an agreement will be reached with Mexico to help people who seek a better life for themselves.
Email Amelia at [email protected].