UMass denounces Resident Director's email accused of advocating for inclusiveness towards Nazis
"I wanted people to see what he had said, that [Residential Life] had asked me to be inclusive of Nazis."
AMHERST– After a controversial email from a Residential Life staff member regarding a student's anti-Nazi sign went viral on Facebook, University of Massachusetts officials denounced it, and said the sign should stay up.
Junior Nicole Parsons posted a sign on window of her Brett Hall dormitory room reading  "F*** Nazis, You are not welcome here," in December. Soon after, she received an e-mail from a Residential Life staff member asking her to take it down. 
But the university did a turnaround after the issue caught fire on social media.
"A poorly worded email from Residence Life staff about a sign posted by students in a residence hall window does not reflect the values of the campus, and it should not have been sent," Deputy Director of UMass Office of News and Media Relations Mary Dettloff said in an email.
The controversy began when  Parsons shared the email she received from Dickinson Hall residence director Eddie Papazoni in the UMass Facebook group, Overheard At UMass. 
"The response shocked me to my core, but I didn't feel personally attacked," said Parsons, in regards to the email she received from Papazoni. "Rather than being upset at their response, I was angry."
Since being posted Dec. 19, when Parsons' received the email, her post has received over 500 reactions and 300 comments. Most are from upset students and alumni of UMass.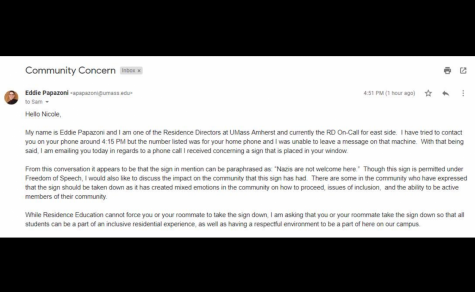 According to Dettloff, the email was not following any Residential Life protocol. 
Some students, including Parsons, have interpreted the email as an attempt to make UMass a more inclusive and welcoming environment for Nazis.
"I wanted people to see what he had said, that [Residential Life] had asked me to be inclusive of Nazis," said Parsons, but noted that much of her anger was towards the administration and not Papazoni.
The fear of Nazis and white supremacist influence at UMass has been looming since Septmeber  after multiple racist and anti-Semitic incidents have taken place on campus. However, some students have pointed to the sign's use of profanity as a possible reason for Papazoni's email.
"UMass Amherst emphatically rejects Nazis, and any other hate group, a view expressed in the students' sign," said Dettloff. "However, we are sensitive to the use of profanity, which some could find inappropriate."
After seeing the post, some students and alumni wrote emails directly to Papazoni expressing their displeasure with his response.
"…I believe that you sending this email on behalf of the Residences and, by extension, on behalf of the UMass administration, is deeply inappropriate," said UMass graduate student Anna Klebanowska in an email to Papazoni. "It proves that the slogans that the administration introduced as part of their inclusion policy are completely empty. Hate does, in fact, have a home at UMass because Nazis are welcome here."
Parsons' inspiration for the sign came after she heard about an incident from Dec. 5, in which a Baker Hall resident assistant had a swastika drawn on a Hanukkah sign that hung on his door.
"Because Baker is so close to me, I thought that there might actually be a chance that the person who did that saw my sign," Parsons said in an email. "My sign and my message is for that person and all the other racists on campus– administration might try to protect you, but you are not welcome here."
The sign was displayed out her window for almost a week before she received Papazoni's email. Per her roommate's request, Parsons will take down the sign, but she does plan on hanging a new sign to be displayed for all of winter break.
About the Contributor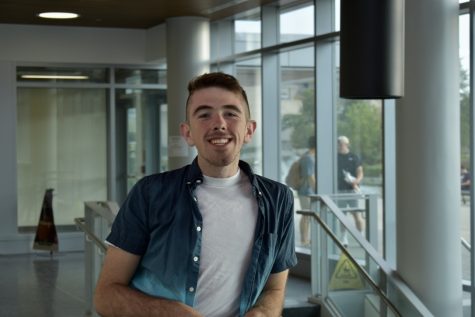 Brian Choquet, Campus News Editor
"The hero of my tale–whom I love with all the power of my soul, whom I have tried to portray in all its beauty, who has been, is, and always will be...