Hampshire College votes not to accept additional students for fall 2019
After originally delaying its vote, Hampshire announced it will only admit the 77 students already accepted for the fall 2019 semester.
Matt Berg, Assistant Campus News Editor
February 3, 2019
AMHERST – Hampshire College voted on Friday to admit 77 students already accepted into the fall 2019 semester, but will not admit any other students for that academic year.
On Thursday afternoon, hundreds of students gathered in Franklin Patterson Hall for a sit-in protest which continued throughout the day on Friday. Students aimed to open a dialogue on whether or not their college should admit students for the fall class of 2019.
Four hours after the vote's original deadline, Hampshire announced that the school will halt admission.
Previously, Hampshire College President Miriam Nelson stated that a decision would be made before Feb. 1, the date that acceptance letters for regular decision prospective students would typically be sent out.
"We are not planning to shut down," Nelson said at a press conference on campus.
Members of Students of Underrepresented Cultures and Ethnicities (SOURCE), Coalition of Students Affected by Ableism (COSA), Student Advocacy Network (SAN), student workers, and members of the student body released a memo regarding the Feb. 1 deadline.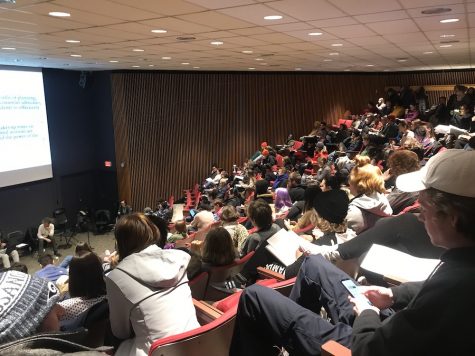 "Through deliberation with members of the Hampshire College community, we have come to the conclusion that making a decision about admitting a class for the Fall of 2019 today is a failure on the part of the Hampshire Senior Administration and the Board of Trustees," the memo stated.
This sentiment was apparent in the sit-in. A continuous slideshow informing students about Hampshire's history of protest accompanied the discussion.
Political unrest in the country added to the student's anger that Hampshire – a famously progressive activist college – may shut its doors.
"I think now more than ever, we need a Hampshire, especially this Hampshire," one of the speakers at the sit-in stated.
"The current political context makes it especially necessary for us to make space for unconventional schools like Hampshire College," stated the memo in bold lettering.
Although the students are in disagreement with the Board of Trustees at Hampshire, the sit-in has been supported by other workers at the school. Faculty, staff and alumni have donated food to the students at the sit-in, and the campus police brought blankets to Franklin Patterson in support.
A Crowdpac, "Fund a Fall 2019 Class and Democratic Future for Hampshire College!," was created with the goal of raising $250,000. Over $230,000 has been raised so far and continues to grow.
"We are especially seeking well resourced donors to contribute large sums of money to demonstrate their commitment to the college, but welcome all donations, big and small," the Crowdpac explains.
Former Hampshire President Adele Simmons donated $100,000 to the cause, according to an update on the site.
On Jan. 15, Hampshire announced that it was looking for a partner institution to merge with, citing financial struggles. With an enrollment of 1,321 students, Hampshire's endowment totals $54 million. Nearby Mount Holyoke College, with an enrollment of 2,255 students, has an endowment of $729.4 million.
According to a New York Times op-ed written by Hampshire alumnus Jon Krakauer, Nelson "told a group of prominent alumni, donors and former administrators this week, Hampshire will be forced to close within the next three or four years."
These financial strains come at a time when Hampshire's enrollment dropped 17 percent from 2010 to 2017.
The controversy comes in the midst of multiple small, private colleges merging or closing in Massachusetts, including Mount Ida College and Newbury College. Due to insufficient endowments and declining enrollments, small liberal arts colleges have been forced to make huge changes, angering the student body.
Email Matt at [email protected] or follow him on Twitter @MattBerg33.