Students gather in Greeno to support Bernie
"My support comes purely from rage."
A dinosaur coloring book, the classic board games 'Apples to Apples' and 'Sorry', and posters stamped with "UMass Amherst for Bernie!" adorned the tables at Greeno Sub Shop in Central Residential Area last Wednesday, as over a dozen Bernie Sanders supporters gathered to discuss how they would move forward with supporting one of the 2020 Democratic presidential candidates.
Our Revolution UMass Amherst, a single chapter in the national grassroots organization, is comprised of students that are still "Feeling the Bern." The UMass chapter, formed in January of 2018, has grown to 80 people, joining thousands of students across the nation.
Their mission? To campaign on behalf of presidential candidate Bernie Sanders as he makes his second consecutive run for office.
"I think Bernie Sanders is the best candidate because out of all the people that have announced so far, he's the only one who has set the platform for the Democrats," said President Andres Garcia, a junior political science and legal studies double major. "He's the one who has been fighting for all these issues for his entire life, since he was a student at UChicago fighting against segregated housing."
After stating their names, majors, class years and pronouns, members at the meeting explained why they support the 77-year old candidate. One member in particular expressed his frustration with the current Democratic presidential candidates.
"My support [for Sanders] comes purely from rage," said Ben Stone, a junior psychology major. "So many of the Democratic candidates are fraudulent and fake."
Politicians often face public distrust, which can be caused by various factors from corporate donations to personal biases. Many of the members noted Sanders' ability to raise millions of dollars from independent sources as one of their main reasons for supporting him.
"I'll just say that I think Bernard Sanders is the only candidate who addresses the most challenging concerns in politics nationally and internationally," said Secretary of Outreach Brendan McKenna, a sophomore English major.
The group originally met at The Hatch in the Campus Center, but made the move to the more popular Greeno after seeing low attendance. Central, they believe, is also home to a high concentration of the Bernie supporters on campus.
According to members, attendance at meetings has increased since the switch.
In addition to holding meetings, Our Revolution actively supports other political movements by gathering at various events, including the protest of the Supreme Court Justice Brett Kavanaugh nomination on campus and the March for Our Lives in Northampton. The group will also sell t-shirts and buttons to raise money for both their organization and Sanders' campaign.
Greeno Sub Shop is not affiliated with Our Revolution UMass Amherst.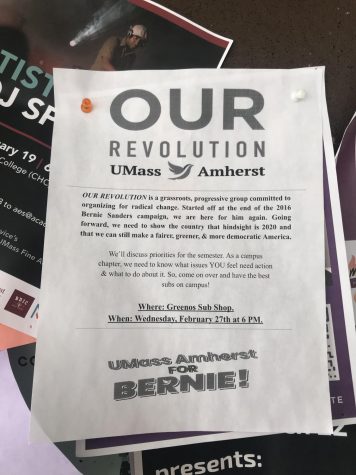 Email Matt at [email protected] or follow him on Twitter @mattberg33
About the Contributor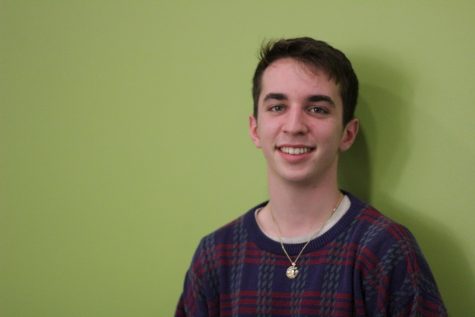 Matt Berg, Assistant Campus News Editor
"Three words: Vice President Oprah." -Obama

Email Matt at [email protected] or follow him on Twitter @mattberg33