The Mueller Report is out. Now what?
The special counsel's report has Democrats scrambling for answers while Republicans rejoice.
A summary of the Special Counsel's investigation into Russia's interference in the 2016 election discovered that President Donald Trump and his campaign did not conspire with the Russian government in order to win the presidential election. Robert S. Mueller III submitted the findings of his investigation to Attorney General William P. Barr, who released his summary of the Special Counsel's Report to Congress and the public.
President Trump has declared the report "a complete and total exoneration," despite Barr mentioning Mueller 's report says, "while this report does not conclude that the president committed a crime, it also does not exonerate him" in relation to obstruction of justice. Barr and Deputy General Rod Rosenstein decided there was not enough  evidence to charge Trump on that offense.
No Collusion, No Obstruction, Complete and Total EXONERATION. KEEP AMERICA GREAT!

— Donald J. Trump (@realDonaldTrump) March 24, 2019
Barr has been heavily pressured to release the full report of the Special Counsel's findings by members of Congress. Senator Mitch McConnell rejected a non-binding resolution, which was passed unanimously in the House, for the special counsel's report to be made public. Trump himself has declared "it wouldn't bother me at all" if the report was made public. According to a new Quinnipiac Poll, 84 percent of respondents believe that Mueller's report should be made public.
 In the Senate, House Judiciary Committee Chair Jerry Nadler (D-NY) and Senate Judiciary Committee Chair Lindsey Graham (R-SC) have competing views on how to approach the Special Counsel's findings. Nadler said he wants Barr to testify in Congress, but Graham tweeted that Trump had been exonerated and it's time to move on from the investigation. Graham has also stated that Barr will send the Special Counsel's reports to the White House in a few weeks before it is made public to use executive privilege over parts they don't want to be released.
I have just received topline findings from Attorney General Barr.

Good day for the rule of law.

Great day for President Trump and his team.

No collusion and no obstruction.

The cloud hanging over President Trump has been removed by this report.

— Lindsey Graham (@LindseyGrahamSC) March 24, 2019
Barr's decision has been met with scrutiny because of his previous memo to the Justice Department before he was elected attorney general in June 2018, which stated Trump's decision to fire ex-FBI Director James Comey would not entail charges of obstruction of justice. Senators Chuck Schumer and Nancy Pelosi have referenced this in their joint statement to Barr to release the full report of Mueller's findings. John Dean, former White House counsel of the Watergate scandal, believes that Barr might be hiding something damaging of Trump that was in the special counsel's report.
Barr was once called the 'Coverup-General' by New York Times writer William Safire because of his actions during the Iran-Contra and Iraqgate, which involved him refusing to allow an independent investigation and hiding evidence to protect key figures including himself. George Conway, the famous husband of White House counselor Kellyanne Conway, believes that the Mueller report might have "something pretty damning in it" because of the fact that Mueller stated that it doesn't exonerate him.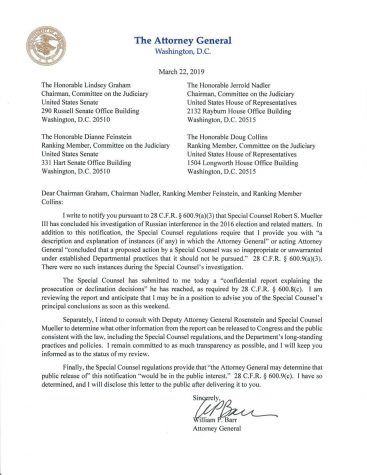 After feeling vindicated with the results of the investigation, Trump is attacking the people he believes started it in the first place. Trump said to reporters, "hopefully people that have done such harm to our country — we've gone through a period of really bad things happening — those people will certainly be looked at," while in an Oval Office meeting with Prime Minister Benyamin Netanyahu of Israel.
It is unclear whether or not the full report will be released to the public. Barr shared only four incomplete sentences of Mueller's own words from the investigation and a review of what he read from the report. Releasing the full report will be difficult for Democrats while Mitch McConnell and Lindsey Graham fight for it to remain hidden from the American people. 
Email Nicholas at [email protected].