Economy housing expands into multi-year dorms
UMass is expanding, but at what cost?
AMHERST–Rising enrollment and increased demand for on-campus housing at the University of Massachusetts has driven administration to expand space-saving room options to multi-year dorms.
In a video posted by Spanish and psychology double-major Alyssa Cochran-Caggiano in the popular Facebook group, Overheard At UMass, twin XL beds were positioned against whiteboards and wooden furniture occupied what was once a lounge for students of the multi-year dorm, Baker Hall. The conversion of common spaces into 'expanded quads' – as UMass labels them – was seen last year in freshman dorms across campus, but increased enrollment has led the practice to bleed out into multi-year housing.
According to the Deputy Director of UMass' Office of News and Media Relations,  Mary Dettloff, UMass' 2019 freshmen class will be the largest the flagship has ever seen, totaling almost 5,800 students. That's 750 more than last year's class and over 1000 more than 2017's entering class. 
To accommodate the 5,800 freshman who will be joining UMass this fall – a 750 increase from 2018's freshmen class – dining hall hours have been restored to their original scheduale: Worcester has late night on weekends again and Frank/Hamp are open till 10 p.m. @AmherstWire

— Brian Choquet (@BrianShowket) August 26, 2019
To accommodate these increases, UMass has implemented almost 350 economy triples – standard doubles made to fit three people – and an estimated 100 converted lounges into the dorms. These efforts have created an additional 750 beds for students, says Dettloff. All of which are offered at a reduced price. It remains unclear what dorms are affected by the changes and whether or not the quads and forced triples are exclusively for freshmen.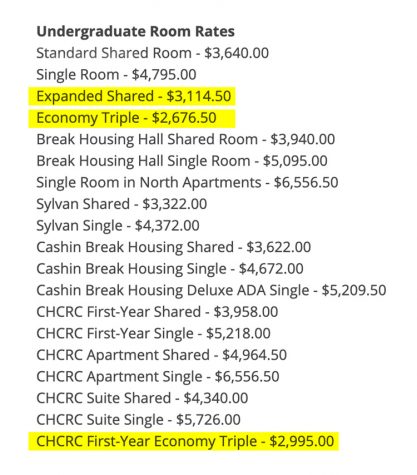 This influx of freshman has also forced UMass to allocate dorms once used primarily for upperclassmen. MacNamara Hall in the Sylvan Residential Area has been converted into a freshman dorm and Brooks Hall in the Central Residential Area will have two-floors dedicated to first-years.
Commenters on Cochran-Caggiano's post were quick to point out that these arrangements are nothing new for the campus and have been used before in the early and late 2000s. However, the increase in first-year enrollment seen between 2017 to 2019 is larger than any two-year span between 2000 to 2010, according to archived enrollments reports.
Email Brian at [email protected] or follow him on Twitter @brianshowket.