UMass grows towards sustainability
AMHERST — In the wake of the climate strike and the era of climate justice, different departments and organizations from the University of Massachusetts gathered at the Sustainability Slammer to inform students how to get involved in climate activism. 
The event included representatives from the nine departments and 13 groups on campus that belong to the Sustainability Action Coalition, such as School of Public Policy, Isenberg School of Business, Environmental Community Outreach Club, Center for Education Policy and Advocacy (CEPA), Department of Landscape Architecture and Regional Planning, MassPIRG, ECO-Rep program, Green Office Fellowship, Sustainability Innovation Engagement Fund and the Farm Share Program. 
The coalition unites all the different groups on campus with similar goals concerning climate change. The Secretary of Sustainability for the Student Government Association, Andrea Papa, organized the Sustainability Slammer. She said the purpose of the event is to demonstrate the opportunities students have to combat climate change. 
"I get emails all the time being like, 'How can I get involved? Where can I learn more about what this campus is doing?' Especially this week, the climate strike week, and everything that is going on in the news, people have been very willing to get involved," Papa said.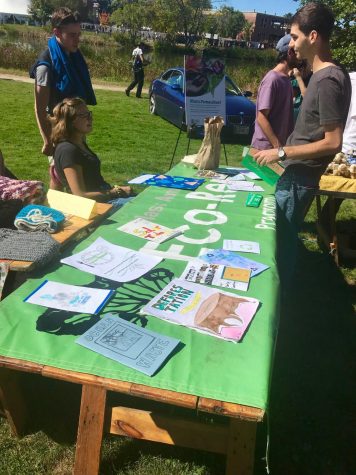 Organizations like MassPIRG raised awareness for environmental achievements of UMass, while other groups, like CEPA, focus on ways to further sustainability reforms. Last year, MassPIRG pushed the university to pledge for 100% renewable energy by 2025 at the earliest and 2030 at the latest. The organization's table informed students about this recent development and ways that students can help with this process.
"I came into this position and I knew about the campaign for the 100% renewable energy but I didn't know how much we had progressed. Then I got into it and I was like we are actually making great strides, we are moving along," Papa said, who sits on the Masspirg committee. "It might end up being the 2030 goal but if it makes it [by] 2025 then that amazing. That would be a great win for us."
CEPA publicized their food justice and pouring rights campaigns. Food justice aims to secure food that is affordable and sustainable on campus while pouring rights fights to end UMass's partnership with Coca-Cola, a major plastic polluter and water consumer. CEPA targets students to support these campaigns and make change occur from the grassroots. 
"I think what they can do better is by making this process more transparent to students and allowing student voices to be a central part of reaching carbon neutrality. Ultimately, if it's not centering marginalized students, if it's not centering indigenous voices, if it's not using the amazing knowledge that exists on this campus amongst students and how creative students are to implement these solutions, then it won't be effective," CEPA representative Andrienne Ashe said.
Meanwhile, departments from Isenberg, School of Public Policy and the College of Landscape Architecture and Regional Planning promoted the concentrations and majors that support sustainability, such as the sustainable community development major. This study program focuses on the social, political and economic side of sustainability, and strategies for implementing eco-friendly measures in society.
"Part of the purpose of the climate strike is that it's not enough to understand the problem. We have to act on that [and] understand we have to make changes not just in lifestyle but changes in terms of our political and economic systems," said Regional Planning professor Mark Hamin. "Sustainable community development is not just how we respond individually but also collectively to these kinds of issues."
The Sustainability Slammer set environmental goals for the year to hopefully create a more sustainable campus for years to come. 
"I believe that change is learned behavior. If UMass, as a very large institute, makes necessary changes that are dramatic and very out of the box, this will be an example for other universities," senior and member of the ECO club Siobhan Moynihan said. 
"Although it's not a thing that changes overnight, it is something that [must] be done quickly." 
About the Contributor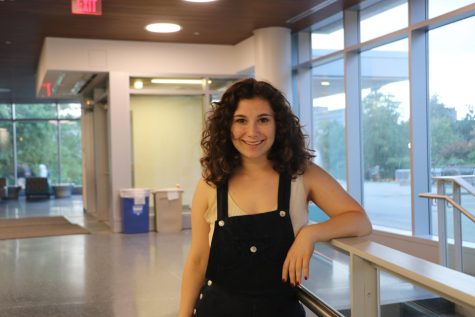 Emilee Klein, Podcast Editor
"Our job as journalist is not to provide balance, it's to provide truth." - Nikole Hannah-Jones.