Ilina Shah, Student Government Association attorney general
Shah talks with us about her interests, her work with SGA and the Sullivan administration's agenda for the 2019-2020 school year.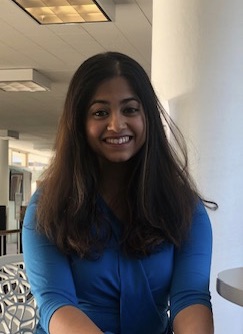 Ilina Shah, Student Government Association Attorney General, expressed how she keeps her empathetic nature at the center of her work. Shah, a senior majoring in statistics and political science at UMass Amherst, discussed a large variety of topics with us, such as her responsibilities as attorney general, the SGA agenda for the 2019-2020 school year and her extracurricular activities at UMass.
Shah is responsible for being the liaison between SGA and the Dean of Students Office and Legal Service Office. As attorney general, she can also be an advisor to the president while handling judicial cases that arise. When students make petitions and submit them, Shah is responsible for representing those students. Aside from her general role, she is also responsible for running the Conduct Advisers Program, which trains students on how to take on the role of being an advisor.
Although it is unclear when the program surfaced, Shah plans to create more guiding documents and collect anonymous data from the advisors, which will then be implemented as beneficial policies.
Similar to President Timothy Sullivan, Shah believes in "prioritizing student rights," which is meant to reflect everything that they have been doing. Those rights included climate justice and giving UMass students a voice in school policies.
She has paid close attention to what legislation her peers in SGA have been working on. While talking to us, Shah referred to SGA's Secretary of Sustainability Andrea Papa and how she is working on initiatives to expand compost, which is something she said "has been on the to-do list." Shah also added that the Secretary of Veterans' Affairs Kyle Kendall is working on initiatives to fund ROTC and student veterans.
Shah gave us insight into her past as well. She was born in India and came to the U.S. with her family at the age of six. They briefly lived in New Hampshire before moving to Massachusetts in 2007. 
"If everything was right in the world, I would be doing the arts," Shah said. Shah is the founder and president of the Indian Classical Arts Society. The club aims to educate, promote and preserve Indian culture through several events, shows and forms of expression. Not only that, Shah has been practicing Kathak, a major form of Indian classical dance, for 12 years.
It's clear Shah's Indian heritage and diverse background have played a huge role in her interest in politics as well. When asked about the subject, Shah said, "Generally, I have always been passionate about things related to injustice and empathy." 
During a time when both xenophobia and social movements simultaneously appear to be on the rise in the U.S., Shah said she remains optimistic about the future and is laser-focused on doing what she can with the Sullivan administration to advance initiatives that advocate justice for all. 
Shah encourages other students to join SGA and not be afraid to voice their opinions.
"I myself was very timid about joining [the SGA]," she said. "But at the end of the day, I'm happy that I made the decision that I did."
Tune in for more interviews with members of SGA.