Supreme Court Justice Ruth Bader Ginsburg to speak at Amherst College Thursday, live-stream opened to the public
A livestream of the event will now be available to the public.
AMHERST — U.S. Supreme Court Justice Ruth Bader Ginsburg will speak at Amherst College Thursday, Oct.3 in a private event for the Amherst College community.
Justice Ginsburg will join Amherst College President Carolyn "Biddy" Martin for a conversation in the Coolidge Cage with 50 minutes of conversation followed by 45 minutes of Q&A. The event will be live-streamed publicly to the Frost Library and the Amherst College Live Webcast page. The stream previously required an Amherst College login, but the decision was recently reversed. A copy of the video will be posted online for 60 days. 
Before the talk, she will review cases from the last term with Amherst College students. 
In a statement released to students, President Martin said that this isn't the first time Justice Ginsburg has come to the Amherst campus. 
According to her letter, two years before her appointment to the U.S. Supreme Court in 1993, the current Amherst College president Peter Pouncey awarded Ginsburg an honorary degree for "her unwavering dedication to righting that imbalance over the course of her lengthy and principled career."
Justice Ginsburg was the second woman elected to the Supreme Court and is well known for her fight against gender discrimination. She has been covered in many forms of media from documentaries to late-night television interviews. Her face has been printed on countless T-shirts and coffee mugs with the phrase "Notorious R.B.G." 
"Ginsburg [is] not only a pioneer for gender equality but an inspiration to all who seek to address systemic injustice," President Martin wrote.  
About the Contributor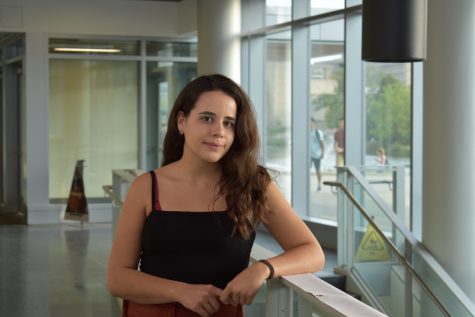 Caeli Chesin, Campus News Editor
"Anyone lived in a pretty how town" - E.E. Cummings