Why the Kennedy name is no longer enough
Representative Joe P. Kennedy III is fighting an uphill battle against Senator Markey for his seat in the 2020 election.
Representative Joseph "Joe" P. Kennedy III announced on Sept. 21, 2019, that he will be challenging Massachusetts Senator Edward "Ed" J. Markey for his seat in the 2020 election. 
"We have a Senate that instead of trying to harness the opportunity and potential of every person in this country, they're trying to pull us back," Kennedy told CNN. "And I'm running for the United States Senate to tear that down, to fight back with everything we've got."
Kennedy versus Markey is the Democratic match-up many around the country have been watching, but so far there hasn't been any significant campaign progress and it's doubtful there will be. 
Considering the current state of the Democratic party (particularly a heavily divided presidential nominee field), contesting other local Democrats for their seats is the last thing that should be happening. 
Kennedy's campaign largely focuses on immigration, affordable housing and the opioid crisis. He's met with LGBTQ asylum seekers and refugees in Worcester and talked about climate change and union jobs in New Bedford. In Boston, he toured an affordable housing development.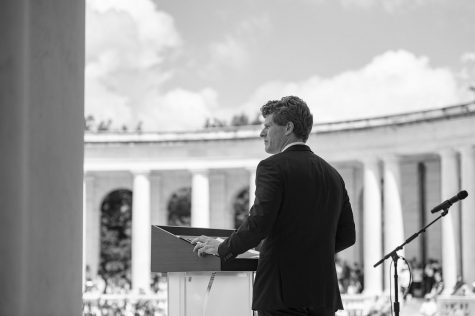 Despite early polling putting Markey 14 points behind Kennedy, no incumbent U.S. senator from the Bay State has ever lost a primary election since the direct election of senators began in the 1910s. 
The reason this particular race is getting a lot of attention is because of the Kennedy name.
When voters were asked how they react to the Kennedy name, 64 percent indicated positively. Nothing says Massachusetts political establishment quite like "Kennedy" does. 
Joe Kennedy III is the great-grandson of an ambassador, grand-nephew of a president, grandson of a senator, and son of a congressman — he will have to carry the expectations and the outsized scrutiny that come with it.
The Kennedy name is a double-edged sword; there has yet to be a family to surpass their magnitude or prestige, but their family history is filled with despair.
John F. Kennedy has to be one of the most beloved presidents in American history. However, throughout his life, JFK suffered from numerous ailments that were hidden from the public. 
JFK was taking an extraordinary variety of medications: steroids for his Addison's disease; painkillers for his back; antispasmodics for his colitis; antibiotics for urinary tract infections; antihistamines for allergies; and on at least one occasion, an anti-psychotic (though only for two days) for a severe mood change. 
Some, if not all of these medications were in JFK's system during the Bay of Pigs and the Cuban Missile Crisis. The seemingly pristine president was constantly battling with his mental and physical health, something the American people never knew. 
Senator Edward "Ted" Kennedy, D-Mass., was involved in a car accident where 28-year-old Mary Jo Kopechne, a respected political operative who had worked on the presidential campaign of Robert Kennedy, was killed. Known as the Chappaquiddick incident, Kennedy left with Kopechne and drove off a bridge. Kennedy was able to get out of the vehicle safely, leaving Kopechne behind where she later drowned. 
Kennedy had waited until the next morning before he reported the accident, by which time Kopechne's body had already been found. The Chappaquiddick incident hindered Kennedy's shot at the presidency. Kennedy attempted a presidential bid in 1980, but his campaign fizzled and he lost the Democratic nomination to incumbent President Jimmy Carter (who was later defeated by Republican Ronald Reagan). 
The quietest Kennedy affair involved Rosemary Kennedy, JFK's sister. At age 23, Rosemary had a catastrophic lobotomy scheduled by her father that left her with the mental capacity of a toddler. After it was obvious Rosemary's procedure did not go as planned, the Kennedy family hid her from the public at a Catholic facility in Jefferson, Wis.
The three major scandals in the Kennedy family still resonate strongly with the public, something Joe Kennedy will never be able to shake. 
The American people don't want a political family with such a notorious history to be actively involved in the country's decisions. Joe Kennedy has a long road ahead of him before he unseats Senator Markey.