Breaking down stereotypes one film at a time
AMHERST — The Asian American Film Festival is student activism that goes beyond banners, protests and social media posts. On Nov. 6 through Nov. 8, the AAFF will show narratives that explain the relationship between gender identity and the Asian American community.
The festival will exhibit the work of two filmmakers and a Youtuber that breaks down Asian and gender stereotypes. The Yuri Kochiyama Cultural Center organized the festival using film as the launching point to create community, connect Asian American student filmmakers to one another and elicit a universal emotional experience for UMass Amherst students. 
The first day focuses on Katytarika Bartel, a Thai-American filmmaker, photographer and founder of ANGRY ASIAN GIRLS, a non-profit that aims to increase the involvement of Asian Americans in politics. The following day will focus on Patrick G. Lee, a queer Korean American filmmaker who presents stories about the LGBTQ identity in communities of color. The last day will highlight the work of Mike Bow, a famous Asian American Youtuber that creates material for Wong FU Productions and the MikeBowShow. 
Each day of the festival will include dinner, a showing of a film following with a discussion with the filmmaker. Each filmmaker breaks down gender stereotypes within the Asian community through a creative platform. 

"It's really important to have discussions around the fact that we can't talk about race and then not talk about gender, sexuality and other identities. Race doesn't exist in a vacuum. To be Asian, that is such a diverse experience and there is no one way to experience it," said Linell Peralti, senior psychology major and YKCC staff member.
"In America, Asians aren't supposed to be creative. We are supposed to be doctors and computer engineers. So when you see a creative Asian it definitely breaks down a stereotype that we are just suppose to be number-crunchers, robotic, complacent and confirmative," said Sonali Chigurupati, junior operations and information management major.
The annual film festival is based around a new theme involving the Asian American community. Last year, the topic was the Asian American refugee and immigrant story. This year the discussion is shifting from a historical perspective to current issues on gender identity and intersectionality between communities.
"Something I really like about that topic for this year's film fest is that last year we actually talked a lot about origin stories and immigration for Asian Americans to the US and adjusting to that lifestyle, and now we are shifting that focus to this generation," senior legal studies and political science major Victoria Ung said. "What we see with the current Asian American generations is there is so much social change within our generation compared to our parents. We are talking about a lot of things that weren't talked [about]."
The goal of the film festival is to use a unique platform, in this case, film, to explore different narratives in the Asian American community that are often lost.
"I think a lot of times, when we talk about media representation in Asian communities, we imply big films. But then the smaller stories get lost," junior YKCC member Lily Tang said. "The traditional immigrant story, or the refugee story, or a young Asian women who is able to create a non-profit, or the LGTBQ film maker  highlights the struggles of coming out and the history of Asian American LTGBQ activism. Those [stories] are also the ones that are most intimate and heartfelt."
Tang explained her challenges with activism, working to find a form that can connect emotionally and provide information for people about Asian American experiences. 
"I personally thought that film was something that can do both," Tang said. 
The Asian American community at UMass aims to change the model-minority story to one that explores the diverse narratives of Asian Americans.
"Part of it is a lot of young Asian people trying to dismantle the system our parents crafted for us to become successful. Most of us can say that our parents came [to America] in the last 30 or 40 years, and they came here to create American lives. What comes with that is a lot of suffering in silence," Ung said.
She added, "That's why I love this year's film festival because this is the face of people at UMass. They are doing something with not only their platforms, but their careers [and are] speaking about issues in the Asian community."
The first day of the Asian American Film Festival takes place in the Amherst Room on the 10th floor of the Campus Center, the second day occurs in Campus Center 165 and the third day returns to the Campus Center's 10th Floor.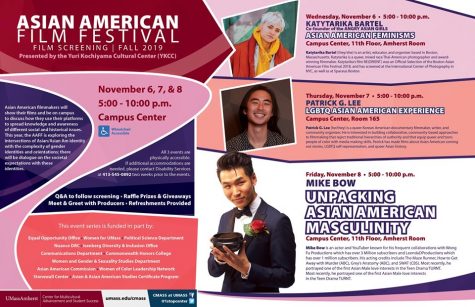 Email Emilee Klein at [email protected] 
Correction: The title "ANGRY ASIAN GIRLS" had been corrected from a mistyped name.
About the Contributor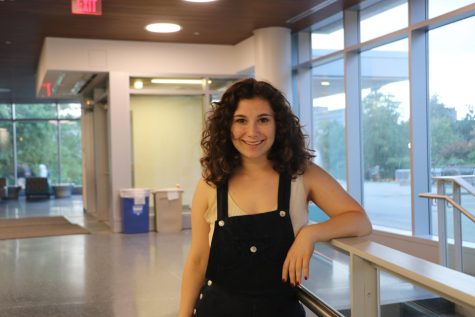 Emilee Klein, Podcast Editor
"Our job as journalist is not to provide balance, it's to provide truth." - Nikole Hannah-Jones.