YKCC spreads awareness on Southeast Asian deportation
Between the 2017 and 2018 fiscal years, immigrants hailing from countries like Cambodia have seen a 279% increase rate of deportation.
UPDATE: The YKCC has decided to cancel their fundraiser and information session this week in favor of planning out more events during the Spring semester.
In her hometown of Lowell, Massachusetts, UMass Amherst senior Victoria Ung has seen first-hand the impact U.S. Immigration and Customs Enforcement can have on immigrant communities. As part of the Cambodian-American community in the old mill town – the second-largest in the U.S. – Ung, like many others, noticed the increased risk of deportation for members of the Southeast Asian community since Donald Trump's rise to presidency. 
"It's really just like this fear," she described. "A lot of fear-mongering and a lot of paranoia, but it's a very real paranoia and a very real danger."
Between the 2017 and 2018 fiscal years, immigrants hailing from countries like Cambodia have seen a 279% increase rate of deportation (29 to 110) according to an ICE report. Just last month, at least 10 Cambodian refugees from Massachusetts were ordered to report to ICE headquarters for potential detainment. Additionally, nearly 1,800 Cambodian immigrants have been faced with final removal orders from the U.S. government.
The threat of deportation carries extra weight for Cambodian and other Southeast Asian immigrants. Many of whom came to the U.S. as young refugees due to the various wars and conflicts transpiring in the region. 
"They're really being brought back with no autonomy when they go back," Ung explained. "No family connections, no financial security and really no familiarity with the culture."
Often these conflicts involved U.S. intervention, more specifically the Vietnam War, the rise of the Khmer Rouge regime in Cambodia and the Loas Civil War. Between 1975 to 1990, 900,000 refugees legally fled to the U.S. from one of the three countries.
The issue was first a personal endeavor for Ung, but as the events coordinator for the Yuri Kochiyama Cultural Center, she has been able to help cultivate advocacy and awareness around the issue. In April, the group organized a 3-day event, Week of Action: Battling Southeast Asian Deportation, to help educate the Amherst community on the topic. 
The group is currently planning events and fundraisers for organizations that provide legal help and representation for Southeast Asians facing deportation. 
"We tried our best to sort of navigate what would be the best way to support this group and we found that legal representation and access to justice was really an essential part of this conversation," Ung said. Only 37% of those facing deportation have access to a lawyer, according to a 2016 American Immigration Council report. The same report shows that immigrants with legal representation have a much higher chance of winning their case.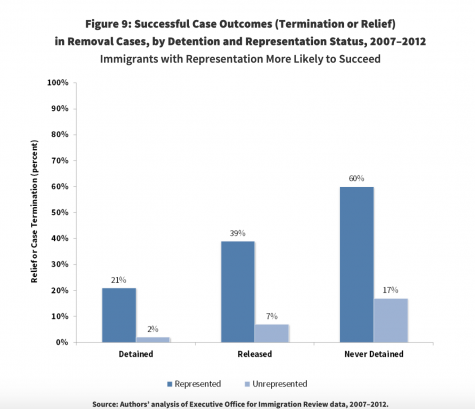 "It's really difficult for you to go through a very complex immigration legal system if you don't have legal representation, and it essentially puts your life in danger of being deported," said Ung. 
"What drives me with this is the thought of my parents," Ung added. "Like this could be my uncle, my aunt, my dad, my mom. It could be self-serving, but at the end of the day, it's just like, what can I do to serve my community?"
With many of these refugees' children now young adults, a new avenue of advocacy is now open for the Southeast Asian community that gives them more power to fight against issues such as deportation.
"A lot of people here the first-gen college students. What that means is our parents are the actual first gen of immigrants," said YKCC volunteer, Jiun Tseng. "They went through all that, but they don't have the language capacity to speak out or the political status to speak out. And therefore we are the first generation that has that language capacity, that education level to do something about it."
Email Brian at [email protected] or follow him on Twitter @brianshowket.