How UMass has changed: Subbaswamy's impact through the decade
AMHERST —  If you were to ask alumni who graduated at the beginning of the decade to compare UMass Amherst how they knew it to how it is now, they'd have a lot to say. 
Over the last decade, UMass has seen two chancellors: Robert C. Holub who served until 2012 and our current, Kumble R. Subbaswamy. Since the beginning of his seven-year reign, Subbaswamy has been working tirelessly to make the campus one of the best public schools in the country. 
The chancellor's efforts have paid off. UMass jumped from number 42 to 26 in the U.S. News & World Report's list of top public colleges and universities, according to Neil Swidey's Boston Globe article, "'ZooMass' no more. Is turning UMass Amherst into an elite university what the state needs?" The university has also boosted its number of applicants, average GPA and SAT scores in said applicants, diversity percentage and its overall graduation rate.
Subbaswamy's improvements can be seen throughout the campus. New construction projects have been popping up left and right. The new Isenberg School of Management building was completed in April of this year. But before that part of the campus could become aesthetically pleasing again, three more construction projects began. The Student Union has been going through extensive renovations, kicking out all student clubs and forcing them to go elsewhere. The front of Hasbrouck had some sidewalk work and, a Worcester Dining Commons' complete makeover will transform to a full-on restaurant and recreation center. 
UMass has also gotten increasingly selective with who they admit into its freshman classes. The average GPA for incoming students is 3.9 with an average SAT score of 1296 out of 1600. More in-state students have begun applying to UMass, even though it's no longer a safety school.
"UMass is growing more popular as a school of choice for Massachusetts' high-achieving high school students," said Mary Dettloff, deputy director of the Office of News and Media Relations. 
The university has also been expanding itself in different places than its flagship campus. After Mount Ida in Newton was failing, Subbaswamy bought the college after seeing an opportunity to grow the UMass name and allow students to study in Boston.
While the benefits of the chancellor's work have certainly paid off, students have been feeling the impact, and not all have been necessarily positive.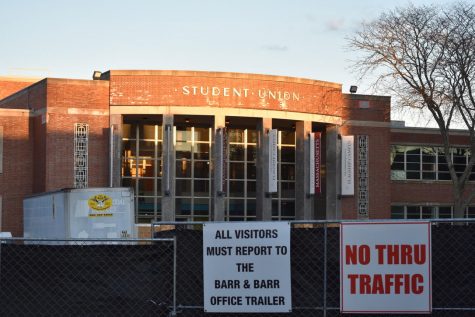 Let's face it: construction isn't pretty. When we toured the campus, we didn't look at the construction sites and think, "wow, I can't wait to see construction every day when I come here." It has also been a hassle for students, as it's created significant detours for students headed to class or their dorm. Tuition has also been raised over the last year to pay for these projects.
As for Mount Ida, the students were in the dark about it turning into a UMass campus. Many of them had no idea the purchase was happening until it happened. They felt it was unfair that they didn't know what was happening to their own campus.
And as for the increase in applicants, this year's freshman size was the biggest UMass has ever seen, which has created a surplus of traffic for students in the dining commons and dorm rooms, and rush hours in between classes and on buses. 
While Subbaswamy has been improving the campus in many ways, they're not immediate changes and current students have yet to feel the positive impacts. However, future UMass students will relish in the new aspects that UMass has to feature.