Delicious plant-based food at Pulse Cafe: A restaurant review
Featuring an extensive menu, you're sure to find something delicious in this modern cafe.
HADLEY- Pulse Cafe in Hadley, MA, is a 4.5-star plant-based restaurant that has something for everyone; vegans and non-vegans alike. If you're looking for a nice cafe that serves local, organic, wholesome food, Pulse is the place for you. 
The first time I heard of Pulse I instantly googled what it was all about. When I arrived at their website I had never seen such a professional and visually pleasing page for a vegan food joint. Plus, they have loads of information on their story, food, and events. Then, I took a look at their Instagram which I found to be the exact same way. Whoever is in charge of that account is certainly capturing a beautiful aesthetic.
According to their Instagram, Pulse opened their doors on August 14, 2017. The owners, Ted Crooker and Keith Rehbein, came together to, "bring a holistic farm-to-fork concept to the Pioneer Valley," as stated on the Pulse website. As many people often do, these two men began experiencing health problems and, "discovered the healing and restorative benefits of adopting the plant-based lifestyle." Along with their plant-based lifestyle, they also recognize the Sabbath day, which is why they are not open on Saturdays.
I decided I would get dinner at Pulse last Thursday, and as I pulled into their parking lot, I was again consumed by all the land this restaurant sits on. As you're driving on Russell Street in Hadley you might not see Pulse at first because the building itself is set far back from the main road, but that only adds to its character. 
As I walked into Pulse on this rainy, dark Thursday, I was primarily greeted by a large TV in the corridor that introduces all the people who work in the establishment. I find that to be a symbol of the respect and care Pulse holds for their employees. 
Then, as I walked through the second door, I was again greeted by the warmth and classiness that Pulse exudes. Their interior style reminds me of the hit HGTV show, "Fixer Upper," where Chip and Joanna are notoriously known for using a modern farmhouse style. The cafe's use of wood for the floors and furnishing, along with a rock fireplace that centers the restaurant and light green paint allows for an earthy and natural feeling.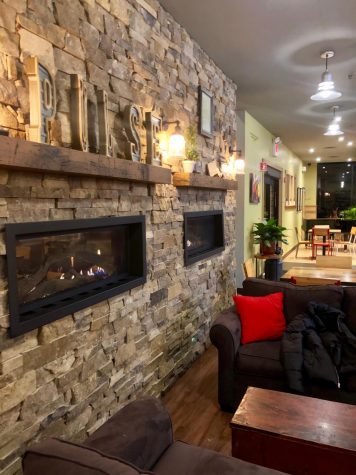 Well maintained plants are placed around the joint to further that feeling of the outdoors, along with pictures of vegetables and roots for art. Classical music is always playing, and every time I have been to Pulse it is always spot clean. 
Once inside, my eyes are immediately drawn to another TV that plays an artful video of how they press their juices. To the right is where you order what you'd like. Above the cash register there are a few more TVs illuminating the menu, but I should note that I don't find these screens to take away from the ultimate feeling of calmness. 
Almost every time I've come to Pulse the cashier I've had is Marcos, and I've always found him to be nice and helpful. 
I decided I wanted to order something different this time so I ordered their Hawaiian pizza, even though my favorite meal to get here is their grilled "chicken" burrito. Once you've ordered, the cashier will give you a stand with a number so the person who brings your food to you will know where you're sitting. Also, everything in this building is clearly labeled which is helpful when it's busy. Signs such as "order here," "express," "pastries" and "soup bar," are found in their designated areas. 
When I opened the pizza box, (I decided to get my meal to go because it had been a long day of classes and work) I was immediately happy with what I ordered. Pulse's Hawaiian pizza consists of white cashew mozzarella sauce, soy chicken, onion and pineapple, topped with barbecue sauce.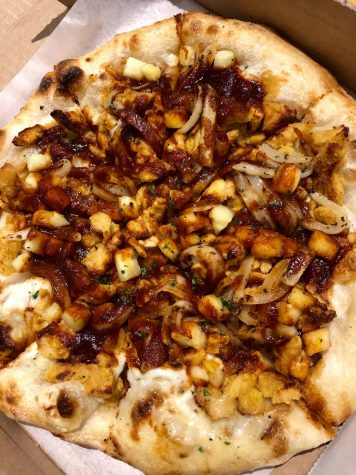 The first thing I noticed when I bit into this pizza was how soft and perfectly baked the dough was. Then, the sweetness of the pineapple with the savory taste of onion and barbecue sauce paired perfectly together. Of course, the white cashew mozzarella tied the whole pizza together with a creamy goodness. 
I shared part of the pizza with my roommate who loved each bite. Our favorite part of eating this pizza was the overall feeling of eating good clean food because so often eating pizza can make us feel bad.
Pulse is partnered with Five College Farms, also located in Hadley, and prides themselves on being organic, fresh, and sustainable. This plant-based restaurant's vision, as maintained on their website, is, "to create a place that delights and inspires your wellness journey. Because we believe food was designed to be life-giving, artful, and delicious."
You would never know that Pulse is a plant-based restaurant without paying close attention to their menus. Even if you're not someone who's vegan or particularly health conscious, Pulse has delicious, wholesome food and a wide selection to choose from. Everything from small plates, burgers and wraps, bowls, salads, wood-fired pizzas, wood-fired calzones, and all sorts of drinks can be found on this menu.
One thing that might catch people off guard at this cafe is the prices, but when you consider the quality of the food you're eating, it's hard to be mad that you're paying a little extra for it. 
Pulse also has a brunch menu that they use on Sundays, so make sure to check it out! Their hours might be a bit unconventional, but they definitely make their meals worth it. Overall, I recommend this spot to anyone looking for a delicious meal. 
Pulse is located at 270 Russell St, Hadley, MA 01035. They are open Monday to Thursday from 11 a.m. to 8:30 p.m. and Friday from 11 a.m. to 2 p.m. They are open Sunday: 9 a.m. – 6 p.m. and closed on Saturdays.
Email Elisabeth at [email protected]