Authentic experience at Mission Cantina: A restaurant review
Fresh margaritas and authentic Mexican cuisine make Mission Cantina the perfect restaurant to try for your next night out on the town.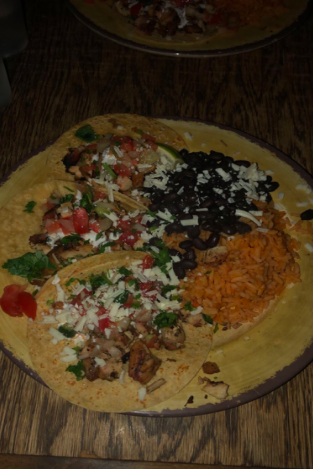 Amherst-All over Amherst, there are restaurants perfect for a date night that will satisfy your hunger and not break the bank. There are many cultural cuisines offered throughout the town, but Mission Cantina has everything you need to satisfy your taste buds.
As a lover of Mexican cuisine, I could not wait to try this spot once I arrived at UMass. Mission Cantina is located in South Amherst and it is not a far drive from campus. 
Mission Cantina opened in 2011 and continues to be a hit for college students and residents of Amherst at any time of the year. I first heard about the restaurant on Yelp when my family was searching for a place to eat when they came to visit me for a weekend. A few weeks later, my friend tried Mission Cantina and posted pictures on her Instagram story and I was immediately intrigued and knew I had to eventually try it out. 
This Mexican restaurant is perfect for a night out. With vibrant-colored lights, painted murals of Mexican dancers, Dia de los Muertos decorations, and uplifting Latin music playing, you feel like you are in Mexico once you step through the door. There is a cozy bar with large TV screens displayed above high-stool chairs, which happened to be jammed-packed on the night I went, where you can order the finest margaritas with salt around the glass' rim, as well as other alcoholic beverages for moderate prices. A majority of the adults chose to sit there, as the bartenders entertained their guests while they prepared their drinks in front of them. Mission Cantina is well known for their house-made blood orange and mango margaritas. 
Mission Cantina has a fairly basic but customizable menu, allowing customers to pick and swap certain items to create plates of food they will enjoy. For an appetizer, I ordered the Queso Fundido, which is very similar to a queso dip, with chorizo and poblano peppers, paired with crispy tortilla chips. The portion of it was perfect for my brother and I to share, but the great taste made me want more of it! I would definitely recommend this dish, as it provides an authentic Mexican twist on a dip that is fairly familiar to most. Across the room from us, a large family ordered the Cantina Loaded Nachos, which had black beans, pico de gallo, guacamole, cheese, and chicken piled upon a stack of tortilla chips. They will definitely be on my next order! 
For my entree, I ordered the Combo Taco Plate, which came with a choice of filling, which I chose as chicken, along with a side of rice, black beans, and pico de gallo. I absolutely loved this dish, as did my brother who ordered the same thing. The soft taco shell was very warm and the marinated chicken paired perfectly with the creamy crema and refreshing pico de gallo. Also, the addition of cilantro on top of the tacos gave the dish a nice finish and sharp taste. Most of the entrees were listed at reasonable prices for the amount of food you received. 
The food we ordered was prepared with the finest, freshest ingredients, giving it a home-cooked feel. However, the service was slow at times, possibly due to the business of the restaurant on a Friday night, with our server giving us minimal time to decide on our orders and not giving us the best attention. That being said, I would go back for another visit, as the food and lively atmosphere were worth returning for. Mission Cantina is the best destination for a night to enjoy some amazing Mexican cuisine.
On weekends, Mission Cantina also offers a brunch menu, featuring huevos rancheros, sweet potato and chorizo hash, and customizable omelettes, along with daily brunch specials which will be offered by your server. The brunch hours are from 11:30 a.m. to 3 p.m. on Saturdays and Sundays. 
Not far from the original location, another Mission Cantina can be found in Easthampton, MA, which features similar menu options. The hours of operation are less frequent than in Amherst, but it is definitely worth a try.
Mission Amherst is located at 485 West Street, Amherst, MA. They are open Monday to Thursday from 4 p.m. to 10 p.m., Saturday from 11:30 a.m. to 3 p.m., reopening at 4 p.m. to 10 p.m., and Sunday 11:30 a.m. to 3 p.m., reopening at 4 p.m. to 9 p.m.
Mission Easthampton is located at 58 Cottage Street, Easthampton, MA. They are open Wednesday to Sunday from 5 p.m. to 10 p.m. They are closed on Mondays and Tuesdays. 
Email Sean Dunham at [email protected]