Mullins Live! 2020 with Lil Tjay and Kwynn Reid
From last-minute performances to nonappearances, this year's concert is one for the books.
Astghik Dion, Photo/Assistant Entertainment Editor
March 10, 2020
The annual Mullins Live! concert took place this past Saturday at 11 a.m., where hundreds of students gathered at the Mullins Center to experience what was to be rappers Meek Mill and Lil Tjay perform. 
The show kicked off with UMass junior biology major, Kwynn Reid who was given the opportunity to perform last-minute after catching the eye of the Assistant Director of Student Engagement, Josh Dodd. The hip-hop artist opened up the show in a big way, waking up a crowd full of people who had previously not heard his music before – which is not an easy feat as any artist knows. Yet, looking around it was evident that his talent was recognized, heads were bobbing, bodies were swaying and phones were being pulled out to search his name.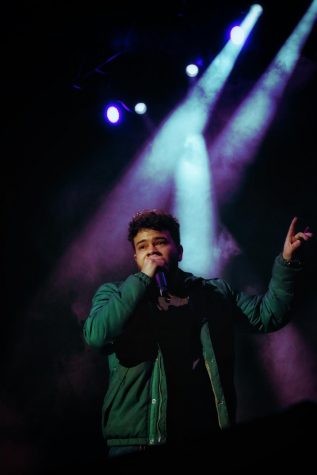 "It was fun, performing is always fun for me," said Reid "I was definitely more nervous this time than any other time, but overall I enjoyed the experience. It's a feeling that's hard to describe in words, but the longer I was on stage, the better I felt."
As the lights got dimmer, the crowd got louder and the energy soared higher. Lil Tjay entered the stage with a swagger that can only be bred from the Bronx. One of the current biggest names for east-coast rap, it is no wonder that the crowd was literally pulsating with excitement for the entirety of the set.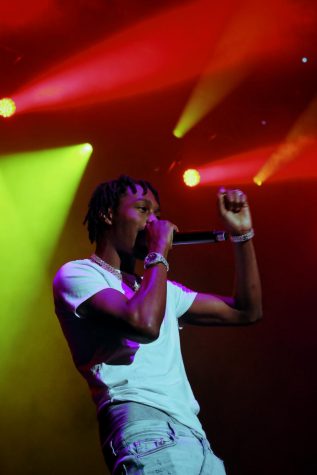 The 18-year-old artist amassed an audience after his single, "Brothers" took off in 2018, and he has not slowed down since. 
He played many fan favorites such as "Hold On," "F.N." and "Pop Out," then even took it back for his day one supporters and played lesser-known tracks from when he first began getting started in the game such as "Resume." In honor of fellow New York native Pop Smoke, he played some of his hits midway through the set, showing respect and making the audience wild out more than they were before – which seemed impossible. 
The crowd was left energized and filled with anticipation for Meek after Tjay wrapped up his set in order to catch a flight to his show in Orlando later that night. Unfortunately, Meek Mill did not end up performing.
Allegedly, the Philly rapper had made it to Amherst, then after seeing the size of the crowd, he decided he would not be playing the show. Granted, the crowd had slowly started leaving as he had already made them wait two hours. Hundreds of fans were left angry and disappointed.
In a press release with UMass Amherst Vice Chancellor for Student Affairs, Brandi Hephner LaBanc, they stated that refunds will be made available to students. 
Email Astghik at [email protected] or follow her on Twitter @astghikjourn