Patriots troubled by turnovers as they fall to 2-3
New England has a losing record in October for the first time since 2002
After weeks filled with fruitless quarterback production and sporadic positive tests in New England, the much-anticipated return of Cam Newton has arrived. The thrice rescheduled matchup between the New England Patriots and the Denver Broncos at Gillette Stadium was Newton's first start since the Week 3 win against the Raiders and his first since testing positive on Oct. 3. The 2019 Defensive Player of the Year, Stephon Gilmore, was also activated after testing positive for COVID-19 after the Week 5 loss to the Chiefs.
Denver quarterback Drew Lock was back behind center for the first time since injuring his shoulder in Week 2. Broncos' running back Melvin Gordon III, who tweeted blasphemy at the Patriots organization when the matchup was postponed, was reportedly charged with a DUI on Tuesday, making him subject to a possible three-game suspension from the NFL. Gordon was diagnosed with strep throat and did not travel to Foxborough for the game. 
The Patriots defense was exposed early and often by the vivacious Denver offense led by the impressive Drew Lock. New England allowed 100-yard games to a receiver and a rusher: receiver Tim Patrick converted 4 catches into 101-yards, while Philip Lindsay added 101-yards on the ground. Deep balls have consistently slaughtered the New England secondary all season, and Sunday was no exception. Lock connected with Patrick twice for long catches of 40-yards and 35-yards. This trio of Lock, Patrick and Lindsay had their way with the Patriots' defense all afternoon and were able to march down the field all afternoon. The real hero was Broncos' kicker Brandon McManus, who was a perfect 5/5 on field goals for the day.
Lack of preparation was clearly a factor for the Patriots, who only notched two practices since their last game because of positive tests. The depleted offensive line struggled without David Andrews and Shaq Mason, and would only get worse when tackle Jermaine Eluemunor went down with an apparent ankle injury. As a result, Newton was sacked four times and committed two turnovers — both of which were tipped by defensive lineman. Tight end Ryan Izzo also lost a fumble. Both the players and coaches performed below par, and did not look up to speed until the fourth quarter when their backs were against the wall.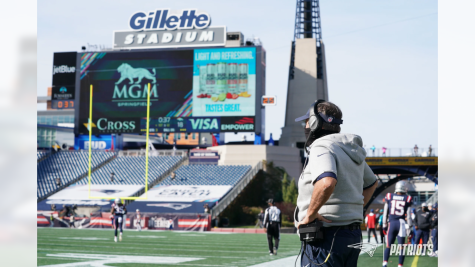 Newton provided a much-needed glimpse of hope after rushing into the endzone for the 1-yard score. Newton would then be stopped just inches short of the goal line on the failed two-point attempt, but regardless, the game was back in reach for the Pats. This score was the nail in the coffin for Drew Lock's impressive day, whose nerves got the best of him and threw a wild throw that was picked off by J.C. Jackson. Newton was called to action in Denver territory and responded with a clutch 12-yard rush to set up the 38-yard field goal. This would make the score 18-12 and a one-possession game. The young Denver team folded like a lawn chair when put under the spotlight, and Patriots cornerback Jonathan Jones was able to secure an incredible catch and force back-to-back turnovers. Once again, it was Newton creating big plays for the Patriots' offense, who converted a crucial fourth down and 1 with a 4-yard rush. On a fantastically performed trick play, James White pitched the ball to Edelman, who then threw a pass to Newton, who escaped defenders for the first down. This comeback attempt was thwarted when a pass was thrown just out of reach of receiver N'Keal Harry on fourth down and 10, resulting in a turnover on downs. Lock took a knee and time expired, as the Broncos won the game 18-12.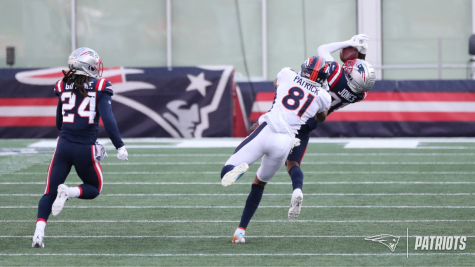 Newton was able to bounce back from his twin turnovers and garnered 76-yards on the ground and was the only player on both teams to find the endzone. Besides Newton, New England has had a noticeable absence of playmakers in the offense thus far. The Patriots' poor history of drafting lackluster receivers was once again reminded to fans as Harry continued to underwhelm in his sophomore season. Father time has slowly been creeping up on Julian Edelman, who appeared hindered by his lingering knee injury. The duo combined for 2 catches for 8-yards. James White has been a bright spot for the offense, but not enough to make an impact. Damiere Byrd has also been a reliable target for Newton, but his ceiling is solely dependent on the success of the pass-catchers around him — which has proven extremely futile. Newton and the Patriots will look to bounce back from the frustrating loss next Sunday against the San Francisco 49ers at Gillette. 
Email Michael at [email protected] or follow him on Twitter @arujo_michael