Newton's crucial fumble costs Patriots' their fourth straight loss
The Buffalo Bills handed the New England Patriots their fourth straight loss as Newton fumbles in crunch time
The 2-4 New England Patriots looked to keep their season alive as they traveled to New York to take on the AFC East-leading Buffalo Bills. New England had 10 inactives, most notably Stephon Gilmore, who missed practice due to a knee injury, and Julian Edelman, who was placed on injured reserve after undergoing a knee procedure on Thursday. Edelman has been nagged by the lingering knee injury, and the procedure will sideline New England's star receiver for some time.
"Hopefully he'll be back," Bill Belichick said. "I know he's worked awfully hard. Nobody's more competitive than Julian is. So, he'll do everything he can to be back out there."
It was a cold day in Buffalo as both teams relied heavily on the ground game as the harsh weather most definitely played a factor in the game script: winds reached speeds of up to 40 mph, while temperatures fell to 30°. The Bills took full advantage of the Patriots' faulty run defense, as Devin Singletary and Zack Moss combined for 60-yards on 7 carries. Moss, the Utah product, took his first carry for 21-yards and capped off the Bills' opening drive with an 8-yard touchdown rush.
The Patriots' offense was plagued by penalties, as three offensive drives in the first half were abruptly ended by flags. Despite these shortcomings, New England entered the half trailing only 6-7 thanks to a clutch interception by J.C. Jackson, and two made field goals by the surprisingly reliable Nick Folk.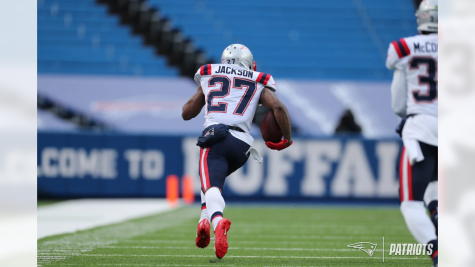 Newton started the second half off fairly solid: he did a good job of protecting the football after taking a couple of hard hits on runs and was able to connect with open receivers downfield — something he has struggled with since returning back to action. His top target, Jakobi Meyers, caught six of his ten targets for 58-yards, and also secured a two-point conversion. None of his catches went for more than 16-yards, but Meyers has proven himself Newton's most prominent target in the absence of Edelman and N'Keal Harry.
Damien Harris once again displayed his talents as a bruiser back and took 16 carries for 102-yards and a score. His longest run came in the third quarter when he scampered for 22-yards and found his way into the endzone. He has proved himself effective as New England's top threat on the ground, while James White has handled the majority of the pass-catching in the backfield.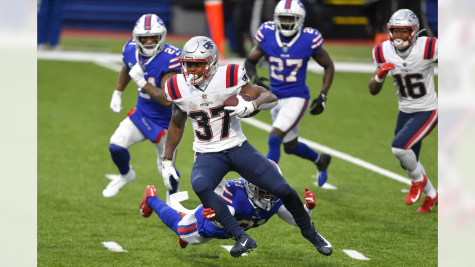 Newton appeared to have finally found his niche in the passing game and connected with receiver Damiere Byrd for gains of 22 and 9-yards on back-to-back plays. Cam's success in that arena also allowed the run-game to thrive. Harris bullied the Buffalo defense on the ground and ripped off consecutive runs of 13, 18 and 7-yards to set up the Newton rushing touchdown to tie the game. New England's defense allowed a field goal but would leave enough time on the clock for a chance to win the game or send it to overtime. Newton found Meyers and Byrd for consecutive first-downs, while Harris delivered on the ground. Newton also got in the mix and turned a botched play into a 19-yard gain. With the ball on the 19-yard line and 37 seconds left in the game, Newton attempted to recreate the same magic he found earlier, but Bills defensive tackle Justin Zimmer ripped the ball out of Cam's hands, and the Patriots lost another heartbreaker. Speaking on his fumble, Newton had this to say: "It's unacceptable," he said. "I've got to protect the ball more."
The loss does not fall entirely on Newton's shoulders. Sunday's game was filled with poor maneuvers by the coaching staff, including the decision to attempt an onside kick … in the third quarter? When the game was tied? This decision was baffling and proved costly as the Bills took advantage of incredible field position by running up the middle with Josh Allen for the score to put Buffalo back on top. The Patriots' run defense was abysmal and allowed Buffalo to run for 190-yards and 2 touchdowns. 
That being said, Cam Newton has to be better. Since returning to action after testing positive for COVID-19, Newton has 0 touchdown passes, 5 interceptions and 3 fumbles (1 lost) to go along with an 0-3 record. He did a much better job at hitting his targets, but he still misfired on a few passes that could have meant the difference between a first down and a punt. His starting job is certainly in question after another humiliating loss, but if he does play, Newton will need a big-game against the New York Jets on Monday night to prove to himself and the league that he is still a franchise quarterback. Meanwhile, the Jets have an elite opportunity to pick up their first win of the season against a depleted New England team.
Email Michael at mi[email protected] or follow him on Twitter at @araujo_michael_